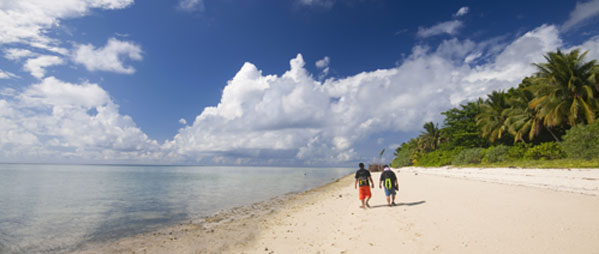 People who know me and have seen me present at travel conferences know that my life passion and main work focus is inspiring and motivating people to travel more and have more fun doing it.
On my 12th transpacific flight this past year, a woman sitting next to me asked how I am able to travel full time and still enjoy it.
"Don't you just yearn for a few weeks safely at home sleeping in your own bed and being completely unpacked?" she queried.
I thought about her question for a minute and answered: "How do I do it? Lots of practice!" The more I travel, the more I learn, and the easier it gets; and the easier it gets, the more fun I have. One of the keys to having more fun traveling is doing things to travel more safely: staying safe is a top priority for even the most expert travelers and risk reduction is the core.
You cannot always avoid accidents; however, you can reduce the probability of experiencing a travel mishap.
Whether you commute daily to the office or take a several month scuba diving journey, you can complete your travels without any major incidents if you do these simple steps to reduce your risk. Here are three helpful steps in five different categories of travel.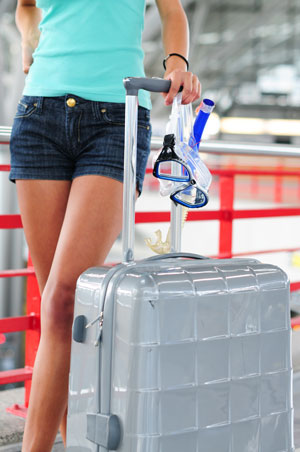 #1 WHEN PACKING FOR A TRIP
Leave it at home. Leave anything at home, which you could not bear to live without. I learned this from a couple who attended one of my question and answer sessions. They only carry what they would be willing to part with. Also, leave your emergency contact number for relatives or friends.
Lock your bags. Using a TSA-approved lock or zip tie, lock your luggage. This is a great risk reduction strategy which will deter most thieves from trying to remove anything from your luggage.
Categorize and photograph and scan the things you are bringing with you including your passport, credit cards, and other important travel documents. In the event that you are robbed or victim of a theft, having an accurate list of your personal items will be helpful for your insurance company or for the police. There is an excellent app for scanning called Genius Scan. It allows you to snap a photo with your smart phone and
immediately email a .pdf or word .doc of the photo to your email.
#2 AT THE AIRPORT AND WHEN FLYING
Keep all of your personal belongings close to you and remain alert at all times and report suspicious behavior. Many reports state that travelers are robbed because they let
their guard down. Stay vigilant.
Go Early when there are fewer crowds. Many travel accidents and incidents happen during the busiest and most crowded times at airports. Getting to the airport early can often be a fortuitous opportunity. For example, many times when I get to the airport several hours early I can take an earlier flight if the scheduled flight is delayed or cancelled.
Keep your carry-ons nearby and within sight. The past few years there have been increasing reports of onboard theft from items in the overhead bins.
#3 AT YOUR HOTEL OR RESORT
A. Read the in-room evacuation information and walk through the emergency route procedure. Normally, the risk of needing to evacuate is low. If you are prepared and know the procedures you will increase your chances of survival. Check two routes and make sure all the exit doors are unlocked. I have found a small percentage of hotels to have dangerous locked exits. Report or ask about any locked exits.
B. Leave your room key handy by the side of your bed along with personal essentials. In the event of an emergency you often only have seconds to evacuate. Having essentials nearby will allow you to get out safely with what you need. And you may need to get right back into your room after leaving in an emergency so keep your key nearby.
C. Be sure your room door closes fully when you leave each time and leave valuables in the in room safe and hide other valuables.
#4 REDUCING RISK WHILE TOURING AROUND YOUR DESTINATION
Bring along the hotel location information map and card. If you get lost these cards will come in handy to find your way back to the hotel. Bring only what you need with you every time you venture out. I leave excess cash, credit cards, and other documents in the safe at the hotel.
Avoid higher risk areas at your destination. Ask locals and hotel staff for stay away hot spot areas. Doing this can significantly reduce your chances of being a victim of a crime.
Avoid clubs, bars, and other crowded venues at night. Most terrorist attacks, crimes, and major incidents occur at night. By laying low at night, you will significantly increase your chances of staying safe at your destination.
#5 REDUCING RISK WHEN DIVING AT YOUR DESTINATION
A. Bring a Safety Market Buoy (SMB). Practice using an SMB on every scuba dive. Nowadays, many dive sites are getting more crowded with boats and divers. Knowing how to use an SMB is essential and will reduce your risk of being run over on the service. Come up slowly and pay attention to potential hazards.
B. Know your limits. Research the dive destination and sites. Know general trends for weather and water current patterns. Assess water conditions and plan accordingly. Know yourself and if it doesn't feel right, skip the dive.
C. Mark and ID all of your scuba diving equipment. This reduces the risk of someone either deliberately or accidentally walking off with your property.
Employing and practicing the above strategies, paying more attention to your surroundings and remaining alert will increase the chances of returning home safe and sound.
Remember: Travel should be fun 99 percent or more of the time. Get out there and have fun! Here are a few useful websites with good information about travel safety.
US Consular Department
www.travel.state.gov
UK Foreign and Commonwealth Office
www.fco.gov.uk
Australian Department of Foreign Affairs and Trade
www.dfat.gov.au
Association for Safe International Road Travel
www.asirt.org
AirSafe – Tips on how to handle emergency situations
www.airsafe.com
If you have any other travel questions or travel safety tips please share them by sending them to richtravelsadvice@gmail.com
---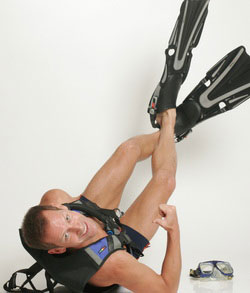 Story by Rich Woulfe. Richard Woulfe has been traveling an average of over 150 days per year for 25 years.  He has over 15,000 hours of travel practice. With over 25 years of hospitality, retail and dive travel marketing experience, Rich has extensive dive and incentive group travel management experience and has operated over 400 programs in 80 countries. He has extensive operations, marketing, sales management experience in diverse business segments. You can contact Rich at richtravelsadvice@gmail.com.
---