(Story updated Jan. 1 at 6:34pm PST. Check back for further updates)
A violent windstorm that blasted Catalina Island Tuesday night has claimed two lives and destroyed several boats, including the King Neptune dive boat. During the storm, at least 3 vessels broke free of their moorings in the harbor and washed ashore. One sailboat sank and could be seen underwater, next to a mooring buoy.
The wind at Avalon usually prevails from the west, however this storm brough winds in almost directly from the north. The National Weather Service's office in Los Angeles reported about 11 p.m. Tuesday that the Avalon Harbor Patrol had observed wind gusts blowing at speeds in excess of 40 miles per hour, with several boats breaking loose from anchor.
A harbor patrolman aboard an Avalon Harbor Department boat was attempting to secure boats that had come loose from their moorings. The officer has been identified as 39-year-old Avalon resident Timothy Mitchell. During the attempt, the boat came "perilously close" to striking rocks in the harbor, according to the Los Angeles County Sheriff's Department.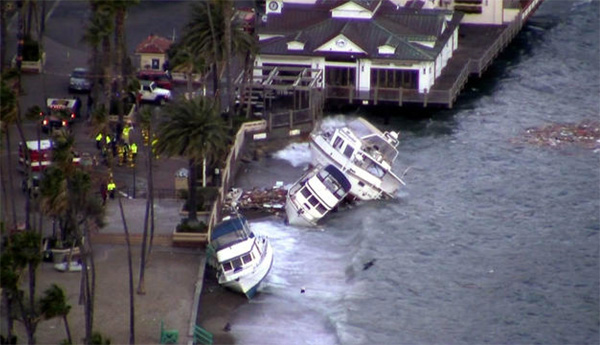 "One of the patrolman jumped from the vessel to get to safety," according to a sheriff's department statement. "Two deputies attempted to rescue him from the water but were unsuccessful. The patrolman became lodged between the vessel and the rocks under the turbulent waves and could not be reached."
According to one local island resident, a crowd of 30 to 40 people saw the incident from shore and frantically tried to save the man, but were unable to do so.
Catalina Scuba Luv posted the following information on their Facebook page today, addressing their loss:
"Scuba Luv is suffering the loss of longtime instructor-son, Tim Mitchell to a furious Nor'easter storm. While serving as an Avalon Harbor Department Patrolman, Tim courageously attempted to save the King Neptune as she parted four mooring lines and was swept to Step Beach. The resultant crash took Tim's life. We will be in touch shortly regarding future plans in light of the loss of the King Neptune, but right now we are obviously grieving the loss of a son and sending our condolences to his family, en route from England and New Zealand."
Tim moved to Catalina Island in 2000 from New Zealand to pursue a career in the diving industry. He joined the Scubaluv team in 2005 after working for a few other operations. In addition to being a harbor patrolman, he was also a reserve firefighter for the City of Avalon.
Authorities have also identified a second man whose body was found in Avalon Harbor about 6:30 a.m. Wednesday: 53-year-old Avalon resident Bruce Ryder.
"Scuba Luv also grieves the loss of Bruce Ryder, long time Scuba Luv family member and former King Neptune captain and dive master. Bruce was lost in the same storm that claimed Tim and the King Neptune, but in an unrelated incident. There are no words to describe the devastation, and the Scuba Luv family appreciates your thoughts at this difficult time."
In addition to the two confirmed fatalities, a third person was reported missing.
The Avalon Harbor Patrol, employed by the city of Avalon, has 11 officers in addition to its harbor master, assistant harbor master and other staff. Patrol officers have law enforcement duties and are also responsible for handling waterfront business permits and docking schedules for commercial vessels.
Homicide investigators, who routinely investigate deaths that occur in waters under Los Angeles County's jurisdiction, flew to Catalina on Wednesday to work on the case, and access to the harbor was blocked during the sheriff's investigation. Three waterfront restaurants were also closed as they assess the storm damage.
California Diver offers our deepest condolences to the families and friends of those lost in this storm. Our thoughts and prayers are with you during this sad time. 
Additional Sources:
NBC Los Angeles News
Catalina Scuba Luv's Facebook Page
.