At 6:15pm Saturday, Scott Cassell arrived safely at Cabrillo Aquarium Beach in San Pedro Harbor after covering 30 miles in a single day of diving. Using a computer controlled mixed gas rebreather, a DUI drysuit with an argon inflation system, 4th Element Halo 3D thermal protection, and dual Luminox dive watches, he completed the distance in less than 12 hours, after some technical issues delayed the planned 4am start time by several hours.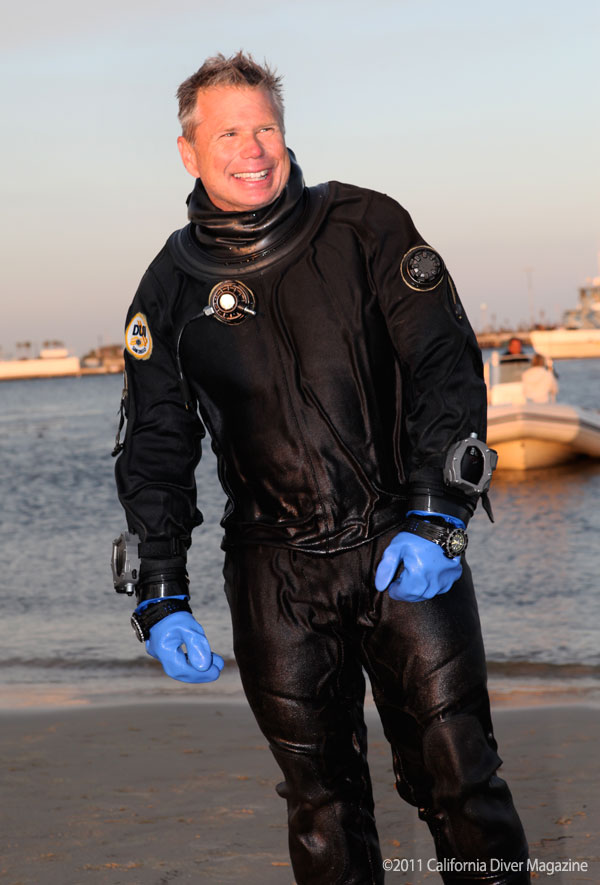 Scott's journey was filmed in 3D by Global Reef to help raise awareness regarding the alarming state of our oceans. One of his primary missions during today's dive was to attract as many sharks as possible to obtain an accurate estimate of how many sharks are still present in the area today. Sadly, at an interview on the beach just after surfacing, he said he didn't see a single shark over the 30 miles he covered.
"I saw 3 Mola Mola, 4 Sea lions, about 6 Dolphins and a huge school of sardines. But I didn't see a single shark – and that breaks my heart. It's absolutely a tragedy." Scott then reflected on his dives back in the 1980's and 90's, where he would often swim with 60 or more sharks on a single dive.
Currently, sharks are slaughtered at a rate of 100 million a year worldwide – more than 200,000 sharks a day.
Following the dive, a reception was held for Scott and his supporters and sponsors at the Cabrillo Marine Aquarium. After answering questions about his incredible dive, Scott elaborated on the state of our oceans.
"Unfortunately, I'm the generation that has seen the ocean start to die. It's a reality. And not understanding this is not okay anymore. We need to think and be a good, responsible culture."
"We've only explored 0.5% of the ocean habitat – over 99% of the ocean is left to be explored. That's encouraging, inspiring – and frightening. Because if we have systems failing in the ocean, and we don't understand how these systems work, how are we going to fix them"?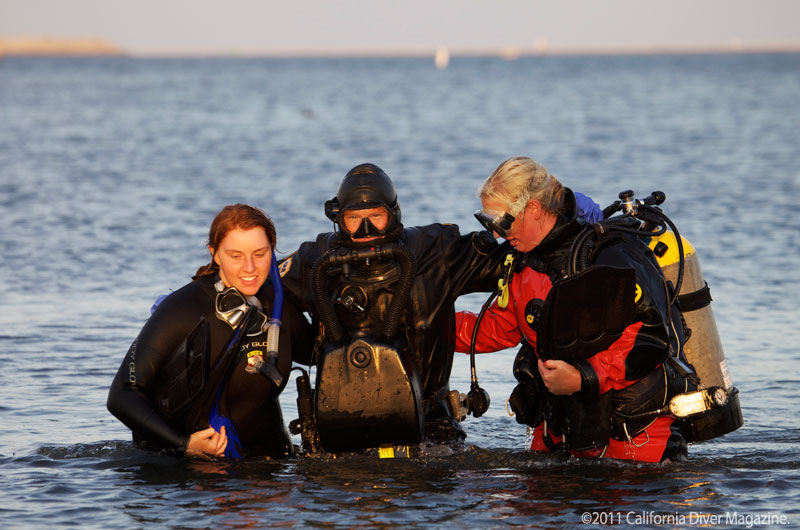 Scott received support and assistance from many volunteer divers and contributors. There were 34 people in 5 boats providing surface support from Catalina to San Pedro, including Chris Wade, captain of the Sea Watch who provided use of his 70-foot research boat. Luminox will also give a portion of the sales of his limited-edition dive watch collection to Sea Wolves Unlimited and the Project Voyager Foundation.
While Scott had hoped to complete the entire 30 miles without surfacing, due to an equipment malfunction he briefly surfaced one time to remedy the probem and get some much-needed nutrition.
We're very fortunate and thankful that Scott's team invited California Diver Magazine to attend this wonderful event, and we'll provide much more in-depth coverage in a future issue of California Diver Magazine.
Below are a few videos shot as Scott exited the water. First, Scott discusses the sharks he didn't see during today's dive:
http://vimeo.com/29208473
Scott discusses the toll a 30-mile dive takes on his body:
http://vimeo.com/29208513
Scott is President of The Undersea Voyager Project – a non-profit organization that advances and communicates scientific knowledge and understanding of the Oceans to scientists, educators, families, and political figures of every nation.Read more here: http://underseavoyagerproject.org.
---
Words & Photos by Chris Constantine, California Diver Magazine
Related story: http://californiadiver.com/scott-cassell-30-mile-dive/
Related story: http://californiadiver.com/scott-cassell/