Last Saturday afternoon, I received an email from a friend who had just returned from diving Monterey. The reported conditions were excellent, and I've been dying to get underwater lately. With a couple clicks of the mouse, I found a rare last-minute spot available on Monterey's Silver Prince dive charter, and a few minutes later had booked a trip for Sunday to dive the Carmel area.
I've been on the Silver Prince many times before, and along with the Escapade, Beachhopper II, and the Sanctuary, they provide an excellent way to dive the Monterey Bay area. On Sunday, the Silver Prince had a 9am departure time, which was especially convenient given it takes me about 2 hours to drive to Monterey. The weather and ocean conditions were nearly perfect, with the ocean as flat as a lake and sunny, warm, 70-ish degree weather on this morning.
Once aboard and after a quick safety brief by Captain Stephan Bitterwolf, we were on our way to Carmel's Pinnacles, the first of our two dive sites. It's about a 45-minute run down the coastline from port in Monterey; a beautiful, comfortable ride spent watching sea otters and looking for the large population of whales in the area this time of year. While many mornings can be foggy, today was an exception and we were treated to blue skies, warm weather, and flat, calm seas.
Diving the Pinnacles
The Pinnacles is a group of three rocky pinnacles which are marked at the surface by a canopy of kelp, located a mile or so offshore from a large pink structure at Pescadero Point which resembles a castle (known as "Castle House"). The Pinnacles are a boat or kayak dive, and some divers get here after launching their kayak at Carmel Beach. Today there were 4 kayaks already at the site when we arrived (who appeared to be fishing), and aside from their presence, we we had the entire dive site to ourselves. Like our departure in the Monterey bay, the conditions topside were nearly perfect, with no wind, swell, or current.
The inner Pinnacle rises abruptly from a 100-foot bottom, reaching to about 15 feet of the surface. After anchoring next to it in about 65 feet of water, we descended through a thick layer of giant kelp to what looks like a rocky mountain that drops away at about a 45-degree angle. The structure is rugged and carved out with a series of canyons, large crevices, and small caves. The entire area is dense with sea life, with strawberry anemones carpeting the rocks, orange, red, and dark-blue cobalt sponge, and many rockfish, greenling, and even a few cabezon swimming around. In the deeper areas, we see beautiful California hydrocorals, forming their branch-like structures up to 6 to 18 inches across, large anemones and plenty of nudibranchs. Small gobies and sculpins hide in the rocky crevices throughout the reef.
Because this area is exposed to the open ocean (and located very near the deepwater canyon nearby), many different pelagic species can sometimes be seen here. Large Medusa jellyfish can often be found outside of the kelp bed, and the Carmel Bay is also frequently visited by whales and dolphins. This time of year there is a very healthy population of whales in the area and whale watching boats are packed with visitors trying to spot them.
This area is great for both wide-angle and macro photography, but today I brought my wide-angle kit, with a Canon 17-40 and Ikelite dome port. Unfortunately, while topside conditions are nearly perfect, the visibility below the water tends to be a bit more challenged. At depth, we experienced 10-12 feet of visibility, which increased to about 20 feet closer to the surface. A flashlight is certainly recommended, and if I were to do it again I would have chosen to go with a macro rig and focused my lens a bit tighter given the visibility. I was still able to capture a few interesting shots here, and while the visibility wasn't great for wide-angle photography it certainly did not reduce the enjoyment or rewards of diving here today. Everyone aboard the Silver Prince reported that they had a great time exploring the nooks and crannies at the Pinnacles.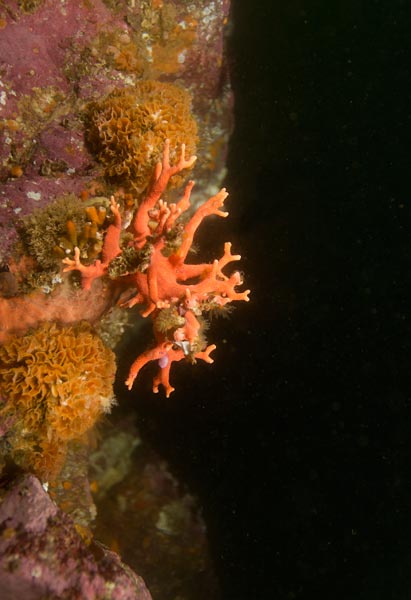 The water temperature here was a cool 51 degrees at a maximum of 89 feet in depth; it was a bit warmer in the shallower areas, but nonetheless on the cool side. Everyone on our boat wore wetsuits today, and the bright sun at the surface quickly warmed everyone up as we re-boarded the boat and prepared for our surface interval.
Upon surfacing, we were assisted back onboard by our Divemaster Clara, and welcomed with drinks and snacks (great, friendly service has always been a hallmark of the Silver Prince). Once underway, it was about a 40 minute ride back towards the Monterey Bay as we prepared for our second dive at the Chase Wall.
Outer Chase
Our second dive was at the Outer Chase Wall. The "wall" is not a single, intact rocky reef or wall, but rather one that is broken into many large, flat-faced rocks. The largest rocks are towards the center of the reef, and the reef drops to a lower relief pile of rocks at both ends. The rocky structure provides shelter and habitat for an abundance of sea life and it's a great second dive, as it's a bit shallower.
As we arrived at the site, a look down into the water revealed cleaner, blue water, and the surface conditions were the same as everywhere – flat. Captain Stephan anchored us in about 45 feet of water, and after gearing up we descended down the line, we landed near a large rocky structure and began exploring.
The area is covered with plenty of invertebrates, including red strawberry anemones, red, orange and yellow sponges, orange bryozoans, starfish, and a scattering of large anemones. The structure here provides a good place to find nudibranchs, including yellow dorids and alabaster nudis. We also spotted a few cabezon and rockfish swimming just ahead of us, careful to keep their distance. Blackeye gobies and coralline sculpins hide in the nooks and crannies of the rock face and hunt in the sandy bottom.
Visibility at the surface was much better, around 30 feet, although it did decrease at depth a bit. Water temperatures were just a couple of degrees warmer than our last site at 53 degrees. There was just a bit of a current (which we were briefed on), however it did not pose any challenges. After 40 minutes on the site, we carefully ascended, made our requisite safety stops, and once again climbed aboard the Silver Prince.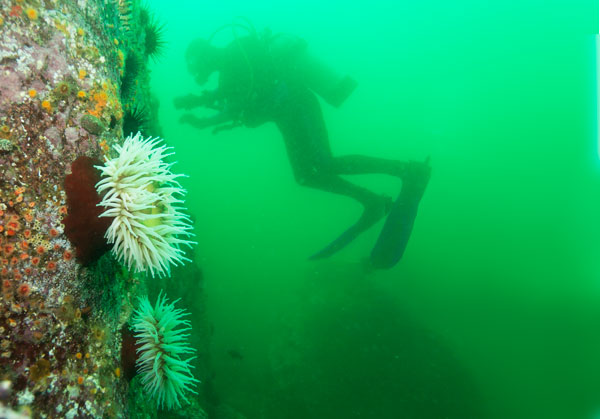 Just as we boarded the Silver Prince, we were treated to a final parting gift – a large whale surfacing not more than 15 yards from our boat. With a loud "Whoooooosh", our heads turned to see the large back of the whale surfacing, and a giant spout of air and water being blown upwards. It was the perfect ending for a great day of diving.
Monterey Bay is such a beautiful, magical place, and now is the time to go. You can check dive boat schedules online and instantly book a 2 tank dive trip for around $85, and be back to port in time to enjoy the other amenities the area has to offer. I've included a list of the area dive boats below.
Enjoy and I hope to see you out diving soon!
– Chris
Story and photos by Chris Constantine, CaliforniaDiver.com
chris@californiadiver.com
Links:
Silver Prince Charters
Escapade
Beach Hopper II
Sanctuary Charters