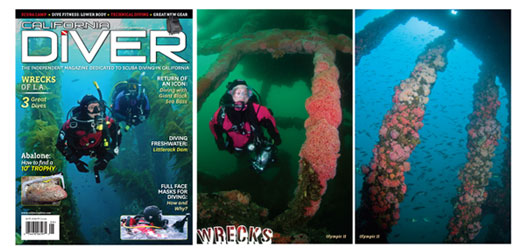 California Diver Magazine launched in 2010 as a print publication and was distributed to thousands of divers nationwide through many retailers such as Barnes and Noble, Waldenbooks, Borders, Indigo, and many others. Through providing exclusive content provided by our base of accomplished editors in the fields of dive training, underwater photography and video, wreck diving, environment, technical diving, and equipment, California Diver built a solid reputation for quality in both content and design and became a favorite among divers in California and beyond.
As our print publication evolved, California Diver was additionally offered in digital format for the iPad through Zinio.com and our website was also developed to reach online users and offered additional content, late-breaking news, and other features better suited for online . In 2013, our print and online versions merged, and California Diver now provides all of our content digitally through our website for free to thousands of divers worldwide.
We are proud to feature exclusive content that's written just for us by dozens of experienced dive professionals in all areas of the industry. If you would like to contribute a story, please contact Chris by clicking here.
California Diver is based in San Rafael, California (just a bit north of San Francisco) and Chris Constantine is California Diver's editor-in-chief and publisher. For more information, please click here to send Chris an email.