The Academy of Underwater Arts & Sciences has just announced the 2016 recipients of their annual NOGI awards.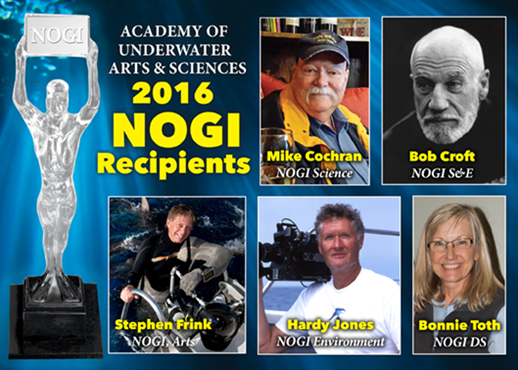 The Academy of Underwater Arts & Sciences is an international, multi-disciplinary, non-profit organization dedicated to recognizing pioneers and leaders who have had a global impact on the exploration, enjoyment, safety, and preservation of the underwater world. AUAS is committed to supporting its members as they pass on the stewardship of the sea to future generations.
The awards were given in four categories until 2013 when a fifth category for the environment was added. The 2016 award categories include:
ARTS:
Filmmakers, painters, photographers, sculptors and other artists who bring the majesty of the underwater world to people everywhere.
DISTINGUISHED SERVICE:
World-renowned as well as quiet achievers whose contributions keep the wheels of the diving industry and the global diving community turning.
ENVIRONMENT:
Scientists, lobbyists, fundraisers, advocates and more who dedicate(d) their lives to the preservation of the health of our oceans and the life within.
SCIENCE:
Explorers, inventors, doctors and scientists whose work helps us understand, enjoy and protect our precious underwater realm.
SPORTS/EDUCATION:
Outstanding athletes who have personally pushed the physical boundaries of our sport. Educators who devote themselves to teaching us how to make diving safe and enjoyable or who teach us about the oceans and the life within.
2016 Award Winners
Mike Cochran – NOGI, Science
Mike Cochran is the CEO of Cochran Consulting, Inc.  He has been a prolific and ingenious inventor, designer, and developer of dive computers and many other products during his career.
Mike started his work in the decompression field working with NASA at their Weightless Environmental Training Facility.  Later, he worked closely with Capt. Ed Thalmann of the US Navy for over a year to understand, convert, and test his decompression algorithm and use it in a Cochran Dive Computer.  Subsequently working with the Navy Experimental Diving Unit and the Navy SEAL community, his dive computer was used in the first open-water decompression computer-based dive in U.S. military history.
Mike has 57 US patents.  Among his many awards are an appointment as an Admiral in the Texas Navy (by Gov. Rick Perry) and recognition as "Texas Instrument's Most Prolific Inventor" (by James Fischer, VP TI).  He is a private pilot and an advanced scuba diver.
Bob Croft – NOGI, Sports & Education
Bob began diving in the mid 50's in the Florida Keys. The only SCUBA training available came from watching Lloyd Bridges "Sea Hunt" series on early TV. His first formal training came in in a navy SCUBA school in 1962. From there Bob moved to the "Escape Training Tank" at the Submarine School in Groton/New London Conn. It was there that Bob taught Submarine Escape and Navy SCUBA. During six years there Bob became an almost full time RESEARCH SUBJECT! He was physically instrumental in numerous research efforts that directly impacted the Navy and civilian diving world! Most notable was the discovery that, contrary to the NAVY DIVING MANUAL, the "human" diving mammal could breath hold dive safely beyond 300 feet. During a succession of chamber and open sea breath hold dives the theory of free diving man and free diving mammal was comparable! During his six years as a research subject Bob set 3 world records proving that a freediving mammal named man is more at home in the sea than was ever believed!In addition to training sub escape and navy scuba, Bob went on to become SCUBA certified by NAUI & PADI and then as an instructor for both. This was followed by working to train SCUBA instructors for both certifing  agencies. He retired from the US Navy in 1974 after 23 years and retired from civilian employment in 2000.Bob resides in Pennsylvania with Edna, his wife of 60 years.
Stephen Frink – NOGI, Arts
Stephen Frink is among the world's most frequently published UW photographers, with a career spanning nearly four decades.  He arrived in Key Largo in 1978 to open a small studio dedicated to UW photo services, primarily renting cameras and processing E-6 slide film, but he soon began to receive assignments to photograph and write articles for the consumer dive publications of the day.  He worked as a photojournalist for Skin Diver magazine for 17-years, covering much of the Caribbean, Bahamas, and Florida Keys for the publication.  Subsequently he worked as the Director of Photography for Scuba Diving magazine.  Most recently, and for the past six years, Stephen has been the publisher of Alert Diver Magazine, a beautiful coffee-table collectible magazine for the members of the Divers Alert Network.
 Hardy Jones – NOGI, Environment
Hardy Jones has spent more than thirty years investigating  and working to save dolphins. He began unique research on dolphins in the Bahamas in 1978  that led too unique insight into the lives of dolphins in the wild. He has met dolphins face-to-face in locations from the Bahamas to French Polynesia to the fjords of Norway. In 1979  he broke the story of the slaughter of dolphins at Iki Island, Japan which led  to international outrage and helped shut down the killing of dolphins in  several villages in Japan.  Since then  Hardy has worked at Futo and Taiji to stop the last vestiges of slaughter on Japan's main  island. Hardy has covered the increasing levels of toxic chemicals in the oceans and their connection to disease in dolphins and human beings. Most recently he documented the mass mortality of hundreds of dolphins the slaughter of dolphins for shark bait in Peru. Hardy is a former journalist with CBS News. He attended Tulane  University and studied law at Columbia University under a CBS Foundation Fellowship. He served in the Peace Corps in Peru.
Bonnie Toth – NOGI, Distinguished Service
As a tireless and unpaid volunteer, Bonnie Toth has donated countless hours, working behind the scenes to promote, grow, and raise awareness for several non-profit diving and ocean related organizations: the Women Divers Hall of Fame, the Academy of Underwater Arts and Sciences, the Historical Diving Society, the Ocean Institute and the Santa Barbara Underwater Film Festival.
As creative director and owner of Bonnie Toth Advertising & Design in San Clemente, CA, Bonnie brings more than 35 years of expertise in creating brand image through graphic design, advertising and promotion.  She has helped shape the visual identities of numerous diving industry giants.
For the past 10 years, it is Bonnie who has designed and produced the beautiful, stunning NOGI invitations and programs as well as the AUAS Zale Parry Scholarship certificates, all as an unpaid volunteer. She is the woman working behind the scenes making things happen! It is her love of the oceans and her genuine concern for the future of our water planet that motivates her passion and drive.  Always eager to volunteer, Bonnie is a true leader in the diving industry.