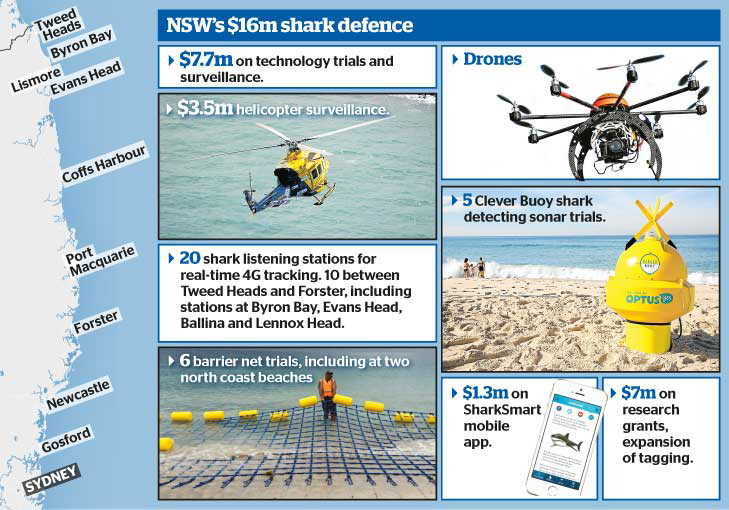 Australia has a shark problem. Or, perhaps, the sharks there have a people problem. Either way, the distance between the two hasn't been enough.
Shark bites have been on a rise this summer, prompting the Australian government to action. According to ABC News, a total of 13 attacks took place in New South Wales (NSW) so far this year, one of which was fatal. As a result, officials are turning to sophisticated technologies to help warn swimmers and other beach-goers when sharks are present.
The country will be the first to employ a fleet of drones, sonar sensors and helicopters to monitor for sharks along several popular beaches. Drones will be flown high above beaches, looking downwards for sharks, and 20 new sonar listening stations are being built along the New South Whales coast to track sharks in real-time. It's a $16 million high-tech strategy to protect swimmers and surfers. The use of shark-detecting drones will start in December, at the beginning of the beach holiday season.
Meanwhile, real-time tracking of tagged sharks using 4G technology has already begun with 10 shark listening stations deployed between Tweed Heads and Forster on the north coast. The "Clever Buoy" being used uses sonar to detect and distinguish the type of shark, and sends a signal to an Optus satellite which then sends an alert to the local life-saving club.
New South Whales Minister for Primary Industries Niall Blair calls the initiative "a historic moment" and is proud that "we are leading the world in New South Wales when it comes to how we interact with sharks and how we've utilized a range of technologies to reduce that risk for our beachgoers."
The minister says that concerns were voiced at the latest shark meeting, and that evidence indicates people are afraid to go into the water. "We want to bring that confidence back to those areas," he said of the Australian region.
In addition to the money being spent on the new systems, another $7 million is to be allocated to shark science and research. Annual grants will be offered to encourage new innovation, and more expert staff hired to the tagging program.
The technological approach is not only interesting, but also much more environmentally-friendly. In the past, single shark bites have resulted in large culling operations where dozens of sharks in the area were killed – an approach which has obviously proven to not be effective.