My kayak, loaded with SCUBA and camera gear, launches through the gentle surf. A morning breeze greets me with the salty scent of the sea. A splashing sound alerts me to a surfacing seal nearby. Curiously, it watches my approach before slowly submerging. A great egret, stark in its whiteness, uses the kelp forest as a floating platform, foraging for small fish and invertebrates and quickly strikes its prey. Paddling along the kelp forest's edge, the gentle swell lifts my kayak up and I gently glide down the back side. This is Mono Lobo, and the dive hasn't even begun.
Divers in central California know if you want to get away from it all and experience true ocean wilderness, heading south of Monterey will get you there. Exchanging the backdrop of Cannery Row for rugged granite cliffs gives one the feeling of true exploration. But where exactly is Mono Lobo? Look no further than the southern end of Carmel Bay just outside the eastern boundaries of Point Lobos State Reserve. The rocky reefs extending from the Granite Point area of the reserve wrap around to Monastery Beach, a great shore diving site featured in the March/April issue. As MonoLobo belongs to the greater Point Lobos State Marine Reserve, no fishing or collecting of any kind is allowed. So grab the camera and leave the spear gun at home for some unforgettable dives!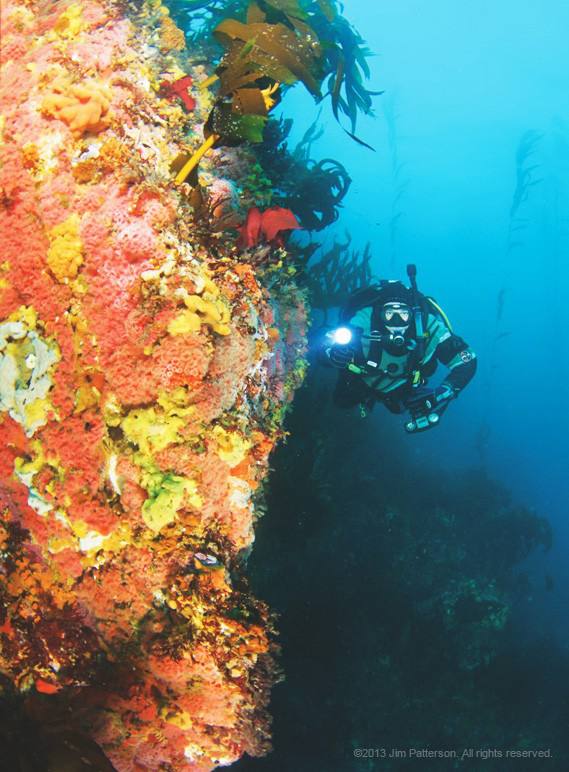 Despite being accessible by shore, kicking out to the furthest extremes of this area is not advisable. The best way to access Mono Lobo is either by kayak, a small boat, or one of Monterey's many commercial charters. Kayakdiving offers the most flexibility due to the unrestricted access from Monastery Beach. Kayaks and small boats may also launch within Whaler's Cove in Point Lobos. Just remember that reservations are required on most weekends with the reserve filling up weeks ahead of time.
Once on the water, divers have some decisions to make regarding where to go. If the swell is up, head towards the outer reaches of the kelp forests and avoid the surge. A wide variety of rock formations can be found here. Closer to Monastery Beach, small pinnacles offer plenty to look at while allowing for longer bottom times. The further from the cove, the closer you get to deeper reefs with more vertical relief for that true sense of three dimensional space. Pinnacles peak around 40-50' and reach depths in excess of 100'. Spires covered in various hues of club-tipped anemones, sponges, and tunicates rise up from the boulder fields which are filled with fish-eating anemones. Surge channels and current swept rock faces can be loaded with California hydrocoral. This delicate hydrozoan takes years to grow and prefers areas with plenty of water circulation. The occasional school of mixed rockfish can be spotted hanging still in the kelp forest; a scene hopefully more commonly encountered in the years to come as the reserve status takes full effect. The proximity to open ocean offers opportunity for pelagic encounters such as egg yolk and sea nettle jellies. I have personally rubbed elbows with the ocean sunfish, Mola mola, here. Marine mammals often frequent Mono Lobo, both in the kelp forest and just outside it. Keep your eyes peeled for passing sea lions, dolphins, and even humpback whales.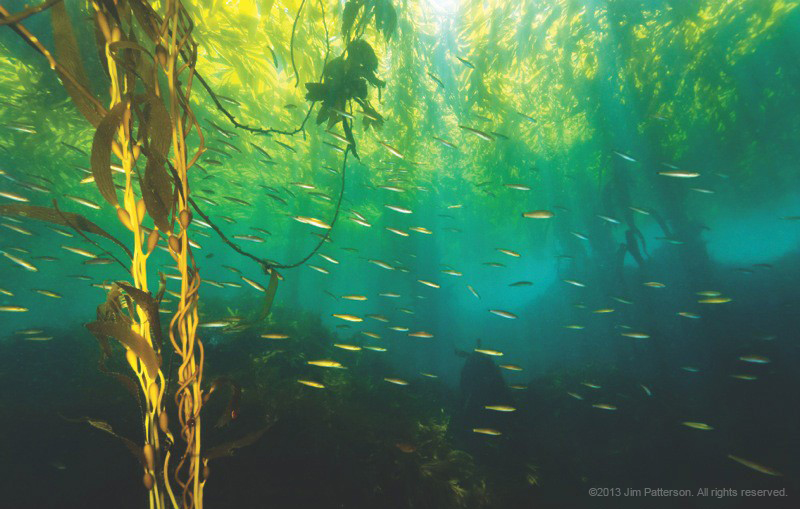 If the weather permits, be sure to visit the shallow reefs for a full blown kelp forest experience. Dense canopies in shallow water make great backdrops for sunlight filtering through the surface. The leafy understory of various algae create an almost jungle like experience. In the spring and summer, harbor seals use this area to raise their pups, and it can be an excellent place for close encounters of the furry kind. The warmer months also mean schools of señoritas can be seen swimming serenely past this carpet of green. Keep your eyes peeled for plentiful macro subjects as well. Painted greenlings and crevice kelpfish hide amongst the coralline algae and umbrella crabs can often be found here. My one lone sighting of a grunt sculpin, a peculiar and rare fish for this area with a snout similar to a seahorse, occurred in the shallows.
Wherever you decide to dive, Mono Lobo will offer a wide diversity of options for even the most discerning diver. The mix of shallow and deep habitats and the possible element of a surprise encounter will keep you coming back time and time again.
 –Jim Patterson
http://jimpattersonphotography.com
Special thanks to Jim Patterson for this story. Jim is an accomplished photographer based in Santa Cruz and has regularly contributed to California Diver. Check out his website here and check out his upcoming photography workshops.