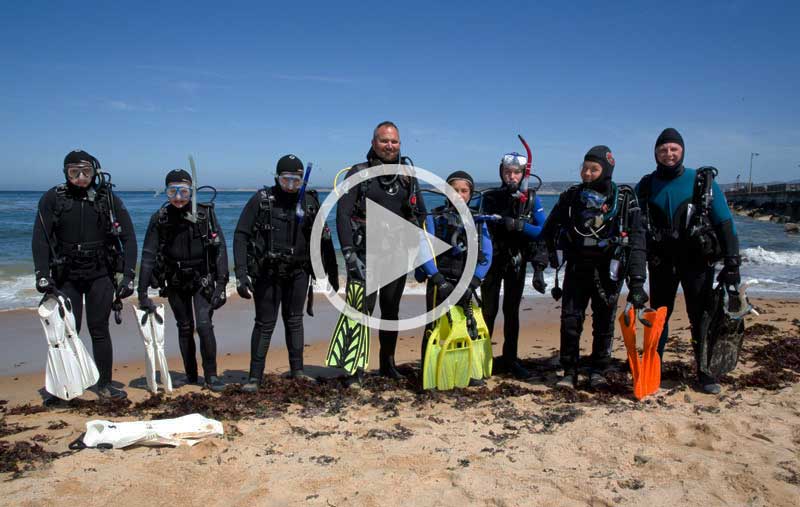 Above: Video of the Boy Scouts in Monterey (click to play).
Merit badges have been an integral part of the Boy Scouts since it began in 1907. Hand-sewn onto sashes which are worn across the scout's chest, each badge represents an individual skill accomplishment of the scout completes during scouting career, and also mark the progress towards being an Eagle Scout – the highest rank a Boy Scout can achieve. Today, merit badges remain just as an important part of scouting as they did more than 100 years ago, and more than 2.4 million Scouts are involved in the process of learning, training, and earning merit badges each year.
Individual merit badges are earned by scouts based on activities within a specific area of study, such as swimming, camping, and backpacking. Each merit has a list of skill and knowledge requirements associated with them, and after studying and learning the knowledge and skills, they are evaluated by a scout leader to assure the scout has met the requirements for a merit badge. In addition to gaining useful knowledge and skills that scouts can use throughout their lives, the program is also intended to allow scouts to examine different subjects to help determine if they would like to further pursue them as a career or vocation.
Merit Badge for Scuba
When scouting came to the United States in 1910 (after starting in England 1907) the Boy Scouts of America issued an initial list of just 14 merit badges, and this number quickly grew to the first official 57 merit badges available for awarding in 1911. With new merits being regularly added (and some being discontinued), as of March 2014, the number of merit badges available in Boy Scouts is 134. Twenty-one different badges are required to reach the rank of Eagle Scout, some coming from a list of required badges (such as camping), and others taken as electives.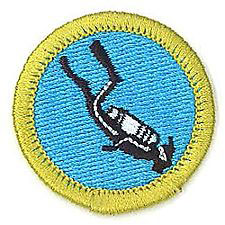 One of the newest merit badges available is the scuba diving merit badge. Due to rising popularity of the sport, officials at the BSA determined that 84 percent of scouts were interested in a scuba merit badge, and through a partnership between the Boy Scouts of America and PADI, the scuba diving merit badge was fast-tracked for adoption and became available on December 1, 2009. While developed with PADI, the scuba diver merit badge can be awarded to any scout who successfully completes a course recognized by the BSA, including PADI, NAUI, SSI, IDEA, PDIC and SDI. The course they take is identical to the course that other recreational divers take, and Scouts under the age of 15 are awarded a junior certification, which means they will need to dive with a certified adult until they reach 15. Like other scuba certifications, it is valid for a lifetime.
The Boy Scout scuba merit badge program is now almost 6 years old, and thousands of scouts nationwide have been certified as scuba divers and earned their badges. Last week, five more Boy Scouts from Troop 73 in Novato, California completed their checkout dives in Monterey and have now become eligible to receive their merit badges.
Checking Out in Monterey
Pinnacles Dive Center in Novato partnered with Boy Scouts Troop 73 and offered a special course for their troop. After completing their home-study materials and pool training sessions at Pinnacles' training center, the troop, instructors, and parent volunteers camped out during the Labor Day Weekend in Monterey for two days of checkout dives. Although visibility and surface conditions were somewhere between marginal and challenging at times, the troop managed to complete all of their skills and had a great time in the process.
Like all checkout dives required for certification, the weekend was all about practicing, demonstrating, and checking off skills. Joe, already an Eagle Scout, shared some of the skills he completed.
"We had to do skills like cleaning our masks if they get filled up with water. If, let's say your buddy got really tired, you can tow him back to shore. So, we practiced our tows. We also did an emergency ascent, in case you're out of air. We also shared air with our buddy in case they ran out of air and they ascended to the surface."
––––––––––––––––––––––––––––––––––––––––
Is your Boy Scout Troop interested in scuba diving certification?
Drop us an email here and we'll connect you with a local dive instructor or dive shop offering Boy Scout scuba diving certifications!
––––––––––––––––––––––––––––––––––––––––
Matthew Macias, 12, was excited to take the course – and for good reason. As the youngest member of his family, he was the only one who was not certified and missed going diving on family vacations. "My parents started diving, then my brother did it, so then I thought it would be really cool. On our last trip to Mexico he was allowed to go scuba diving, and now I can too."
After completing the requisite skill reviews, Matthew and the other divers had time to explore the area, both during a navigation exercise and on the way back to the beach. Visibility was in the 6-9 foot range, but the scouts still found plenty of interesting life on the bottom of the bay.
"The weirdest thing I've seen in a while actually happened down there." Matthew said. "We were swimming back, and there were just these ginormous pink worms. They're about the size of my hand, actually a little longer than my hand. They're just pink and squirming around. It was super-weird, I had no idea what they were. I've never seen anything like it in science books or anything."
Already an accomplished and award-winning topside photographer, Matthew hopes to make his move to underwater photography soon. "I want a GoPro camera for Christmas" he said.
While some people take their time to sign up for a class (I have friends who have been planning to take one for years), Cameron jumped at the opportunity.
"I was at one of the meetings and they said, "We have a scuba diving event going on. We learn to scuba in the pool, and then we're going to go out to Monterey to go diving. I immediately said, "I'm In!".
The academic and pool training sessions went smoothly for Cameron, but the water was a bit rougher during the checkout dives than anticipated. Upon arriving at the Monterey Breakwater, one woman was being escorted out of the water and into a waiting ambulance after being tossed in the surf and injuring her shoulder. It's not exactly a confidence builder, especially on your first day of diving.
"I saw a lot of other people rolling around, which didn't look pleasant.  I didn't have to really worry because I had a master diver with me, showing me how to time the waves, so I got in and out just fine." Once in the water, however, Cameron found it to be a bit colder than expected.
"My computer said it was 59 degrees. I believe it was a little colder because it was really cold. I was freezing!"
With longer entry times and limited visibility, testing each student on their skills took a bit longer than normal, which likely accounted for some of the chill. The scouts, of course, were prepared with suits that kept them warm – for most of the dives anyway.
The cold water in the Monterey Bay brings with it lots of wildlife, and the troop of divers had the opportunity to see some interesting animals firsthand. Robbie told us, "I saw a sea otter which was pretty cool because it came up right next to us." A large sea lion sat nearby on the breakwater rocks, warming himself in the sun while watching over the divers, and a large whale was spotted in the bay, just a hundred yards or so from the class.
Joe told us more about the life they saw on the bottom. "It was interesting. There wasn't that much visibility, but when you saw the bottom, there's a ton of sand dollars and there's small fish. I saw a ton of sanddabs."
Certified and Qualified
With their checkout dives complete and the requirements for their scuba certifications completed, the scouts will soon be receiving their scuba certification cards at Pinnacles Dive Center, and are qualified to receive their official Boy Scout scuba merit badges. Receiving the merit badge requires some additional work by the scouts, however, and it's handed over in a more formal fashion.
Before enrolling in the scuba diving course, the scouts need to first earn their swimming merit badge. The course teaches the scouts basic swimming strokes, surface dives, object recovery, and survival floating in the pool. Later, after successfully completing the scuba course and receiving their certification, they must complete an official merit badge workbook, where they need to answer, in essay form, subjects such as explaining what an ecosystem is, identifying different career opportunities in the scuba industry and finding out the education, training, and experience required for those professions.
Receiving their Award
After the successful completion of their scuba class and completing the additional requirements of the Boy Scouts, the scouts will be awarded their merit badge at an official Court of Honor. Cameron helped explain.
"We will receive the merit badge when we have our next Court of Honor. It's a formal presentation where merit badges are awarded and they usually have one every month or two".
During the Court of Honor, the scouts are joined by family members to share in their accomplishments. The scouts from Troop 73 will receive their official badges at their next Court of Honor on Monday, November 16.
Now that they're certified divers, each of the five have different ambitions, but all loved the idea of being a certified scuba diver. For now, just being able to dive with the family is enough for Matthew, who was the only member of his family who wasn't certified to dive prior to taking the course.
"We can take family vacations and scuba dive now."
A whole new world of opportunity has been opened up for Matthew and the other scouts from Troop 73. Congratulations on your accomplishment and for earning your Boy Scouts Scuba Diving merit badges.
Is your Boy Scout Troop interested in scuba diving certification?
Drop us an email here and we'll connect you with a local dive instructor or dive shop offering Boy Scout scuba diving certifications!
• • • •
For more information:
Boy Scouts of America
Boy Scouts Scuba Merit Badge program
PADI
Pinnacles Dive Center, Novato
Diving Monterey
Words, photos and video by Chris Constantine, California Diver Magazine
chris@californiadiver.com