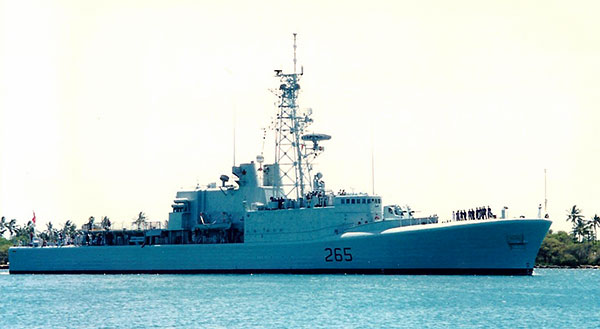 After serving as a Canadian warship for more than 35 years, the HMCS Annapolis is heading to her final resting place – at the bottom of the sea.
The HMCS Annapolis is an Annapolis-class destroyer that served in the Royal Canadian Navy and later in the Canadian Forces. She was laid down on September 2, 1961 by Halifax Shipyards Ltd. at Halifax and launched on April 27, 1963. She was commissioned into the Royal Canadian Navy on 19 December 1964.
Annapolis was sold to the Artificial Reef Society of British Columbia (ARSBC) in 2008. The original plan was to sink her in 2010, however due to objections from environmentalists and local residents of Halkett Bay (mainly over toxins and increased water traffic), the planning and preparation took longer than planned. Around 500 metric tons of scrap metal was removed in the process, with more than 1,000 volunteers helping out.
After extensive cleaning by volunteers and a final approval was given, she will be sunk in January as an artificial reef off Port Graves (Long Bay) on Gambier Island in Howe Sound. The site is expected to be an artificial reef that will benefit underwater species and divers alike.
An exact date for the sinking has not yet been confirmed. For more photos and information, visit the Artificial Reef Society of British Columbia (ARSBC).