Although diving accidents are rare, can you imagine what it would be like NOT to have a recompression chamber around? A study has shown that 69% of diving accidents are caused by diver error. So can you imagine inadvertently doing something wrong, getting bent or embolized, and hearing "Sorry, there's nothing we can do for you." Fortunately, that's NOT the case in SoCal because, since 1974, we can rely on the USC Catalina Hyperbaric Chamber to be there for us.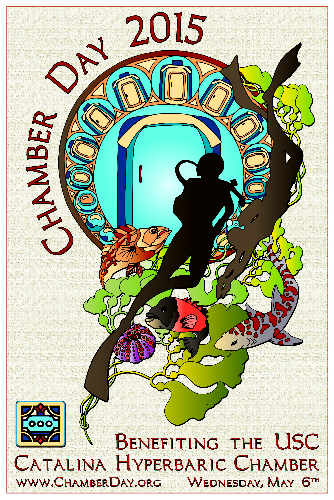 But we almost lost it in the late 80s when L.A. County was considering pulling funding from the Chamber. Roger Hess, then owner of Charisma Charters, came up with the idea that all the dive boats should come together for a day of diving with all the proceeds being donated to our Chamber. And thus, Chamber Day was born.
Now in 2015, we are celebrating our Chamber's 41st year of unbending service to the Southern California diving community. While our Chamber still gets about 50% of its funding from the County, Chamber Day & Eve have become the major source of funds to keep our Chamber available to us 24/7/365. And that's why we hope you'll participate in Chamber Day & Eve 2015 on Wednesday, May 6.
The first Chamber Day attracted about 200 divers and netted around $15,000 for our Chamber. Over the years the event has grown to over 1,000 participants by adding Chamber Eve, the Flying Dutchman, and the Chamber Challenge. And last year we raised just under $100,000 for our Chamber. We are justifiably considered the largest single-day scuba charity event in the United States and perhaps even the world.
It's important to know that all monies raised go to the Chamber. No administrative fees are deducted from the proceeds, many of the local SoCal boats donate their time and services, the manufacturers donate gear for raffle prizes, the Aquarium of the Pacific donates their facility for Chamber Eve, hundreds of volunteers donate their time, and you (hopefully) donate your money.
Here's what's happening:
The main event is Chamber Day, which includes two dives at Catalina, plus a walking tour of the Chamber facilities at the Isthmus. Costs for the event have been going up each year and this year we've finally had to give in to economic reality and raise the event prices to deal with this. Chamber Day is now $110 (plus $30 for food and airfills, which goes to the boat) which gets you the diving, the tour, a T-shirt, and 5 daytime raffle tickets.
If you can't take the day off but would still like to participate, we have the Flying Dutchman—a mythical boat, yes, but a big part of Chamber Day and the perfect option for those who can't attend in person. "Diving" the Dutchman gets you 5 daytime raffle tickets and a special limited-edition T-shirt available only to folks who sign up for the Dutchman. And we're holding the Dutchman price at $95.
There's also the Chamber Challenge, which "challenges" our community to raise extra funds for our Chamber through direct donations (mostly $100 pledges, but also $500 and $1,000, and even $5,000 and $10,000). You donate, and then—we hope—you challenge your friends to match your generosity.
Raffle tickets, anyone? Daytime raffle tickets are the way to go—because you don't need to be present to win. Tickets are $1 each, with discounts when you buy more.
Chamber Evening, co-sponsored by the Aquarium of the Pacific, wraps things up. You'll have full access to the Aquarium, a sit-down dinner in the Great Hall (under the life-sized model of a blue whale), hear a few speeches—we try to keep them short—maybe win a raffle prize, and finally, cheer during the presentation of the Chamber Day check to Karl Huggins, Director of the Chamber. As with Chamber Day, our costs have gone up for Chamber Evening so that price will also be $110 per ticket.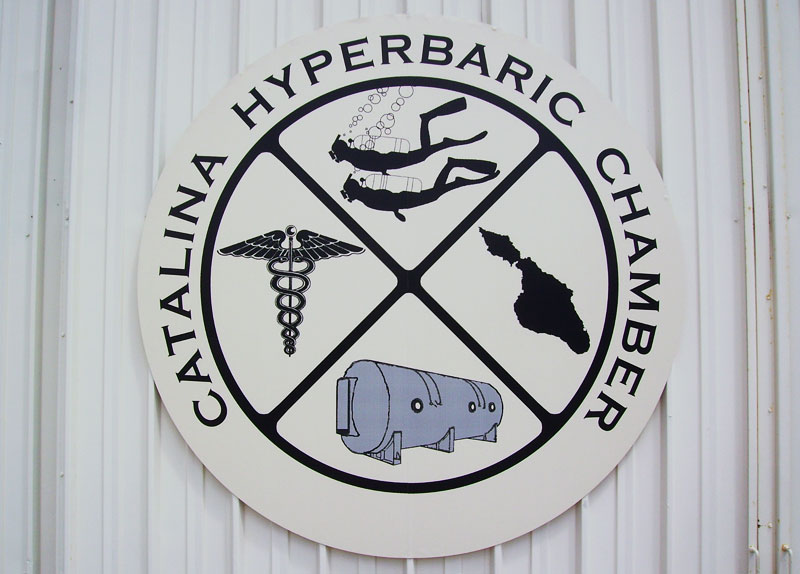 CHAMBER DAY
Wednesday, May 6, 2015 is Chamber Day, where SoCal's finest dive boats donate their services for the day to benefit our Chamber. We are delighted this year to be adding the Truth to our fleet as they are now spending the first half of the year at Rainbow Harbor in Long Beach and have eagerly agreed to join the Chamber Day fleet. The full roster of participating boats (in alphabetical order) are: Asante, Cee Ray, Giant Stride, Hattitude, Magician, Pacific Star, Sundiver, Sundiver Express, Sundiver II, and Truth. (And for those who can't take the day off or don't dive, there's always the Flying Dutchman.)
Here's the way it works: Sign-Up for the boat you want to go on. They'll hold a reservation for you for 72 hours, but after that spots are guaranteed only when your donation is received. Your donation of $110 (plus $30 for boat food & air) represents an increase but it is in line with Catalina day trips. More importantly, it's a donation for a good cause: your Catalina Hyperbaric Chamber. Try to book early, because once a boat fills, it's unavailable.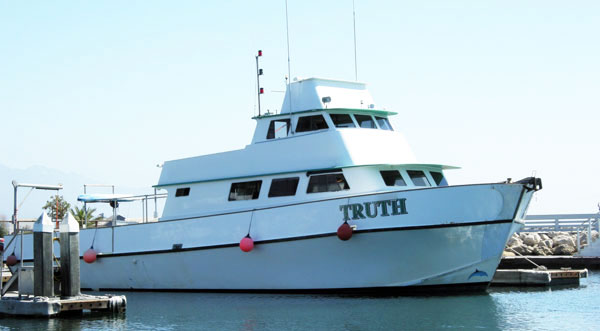 Boats will leave their respective docks at 7AM and head for Catalina. (Some boats may allow you to board the night before and sleep on board.) You'll make two dives at Catalina, get a commemorative Chamber Day 2015 T-shirt, and receive 5 daytime raffle tickets. To increase your chance of winning raffle prizes, you can purchase extra raffle tickets when you make your reservation, on the boat, or at the Chamber.
At some point during the day, your boat will dock in Big Fisherman's Cove and everyone will disembark for a 75-minute tour of our Chamber facilities, including a chance for you to hear from first responders from L.A. County Lifeguards, rescue helicopter crews from the Coast Guard and/or Sheriff's Department, and the Chamber crew will walk you around the Chamber itself. You'll even go inside and be pressurized to a depth of 1 foot. (Hard to believe, but you'll have to clear your ears.)
Most of the boats will arrive back at their docks between 5 and 5:30PM. We try to contact all the boats to tell them who their raffle winners are. All the raffle prizes will be available in front of the Aquarium of the Pacific in Long Beach from 4:30-7PM at our drive-up raffle prize pick-up table.
Please remember that Chamber Day is a fund raising event and not a normal dive day charter. Due to the logistical issues involved, if weather conditions preclude the dive boats from safely going out on Chamber Day there will not be a make-up day. If weather forces us to cancel you will receive your Chamber Day shirt, be transferred to the Flying Dutchman, and will be given an additional 10 daytime raffle tickets.
The bottom line in all of this is that your continued support of our Chamber, in whatever form that takes, is essential for our Chamber to remain available and on-watch 24/7/365. And that means we need you to sign up for Chamber Day 2015 by calling a sponsoring shop or club, by calling our main number at 310-652-4990, or by going to our secure server at www.chamberday.org. Come alone or bring a buddy, but don't miss this special event!
THE FLYING DUTCHMAN
For those who can't take a Wednesday off, we have the perfect solution—sign up for the Flying Dutchman. In nautical lore, the Flying Dutchman is bad news as it was the name of a mythical ship doomed to sail the seas forever and never reach port. But from a Chamber Day perspective, the Dutchman is a good thing because it helps us raise more money for our Chamber and gets you a unique T-shirt.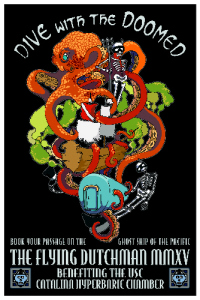 Our Flying Dutchman is the answer for folks who can't get wet on May 6 but who want to say they "dove" the event. You won't really go anywhere but you'll get all the other benefits of Chamber Day participation. An "on-board" raffle will be conducted, just like on all the other boats, and you'll get a T-shirt—but yours will be unique.
Everyone who dives the Dutchman gets a special, limited-edition Flying Dutchman Chamber Day T-shirt that's available only to those who dive the Dutchman. The back of the shirt features a unique design each year, while the front of the shirt will have your name on it as a member of the "Lost Crew" of the Flying Dutchman. You can either use your real name or make up your pirate name—it's your choice (though we retain the right of final approval on any pirate name submitted).
Cost for the Dutchman remains at $95. This includes your T-shirt, on-board raffle ticket, and 5 Chamber Day raffle tickets. It's a great way to participate if you can't get away for the day. We generally have over 100 people "dive" the Dutchman each year and we're hoping that 2015 will be no exception.
CHAMBER EVENING
We realize that not everyone can take a Wednesday off—which is why we have Chamber Evening. What makes this event unique is that we secure the entire Aquarium of the Pacific in Long Beach . . . just for us.
The Aquarium and the Chamber Day Committee once again invite you to join us for an evening of fish, food, and fun. Chamber Eve 2015 is Wednesday, May 6, from 7:00–10:30PM. Because the Aquarium realizes the vital role our Chamber plays in the overall safety of the SoCal dive community, and because they realize what a valuable contribution the roughly 170 volunteer divers make to the smooth running of the Aquarium, they waive their normal facility fee­ for this event and host it for us at no charge. (We still pay for the food but that's outside of the Aquarium's control.)
Event costs have been going up on us each year so this year we have to raise our ticket price to $110 per person. (Folks who do both the daytime and evening events will receive an extra $20 in raffle tickets as a bonus for doing both.) With attendance capped at 500, the earlier you sign up, the better.
Each table seats 10 for the sit-down, waiter-served dinner. Many of the tables are sponsored by area dive shops, clubs, and organizations. You can choose to sit with a group you know, or choose one of our "Open" tables and make some new friends. You can sign up directly with a table sponsor, through our web site (www.chamberday.org—it also has a complete list of table sponsors), or by calling us at 310-652-4990. Just be sure you let us know where you want to sit. (And if you're a vegetarian or have special dietary requirements, let us know that as well, no later than May 1. We'll do our best accommodate your needs.)
The doors open at 7PM. You'll have over an hour to explore the Aquarium exhibits, check out the prizes, make purchases at our merchandise table, drink, and mingle. Dinner will start a little at 8PM and our program gets underway after 9PM with remarks, raffle prizes, some stills and videos from the day, and a check presentation at the end. We usually wrap up around 10:15PM. It's always a fun evening for everyone, so bring along your dive buddy or even a non-diving friend or Significant Other.
When you buy your ticket, you'll also get 5 evening raffle tickets. There will be opportunities to buy more raffle tickets when you get to the Aquarium. Total value of the evening raffle will be roughly $10,000 and prizes will include regulators, BCs, computers, and more. (Check out our web site—www.chamberday.org—for a complete listing of all prizes and donors.)
Best of all, everyone in attendance will have a shot at our raffle Grand Prize: A week of diving in Yap courtesy of our good friends at Manta Ray Bay Resort & Yap Divers. One winner will receive seven nights accommodations along with five days of 2-tank diving, breakfast daily, and the hospitality and charm Yap is known for. Airfare is not included. the Grand Prize winner will be drawn last (after the check presentation) and you must be present to win.
In the early part of the evening, we'll have our Blind Bid Auction (including the highly coveted Diver-for-a-Day at the Aquarium) where you can bid on items but can't see what others have bid. So make your best offer and keep your fingers crossed. Winning bids will be announced throughout the evening.
All night, we'll have full access to the Aquarium and its 11,000+ critters, comprising over 500 species and representing 3 major regions of the Pacific. In case you didn't know, the Aquarium of the Pacific is the only aquarium that focuses on the Pacific Ocean.
As with Chamber Day, Chamber Evening tickets can be purchased by calling 310-652-4990 or by going to our secure server at www.chamberday.org. Just indicate how many tickets you want, what table you'd like to sit at, and how you want to pay. It's as simple as that.
Mark the date—Wednesday, May 6. It's the dive party of the year. Don't miss it!
THE CHAMBER CHALLENGE
Each year the SoCal diving community raises extra funds for our Chamber through the Chamber Challenge. These funds are vital to the operation of our Chamber. It's a simple concept: you make a donation and then "challenge" your friends and associates to do the same. Last year was an incredible year, with over $53,000 in Challenge donations.
Although contributions of any amount are welcome, we have a tiered level of donations, as follows:
Diamond – $10,000
Platinum – $5,000
Gold – $1,000
Silver – $500
Bronze – $100
All Diamond, Platinum, and Gold donors will receive special recognition from our Chamber for their donation. Contributions can come from individuals, clubs, stores, boats, publications, and others. If the company you work for has a matching grant program, that would also be much appreciated.
Donations can be made either through our secure server at www.chamberday.org or by calling 310-652-4990. Cash, check, and credit card are all fine.
CHAMBER DAY 2015 RAFFLE TICKETS
Whether or not you attend Chamber Day 2015, you can still pitch in and help support our Chamber by buying daytime raffle tickets. Each ticket gives you a shot at winning some fabulous prizes. And, since you don't have to be present to win, you help our Chamber while perhaps helping yourself as well.
It's always good to write your name (or use a stamp) on the back of your ticket. If you're diving, put your boat name on there too. It makes it that much easier for us to let you know you're a winner and get your prize to you.
Day raffle tickets are $1 each. But we'll sweeten the deal when you buy in bulk. For $10, you'll get 12 tickets; $25 dollars nets you 30; $50 gets you 70; $100 scores 150. Last year, a number of winners were people who couldn't attend the event but bought tickets anyway.
There are a couple of caveats to keep in mind:
(1) Tickets are good for the daytime raffle only.
(2) You can buy as many tickets as you like; however, a single individual can win no more than 3 prizes in the daytime raffle.
California law prohibits us from selling raffle tickets over the Internet, but if you'd like to get more tickets before May 6, we're allowed to do that transaction over the phone. Just call Chamber Day HQ at 310-652-4990 and we're get you all squared away.
BUY T-SHIRTS & OTHER GOODIES AHEAD OF TIME
Once again this year you can buy extra T-shirts and other Chamber merchandise ahead of time online at www.chamberday.org. You can choose from either our Chamber Day 2015 shirt or our Chamber Evening 2015 shirt—or you can save yourself the trouble of deciding and get both. In years past, the evening shirt was available only at the evening event, but it's now available online to anyone who wants one. (And the Evening shirt is available in both long- and short-sleeved versions.)
You can have the shirt shipped to you (for an extra $5) or you can pick it up on May 6, either at the Chamber or at the Aquarium of the Pacific. There's no charge for pickup.
Be sure to get your T-shirt today and wear it with pride, knowing your donation is helping to keep our Chamber strong.
• • •
For more information about these can't-miss events, visit the Chamber Day website at www.chamberday.org. You can sign up there using our secure server, or you can Chamber Day HQ at 310-652-4990.