For the past five years children with disabilities have spent a gleeful day absorbed in the HSA Scuba Discovery Event!
Thanks to the collaboration between the hospital's Recreational Therapist, Mariana de Sena (CTRS); HSA Course Director Denise Dowd, and Jim Gatacre, founder of the Handicapped Scuba Association (HSA), the event in April 2016 was a resounding success.
This year, 10-year-old Noah greeted us with a warm "Hello," and a smile! Two years ago siblings Noah and his 8-year-old brother Lucas, both autistic, almost exclusively sought out each other's company but now things are different and their mother, Dominique, couldn't wait to tell us.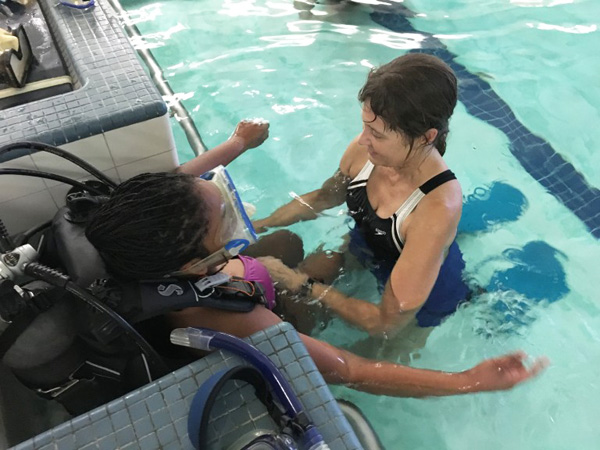 "They've just bloomed," she exclaimed to Gatacre, "I want to thank you so much. This program has helped them in so many ways. Just look at them," she beamed as Noah examined a scuba mask and Lucas played in the water.
Autism is a neurodevelopment disorder causing impaired social interaction, communication deficits and repetitive behaviors that are usually observed by age three. The genetic disorder affects about 2 per 1,000 individuals worldwide.
For hours the children played, laughed and learned in the warm water of the hospital's indoor pool. Nine-year-old Justus concentrated on his swimming skills and Sebastian (also 9) took part in a Frisbee toss with Gatacre and other HSA volunteers. Layah, a quiet, pretty 11-year-old girl, was captivated by the scuba gear. She made a graceful exit from her wheelchair into the sparkling water where Denise waited to welcome her to the wondrous world of Scuba.
Each year HSA Instructor Denise Dowd has driven more than 100 miles from her home to the Children's Hospital, carrying a van full of scuba stuff for small hands to explore.
"The children look forward to this every year. It's an activity that's exciting and unusual to them," Mariana explained, "It sets them apart from other children in their age groups."
The Handicapped Scuba Association is a non-profit organization established in 1981. It has provided specialized underwater education to over 8,000 HSA Instructors, Scuba divers and many Doctors. HSA programs are taught in accordance with standards devised by Gatacre that were developed through input from the world's top diver training/certifying agencies.
In November 2015 Jim Gatacre was recognized for his 34-year contribution to the scuba diving industry as a recipient of The 'DEMA Reaching-Out Award' presented by the Diving Equipment and Marketing Association. It's an honor he shares with past award recipients, including Jacques-Yves Cousteau and astronaut Scott Carpenter.