Mention the term "muck diving" and most scuba divers in the know will immediately begin waxing about far off destinations with exotic names – places like Lembeh Straits, Anilao Philippines, Milne Bay Papua new Guinea or Raja Ampat. Okay, so Southern California isn't exactly Bali, but we sure do have a variety of our own critter hot spots.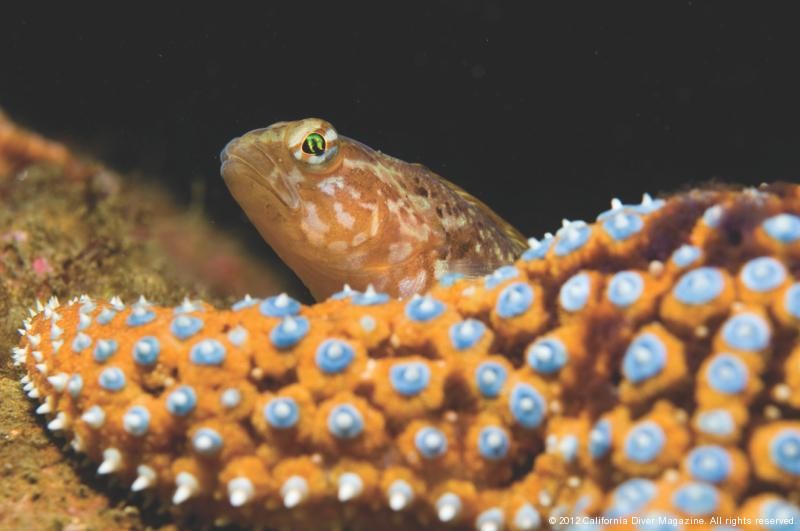 First let's look at the term "Muck diving", first coined by scuba divers visiting Lembeh straits. Returning travelers would often tell tales of black and coffee colored sands, and the critters that inhabit them. Like a moth drawn to light, I began my own quest to seek out these places to see them for myself. What I have discovered is more than just a destination but a whole new layer of animal life, perhaps more compelling and deadly then that of the open ocean animals. These critters are often ornate, venomous and masters of disguise and predation.
Here in Southern California we also have many dive spots that are nearly as intriguing and challenging as these far off destinations. Places like Point Loma, Vets Park, Newport Beach Pier and The Pipe to name a few.
————————————————————————-
Words & Photos by Mike Bartick
Visit Mike's website at http://www.saltwaterphoto.com
_____________________________________________
One of my favorite haunts has to be Vets Park, located in Redondo Beach. It's a tricky entry but once past the surfline, the bottom falls away quickly. The dive is a sloping canyon that bottoms out around the 100 foot mark. The sloping canyon wall plays host to a variety of animals. But what makes it my favorite muck dive is the diversity and density of critters. Nudibranchs, swimming crabs, flatfish, lizardfish, horn sharks a variety of Octopi and much more can be found here on almost any night. The highlight of diving here is the annual squid run which takes place Late into December and January. Clouds of market squid flood the canyon so thick that at time's you cannot see your buddy just a few feet away. The squid lay eggs referred to as basket's that can appear at night like pearly white sand dunes on an otherwise featureless substrate. Batrays feed while lobster and crab's stroll about in a lethargic over fed trance, the squid are busy mating and trying to beat the odds.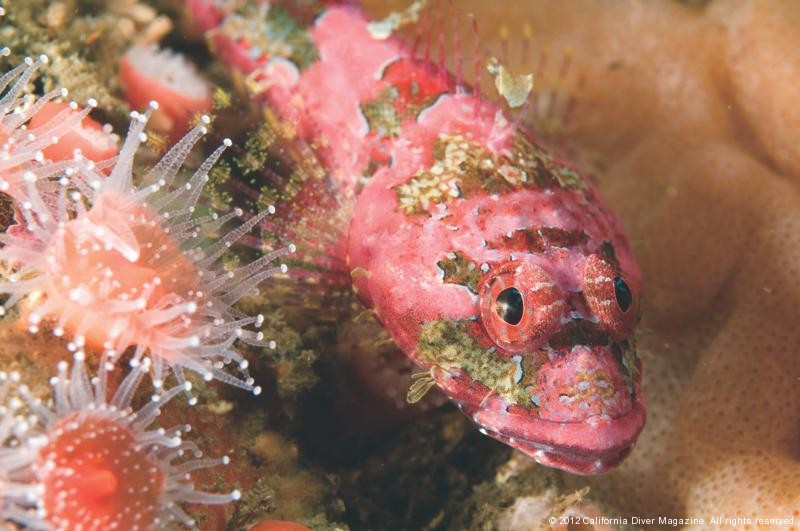 Internet dive boards like ocdiving news or divebums will come to life when any extraordinary event begins to take place, and when it does it's time to move. These events don't last long and if you hesitate you can miss out on all kinds of unique opportunities.
Further south we have another Hot Spot that is really about the coldest of them all. Point Loma and her massive Kelp Beds are home to a healthy variety of animals, with water temperatures among the coldest of all the SoCal areas. The area known as the ancient sea cliffs and Gayles spot are riffe with Nudibranchs like the large Dendrenotus iris and Babakena festiva, just to name a few. The dives here are deep, dark and cold so a light and a drysuit are highly recommended.
Newport Pier is another sleeper dive site that most divers would never consider twice, yet just a few feet below the surface the life is so prolific that it will cramp your shutter finger. This site is a bit tricky as it's also a sportfishing pier. I've spent many childhood summer days casting rod and reel here, staring into the depths. But never did I think I would venture below to see exactly what's there. Like any dive site, a single visit is hardly enough for a strong overview. Several dives here over as course of time will unveil the unique fauna that calls this place home. The entry here is accomplished best with low surf and directly under the pier. Again there is a submarine canyon off the tip of the pier, and we have kicked out to find it a few time's but without success.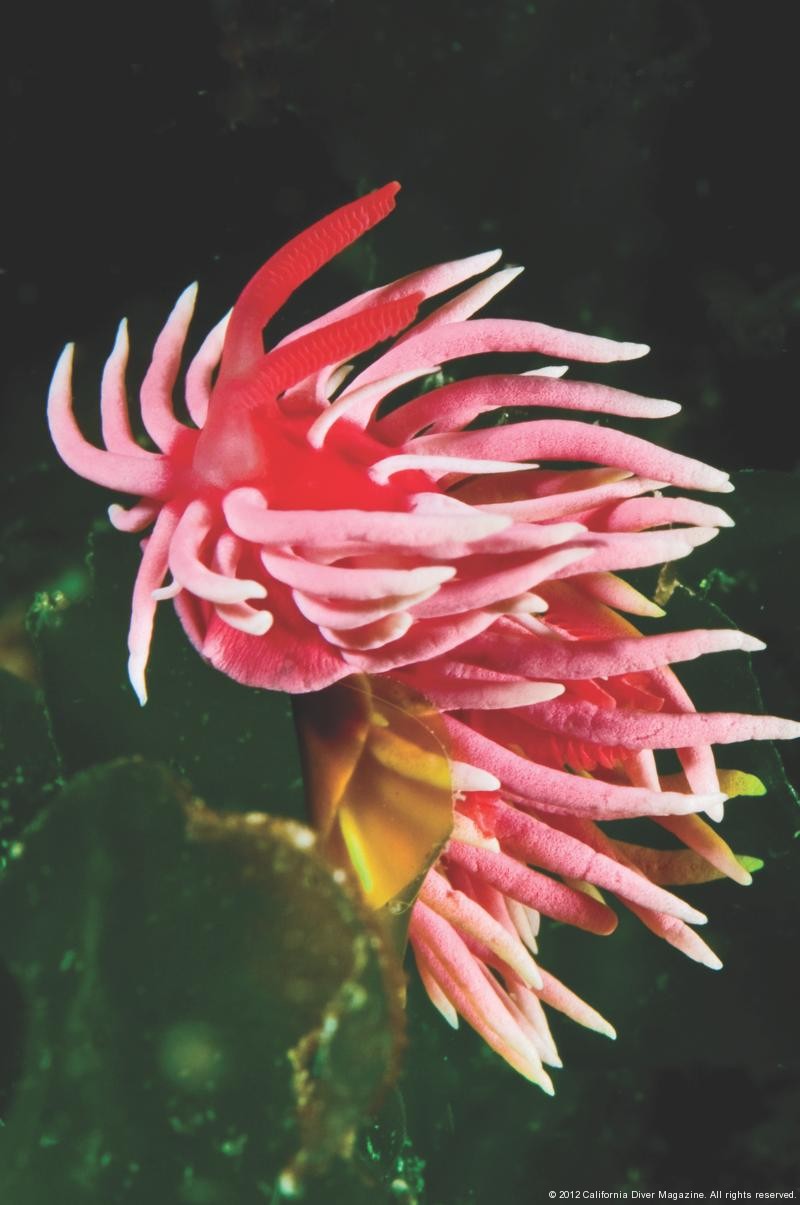 So after all of that dodging and weaving is it worth it? Oh yeah baby, it's worth every bubbled breath. Sarcastic fringeheads are facing off for discarded whelk shells, Nudibranchs of course but a different variety, not the usual stuff found around SoCal. Octopuses live in the discarded bottles guarding themselves with broken shells. Pipefish surge to and fro in the algae, along with colorful kelpfish – and we haven't even talked about the life on the pylons. Trust me, you will definitely raise a few eyebrows entering the surfline donning dive gear
Then there is "The Pipe". This site requires a boat entry but the dive site is located very near to shore. The Hyperion water treatment plant constructed the pipe many years ago to discharge digested sludge into the ocean five miles out. This subject is controversial on its own, but the dive site is not. It is without a doubt one of the most unique dive sites on this shortlist. The pipe itself runs directly into the ocean from the shoreline, and can be explored at many different depths. Every few hundred feet is a support block securing this behemoth construct to the ocean floor.  Built high enough above the bottom for a diver to actually stand up in some spots, makes it easy to investigate. The entire pipe and supports are encrusted with life. This massive manmade reef provides a home for many organisms. Large grey sponges grow here, enjoying the food flushed through with a constant tidal flow. But the real attraction at this site is the feather duster worms. The feather duster communities are so dense here it resembles a calico tapestry. Colored patches of red, yellow, white, burgundy, black and more adorn the sides and underbelly portions of huge sections here.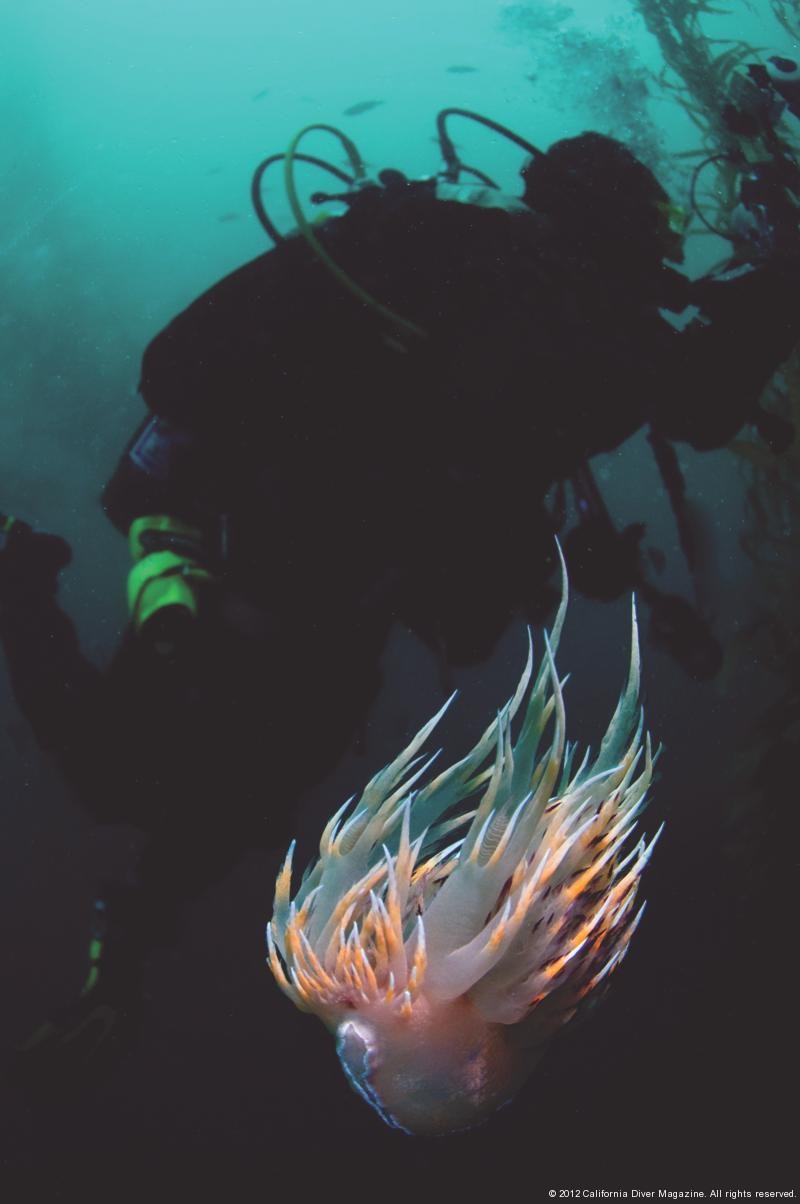 But do we really come here for the feather dusters? Well truth be told, this is one of the hottest Nudibranch spots in SoCal. The density and diversity here have outdone any other site we have found hands down. The sand under the pipe is covered in debris and bryozoan where many varieties of Nudi's can be found. Without even exploring the structure, I have spent entire dives in just one small area, sifting through the debris finding new critters.
So while the term muck diving may have been coined in some far off exotic destination that doesn't mean we must be deprived of it. If you love small animals like I do then this "shortlist" of destinations will provide a great jumping off point for exploring. I know there are many more sites that could inhabit this list from all over California, and with 840 miles of of coastline in California alone, there is ten lifetimes of great scuba diving to be spent exploring.
————————————————————————-
Words & Photos by Mike Bartick
Visit Mike's website at http://www.saltwaterphoto.com
_____________________________________________