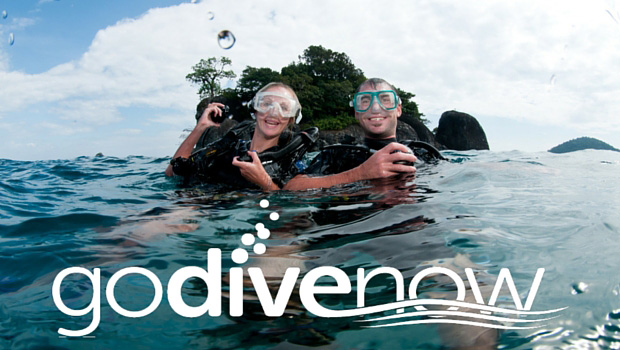 On May 24, 2016 the website for DEMA's new national marketing campaign, Go Dive Now went live. The campaign itself includes the Go Dive Now website, providing direct links to local DEMA Member retail stores and dive vacation destinations, highlights the many benefits of diving and eases barriers to entry by offering information and resources for potential new divers.  DEMA Member Retailers receive free Facebook advertising focused on the customers near their stores, and the opportunity and resources to market their own services and businesses by engaging in this US and International Member campaign. The ultimate goal of this new marketing campaign is to help drive growth for the diving industry.
The official website for the campaign, www.GoDiveNow.com, is now live. Potential divers will find a wealth of information and resources available to them to help them learn more about diving and begin their journey into the sport. Among its many resources, the website includes a helpful professional dive center locator, listings of DEMA Member international vacation destinations, FAQ's, videos, and ways to connect with other divers through social media.
Through the Go Dive Now campaign DEMA Member Retailers will also have access to campaign tools which can help them engage with and take advantage of the Go Dive Now brand.  DEMA Members will be able to access, at no charge, a Member Toolkit containing an email ad template, Facebook ads and images, digital banner ads and receive a bi-monthly touch point that recaps all social media posts, making it easy for dive stores to like, copy, share, repost, and retweet all the Go Dive Now social media posts.  Members will also receive professional tips for using social media to get more store and web traffic. Additionally, all DEMA Members will receive their very own evaluation to determine the local zip codes that should be targeted near their store when conducting their own promotional efforts. Non-Member retailers are encouraged to join DEMA so they too can capitalize on the additional exposure they can receive through this campaign and the resources available within the Member Toolkit.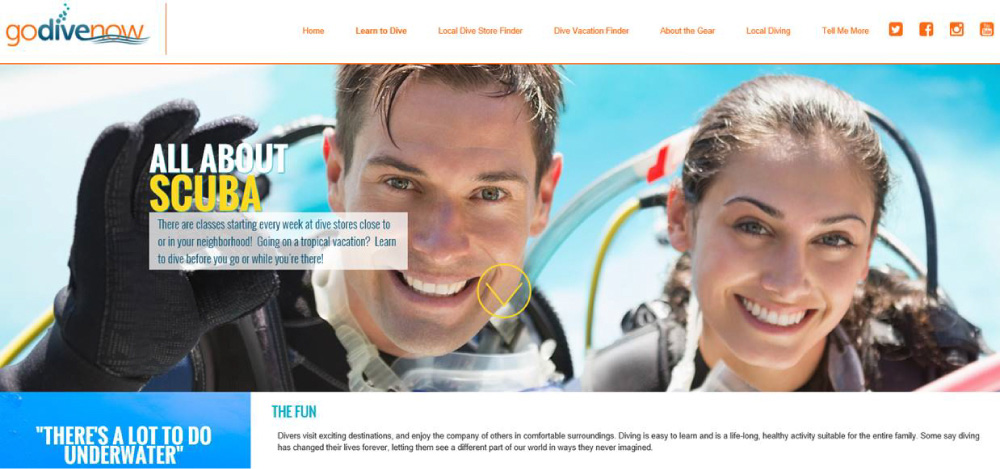 Beyond the website, Go Dive Now will focus heavily on marketing through social media (such as targeted Facebook and YouTube advertising) and pay-per-click ads around the country. These Facebook ad buys will be focused mainly around local DEMA Member retail stores. Now is the time to become a 2016 DEMA Member to make sure your location is included. As the campaign evolves, other advertising opportunities will be evaluated including Twitter and Instagram channels. More than a way to drive just certifications, Go Dive Now utilizes industry research to locate and target the audiences that will be most likely to fully engage in diving, including buying equipment, diving locally and buying dive travel. Go Dive Now, is expected to be a multi-year campaign and has been and will continue to be, a collaborative effort amongst industry stakeholders through the gathering of marketing insight, coming together for brainstorming sessions, and sharing media files for promotional efforts.
The DEMA Board of Directors and Consumer Marketing Committee have spent the past year developing this campaign. The Consumer Marketing Committee is headed by Kristin Valette, Chair and additional Committee members include: William Cline, Stuart Cove, Scott Daley, Doug McNeese and Laura Walker.
Visit www.GoDiveNow.com to learn more; follow @GoDiveNow on Facebook and Twitter; and use hashtag #GoDiveNow with all your scuba-related social media posts!
DEMA, the Diving Equipment & Marketing Association, is an international organization with more than 1,300 business members.  The mission of this non-profit, global organization is to bring businesses together to grow the diving industry worldwide.  DEMA owns and produces DEMA Show, an annual trade-only event for businesses in the scuba diving, action watersports and adventure/dive-travel industries.  DEMA Show 2016 will take place November 16-19 at the Las Vegas Convention Center in Las Vegas, NV. For more information on DEMA and affiliated programs contact (800) 862-DIVE (3483) or (858) 616-6408 or visit www.dema.org.  Stay updated by following "DEMAOrg" on Facebook and Twitter.