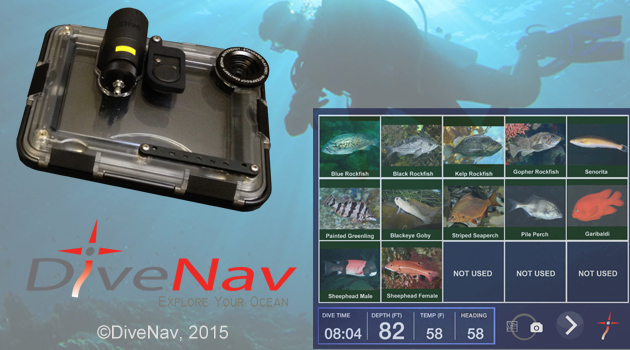 DiveNav and iDive have recently demonstrated a new iPad-based underwater data collection system for Scientific Divers at the AAUS symposium in Key West, Florida.
The new integrated data collection system is composed of an iPad, a robust underwater housing from iDive, DiveNav's Smart Dive Buddy depth and temperature sensor, and the Scientific Diver app developed by DiveNav.
While diving, the Smart Dive Buddy sensor sends real time depth and temperature information to the Scientific Diver app which incorporates this data into an electronic data sheet while also providing an electronic compass, a gauge dive computer, stopwatch for timing transects, thermometer, clock, still camera, video camera and underwater topographic charts (if available for the dive site).
"The University of California, Santa Cruz scientific diving program has been working on this new system with DiveNav and iDive for some time", says Steve Clabuesch, Diving Safety Officer, UCSC. "This combined package not only allows a researcher to collect species abundance/size information but also at what temperature, depth, heading  and where on the transect each species was seen".
"Our underwater housing for the iPad has the potential to change the course of marine science research", says Christopher Knox, CEO, iDive." We are looking forward to working with companies like DiveNav to bring innovative solutions to the market".
"Thanks to our unique set of expertise in embedded systems, app development and cloud technology we can rapidly develop effective, application specific, system solutions", says Alberto Mantovani, CEO, DiveNav, Inc. "This new underwater data collection system will save researchers several hours of data-copying and will improve the quality and reliability of their data".
The Electronic Slate kit for iPad retails for $989 (iPad not included) and can be purchased directly from DiveNav's online store. The Scientific Diver app is available for free on Apple App Store.