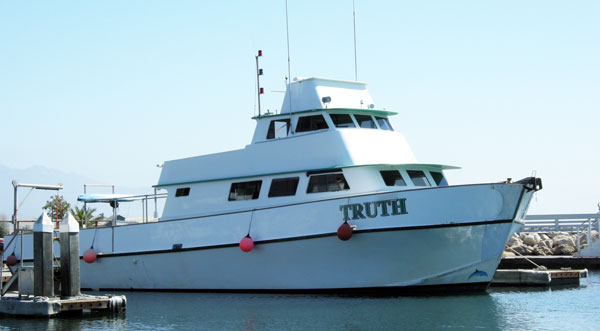 The Truth is the original Truth Aquatics dive boat, and thanks to regular updates and maintenance it remains a world-class liveaboard diving and excursion vessel, and one of the most popular dive boats in Southern California.
The Truth is an ideal entry-level boat for smaller charters and groups. Equipped with 45 bunks, they keep the load to a maximum of 30 divers for room and comfort, above and below decks. She's equally at home running to San Miguel for spear fishing excursions, spending lazy days with kayakers at Painted Cave, doing photo trips to the oil rigs down south, or running specialty trips diving California's wrecks & reefs.
Originally built in Venice, the Truth was launched in 1974. She is 65 in length with a 22 foot beam and a cruising speed of 10 knots. With a 550 nautical mile range, she can reach virtually any Southern California dive destination. Powered by two Detroit diesels, the Truth also has a 55KW generator to supply everyone onboard with plenty of power.
A well-built dive boat is really just a means of safe and comfortable transportation, meals, and sometimes overnight lodging, though, and there are a number of other vessels that serve Southern California divers that also do this well. What makes the Truth really unique includes includes both the Truth and their crew – simply put, it's the experienced and knowledgeable people that really make this operation shine.
An experienced team of dedicated (and very friendly) crew are what makes any charter boat trip successful, and the Truth has a reputation for having the best. Whether you need help with your gear, have questions about the islands, or need some tips to make your diving more productive, they're eager to help. Behind the scenes, you'll find them filling up your tanks between dives, cleaning up, and serving up some of the best-tasting ti-tip and chicken dinners on the water, with the help of the Truth's built-in, custom BBQ.
The Truth's home port is normally in Santa Barbara (with the other two Truth Aquatics vessels – the Vision and Conception), but from early January 2015 until mid-June 2015 the Truth will be calling Rainbow Harbor, Long Beach, its home and will be docked at Pierpoint Landing, 200 Aquarium Way, Long Beach, CA 90802. Rainbow Harbor is a great place to spend time before leaving for a trip with all the restaurant choices within walking distance and it is where the Long Beach Aquarium of the Pacific is located.
Whether you're a seasoned diver or ready for your first boat dive to some of Southern California's best destinations, you can't go wrong by diving on the Truth.
Here are some helpful nuggets of knowledge to help find you way and come prepared:
Gear Rentals: When the Truth is in Santa Barbara you can get your gear rentals through the Truth Aquatics Sea Landing. When the Truth is in Long Beach at Rainbow Harbor gear rentals will not be available, so plan accordingly.
Fishing License: Unless you arrive during normal business hours, you will need to ensure you have a valid CA fishing license that covers the duration of the trip. An Ocean Enhancement stamp is required, and if you plan on taking Lobster, a Lobster Report Card is needed. These items will not be available on board but can be purchased at either the Sea Landing in Santa Barbara or the Pierpoint Landing in Long Beach.
Parking: There is parking at either the Sea Landing in Santa Barbara or Rainbow Harbor in Long Beach for a minimal fee and there are also dock carts for you to use. Always check before a trip to see what the parking options are and to make sure what Harbor the Truth will be docked at.
———————————————————-
Words & photos by Ken Kollwitz
———————————————————-
Any trip on the Truth is always fun, and Channel Islands Dive Adventures has quite a number of single day & multi-day trips chartered on the Truth for 2015. Visit Channel Islands Dive Adventures to schedule your next dive adventure aboard the Truth!