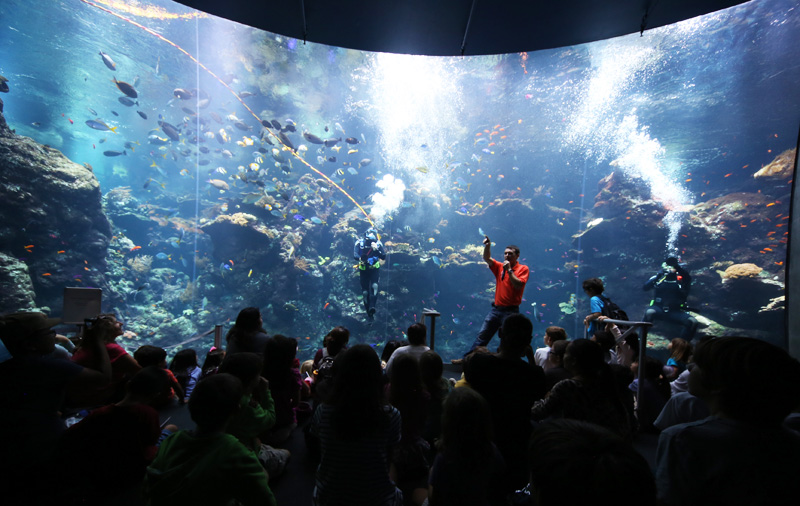 In August, I shared an announcement from California Academy of Sciences in San Francisco who was looking to expand their pool of volunteer scuba divers for their aquarium exhibit. Many divers responded with interest, and even more had questions on what is involved in being a volunteer diver at an aquarium.
Last week I visited the California Academy in San Francisco to find out more about their dive program, find out what the requirements are to be a volunteer diver there, what a typical shift would be like, and an all-around look at volunteer opportunities for recreational divers in their aquarium diving program. The Academy is one of literally hundreds of aquariums across the U.S. who utilize both staff and volunteer divers, so regardless of where you live, this should give a good overview of what it takes to participate in a program like this.
(Please note – the Academy of Sciences may or may not be accepting new divers at this time. This story is sharing what it's like to be an aquarium diver and not a call for new divers at the Academy).
All Walks of Life
Simply put, volunteer divers at the Academy come from all walks of life. "We have an anesthesiologist, we've had teachers, we've had motorcycle mechanics, restaurant servers, students, and retirees," Dive Safety Officer Will Love explains. One current volunteer, Sasha, is a former rocket scientist for NASA, but fortunately being a rocket scientist isn't one of the prerequisites.
"That's one of the really cool things about the program. On different days we have all these different people come in, so a volunteer could come in on Monday and dive with one group of people, then come in on Tuesday and try to dive with a completely new group of people. And they're all from different walks of lives, they all have different experience levels, and it's a really cool mixing pot where everyone gets to meet and work together," Will explained.
Many divers find their passions and stay on for many years, including George Bell, one of their most dedicated volunteers. George has been volunteering for the Academy for about 15 years in various capacities. He's at the Academy twice a week, volunteers more than a thousand hours a year, and in the process, has likely logged more dives than everyone else combined.
One Academy, Three Aquariums
The Academy is among the largest museums of natural history in the world. It began in 1853 and still carries out a large amount of original research both on-site and in the field. Completely rebuilt in 2008, the building that houses the Academy covers 400,000 square feet. In addition to being home to the Steinhart Aquarium, the Academy also features a four-story tall rainforest, the largest all-digital planetarium in the world, and a natural history museum. It's a beautiful facility that is also engineered to be as environmentally friendly as possible, right down to using cotton batting made from recycled blue jeans as insulation in the walls. Upon completion, the new facility was awarded double Platinum-level LEED certification.
The Steinhart Aquarium, located at the Academy, is home to 38,000 live animals from around the world, representing more than 900 separate species. In addition to hundreds of live animal displays, the aquarium features 3 iconic tank environments: A 100,000-gallon cold water "California Coast" exhibit, a 212,000-gallon Philippine Coral Reef tank (one of the deepest exhibits of live corals in the world), and a 100,000-gallon "flooded forest" tank, where freshwater fish cruise around and above visitors as they walk through the exhibit.
Each tank naturally requires regular cleaning and maintenance, and the animals also require attention, too. Add to several live interactive shows each day, and there's plenty of work for a diver to do. This is where the Academy's volunteer dive program comes in. The Academy has about 55 volunteer divers right now. Optimally, they would like to have about 75 divers to fill out their roster. Each volunteer diver commits to 2 volunteer shifts per month, plays a key role in maintaining their program.
Meeting the DSO Team
There are three Diving Safety Officers (DSOs) at the Academy; each has his own role in training, managing, and supervising all the divers in the program.
Elliott Jessup is the Dive Safety Officer at the Academy, whose main responsibility is to provide a safe working environment for each person in the Academy's dive program. This includes everything from in-house maintenance diving to scientific field research and collecting. He's been a certified diver since 2000, teaches scientific divers, and holds technical instructor certifications up to the trimix level. He's also a first aid, CPR, AED, and O2 Instructor Trainer. He also holds certifications in rebreather, cave, gas blending, and equipment service.
Will Love is an Assistant Diving Safety Officer and also the Volunteer Dive Program Coordinator. He's responsible for recruiting, training, and managing volunteer divers who help clean the exhibits and conduct dive shows. If you become a volunteer here, Will will be the one evaluating and training you. Will is a NAUI Instructor who also holds a Bachelor of Science degree in Marine Biology from the University of Hawaii at Manoa. In addition to being an instructor, he also holds certifications in regulator repair, cylinder inspector, and rebreather diving. "I've been here 3 years. Prior to this, I received my degree in Marine Biology from University of Hawaii, and I ended up getting a job as a diving safety officer where they were training their scientists. I ended up working for them for about 5 years. I started off bleaching rinse buckets and cleaning gears and I worked my way up through instructor. It was helping train scientific doctors there where I first got to do some really cool research diving."
Mark Lane is also an Assistant Dive Safety Officer, responsible for the maintenance and repair of diving equipment used at the Academy. In addition to maintaining gear, Mark is also involved with day-to-day diving operations in the Academy exhibits, and works with the other DSOs to train the volunteer divers and staff researchers to Academy standards. All dive gear is provided by the Academy to the volunteer and staff divers in their program, and it's maintained on site (but divers can bring their own mask if they prefer). Oceanic and Hollis, with the headquarters in nearby San Leandro, are major partners and supplies much of their gear.
Getting Started as a Volunteer
While Elliott, Will, and Mark have had extensive training, education, and hold advanced certifications, volunteer divers at the Academy have varying levels of experience and qualifications. To become a new volunteer, volunteer divers begin with an interview process to make sure the program is a good fit for them and the Academy. Will explains, "We really like people who are team driven and self motivated—people who really want to be here."
Volunteer divers at the Academy are asked to make a one year commitment as a volunteer. "We ask for a year long commitment because it's quite a lengthy training process and there's a lot that goes into it. We really find the year commitment is a really good bank of time for us to train divers properly and for them to get the most out of the program." Most divers stay on longer than a year, however, and the average length of time for volunteers at the Academy is two and a half years.
Divers are required to do two shifts every month and most people dive every other week. There are full day shifts, which go from about 9 am to about 3:30 or 4:00 pm in the afternoon, depending upon how busy they are and what needs to be done each day. The required 2 shifts are flexible, and divers can even schedule their time using an online scheduling system. Divers who have more availability in their schedules can volunteer more often if they like.
In addition to having the ability to commit to the two shifts a month, to qualify as a volunteer diver at the Academy, divers need to be 18 years old, have an open water certification with at least 40 dives under their belt, and hold a certification as a rescue diver. After completing the informational interview, the next step is for the prospective diver to have a physical done, which can be completed by their regular doctor. Then, it's off to the pool for a swim test and general skills review.
Will explains a bit more: "The swim test is essentially the NAUI Divemaster swim test. It's 400 yards, any stroke in less than 12 minutes. 25 yards underwater on a single breath, 10 minutes of treading water, and then a lifeguard tow, like a tide buddy tow. Once successfully completing the administrative and practical pre-qualifications, divers are ready to begin diving and continuing their training at the Academy.
Specialized Training
As a part of their volunteer program, divers receive initial and ongoing specialized training from the DSO team. They're taught dive safety procedures, how to use specialized equipment, and learn to dive with a surface supplied air and communication system. Additionally, divers will be trained on how to maneuver in the aquariums (to protect the animals, divers don't wear fins, for example), how to clean the aquarium, and feed the animals. Will explained a bit more about the progression:
"They all start diving in our Amazon exhibit. That tends to be the best for beginners at the Academy—it's freshwater, warm water, and relatively shallow at 14 feet deep. They have to do a couple dives here before we can take them in the Philippine coral reef," Mark explains. "We have all live coral in our Philippine coral reef tank so as such it's not replaceable. It takes them a little while to work up to diving there because diving without fins and moving around is a lot different than it would be in the ocean. Then we can start working on surface supply diving and working up to doing dive shows. Usually it takes people 4 or 5 months at least to work up to that."
"Getting to present at the dive shows is a real treat, the interaction with kids, the audience, it's just a lot of fun. And that's one of the gems of our program. It takes a little while to work up to that, though, and one of the reasons a full year commitment is required of volunteer divers."
Daily Presentations
The presentations at the Aquarium are very popular, and on the day I attended it was packed with children, as a part of the Academy's Home School Day. The presentation includes an ongoing dialog between a "dry presenter" in the room with the spectators and a diver in the aquarium, who communicates through a loudspeaker so the spectators to hear what he or she says. The Academy also has a live cam, where anyone can view the Philippine Reef aquarium and presentations. Click here to take a look.
There are several dive shows a day, and each is open to any visitor at the Academy (and now online)!
More Than Just Diving
A volunteer diver at the Academy has a number of daily tasks to complete, in addition to diving in the tanks. Typically, divers will do 1-2 dives a day for 30-45 minutes each; the remaining time may be spent tending for other divers, helping clean and maintain gear, training, working with the scientists and other staff members at the Academy on projects, and more. Most divers will arrive by 9 in the morning and head out the door by 3 or 4:00. There's a lunch break, of course, and the Academy has locker rooms and showers for divers.
There are some additional opportunities available to volunteer divers as well. Aside from being guaranteed perfect dive conditions every time, there are many additional opportunities and benefits for volunteer divers at the Academy. In addition to training and diving at the Academy, volunteer divers also have an opportunity to dive in other aquariums in the region. "We do collaborations with Monterey Bay Aquarium all the time through a volunteer swap program. They'll send some of their volunteers and a DSO up here and we'll do the same."
The Academy's dive program also has a few regular social gatherings for their volunteer divers. Many divers volunteer the same shift regularly and don't get to know the other 50 or so divers, so these are a great way to meet the other dedicated volunteers in the program. A BBQ is planned for October's event.
Diving In An Aquarium Near You
The California Academy of Sciences provides a unique and comprehensive volunteer dive program, well staffed by well-qualified instructors and Diving Safety Officers, and offers a great opportunity for anyone who loves diving to further expand their skills in both diving and marine biology. With a commitment of 2 days a month (24 days a year), nearly any diver can qualify to dive here with a one-year commitment and perhaps some additional training beforehand. The Academy is not the only aquarium who uses volunteer divers though. Aquariums across the country use volunteer divers and have similar opportunities. Whether you're in California, Illinois, or Washington D.C., there's probably an aquarium near you who is looking for volunteers and has an opportunity to participate.
Have fun and dive safe!
(Please note – the Academy of Sciences may or may not be accepting new divers at this time. This story is sharing what it's like to be an aquarium diver and not a call for new divers at the Academy).
RELATED LINKS:
California Academy of Sciences
Oceanic Worldwide NAUI
Academy Live Cam – Philippine Coral Reef Aquarium and Show

Interested in volunteering at the Academy of Sciences in San Francisco? Click here for more information.
---
Story and photos by Chris Constantine
California Diver Magazine
Special thanks to Elliott Jessup, Will Love, Mark Lane, and Kelly Mendez at the Academy.