I first saw Amos Nachoum's pictures of his cage-less scuba dives with white sharks online, shortly after returning from my initial trip to Guadalupe Island. I was floored. I knew first-hand just how big these beasts are in person. I have watched in amazement how these mammoth predators appear out of nowhere—then disappear in a flash—even on a clear day with nothing obscuring the visibility. I was stunned when I saw how close Amos and Fernando, his safety diver, were to the sharks. Although the whole thing seemed insane, part of me couldn't stop thinking about doing it myself.
Story by Chris Alstrand; photos by Lesley Alstrand
One year and one month later, my wife, Lesley, and I returned from another trip to Guadalupe Island, where we enjoyed hours upon hours of caged scuba diving with great whites, and I had started to understand them more. As we continued to get more comfortable with the sharks, we had both started venturing further out of the cage. We had learned to spot the animals coming up from the depths and take pictures of them from different angles. We had hundreds of pictures to sort through.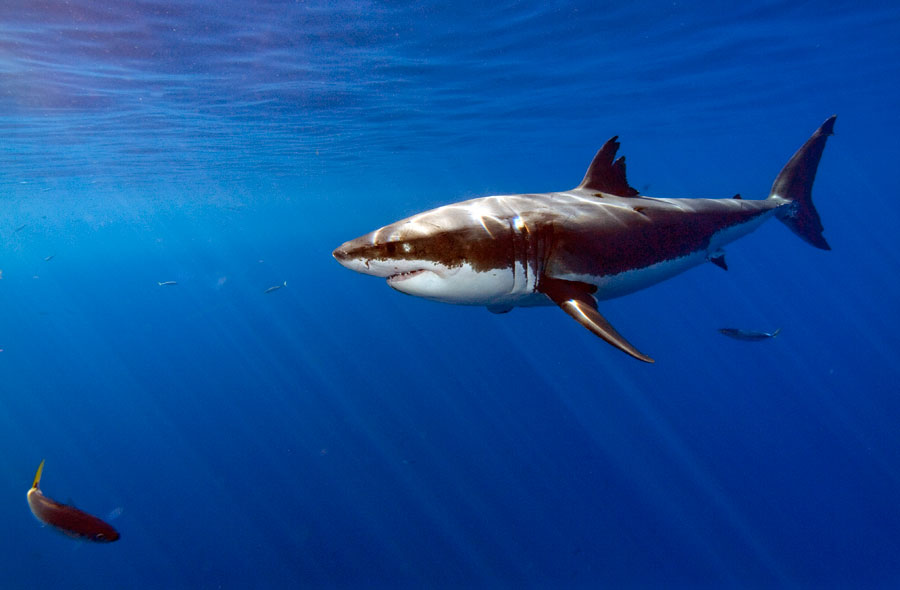 Face to face with Jaws
Most cage scuba divers usually stay inside the cage, or just extend their cameras just past the bars, with all but their fingers inside the (relative) safety of the cage. However, Lesley and I enjoyed hanging out of the cage. On the long boat ride back to port, a fellow diver shared a photo he took of me hanging out of the cage while taking a picture of Poncho Villa, a young male great white. It instantly became my favorite picture. Friends and family couldn't believe just how close we got to the sharks. A couple of weeks after returning from the trip, I opened up a dive magazine and saw a two-page picture of Amos face to face with Cal Ripfin, a.k.a. Shredder, a legendary white shark of Guadalupe Island. "Damn," I thought, "I have to do this."
I was ready.
Amos only does two of these trips a year, and only five scuba divers—at the most—are allowed to go out of the cage per trip. I sent my first inquiry about the trip a couple of weeks into October or 2010. Over the next three months, I sent both emails and messages through Facebook to Amos and his company, Big Animal Expeditions.  On Christmas Eve, 2010, I composed an email explaining my overall dive experience, as well as my experience with shark diving and Guadalupe Island. I asked what I needed to do to qualify for a cage-less spot, if I didn't already.  "This is the last email," I told myself, as I hit "send." I awoke on Christmas day to an email from Amos asking me to submit a trip application. I was being given the last cage-less spot if I indeed wanted it. Merry Christmas to me! I needed to pay two non-refundable deposits—one for the regular cage diving trip, and one for the cage-less diving.
——————————————————————————————————–
Related Stories:
The Experience of a Lifetime: Great While Sharks Feeding at Monterey (Video)
An Interview with Dirk Schmidt: "Air Jaws" Photographer
Scuba Diving with Sevengill Sharks at LaJolla Cove
——————————————————————————————————–
The price of adventure
I couldn't believe it…I was so excited. Only a couple of minutes after opening my email, I paid my deposits. I was officially broke, but I was also officially booked for October, 2011! It didn't take long for Amos to approve my application. Paperwork—including endless releases—began filling up my inbox. There was the normal medical questionnaire, a diving questionnaire, and boat release…but also a release that would put all others to shame: the cage-less great white diving release. This release would be categorized at the Dive Shack where I work as a "death and destruction" (D&D) release. It was about nine pages long and went into extreme detail about every way that you could die diving with white sharks, including panic and being bitten. I had to sign this release, then have a family member sign it, and then have it notarized. When I took the paperwork to the notary, she couldn't believe the form that was in front of her. She kept asking over and over if I, in fact, knew what I was signing.  "This is what I do," I told her.
I was nervous during the months leading up to the trip. I knew that I would have to prove to Amos that I truly did belong out of the cage.  If I couldn't, as one of the signed agreements had specified, I would have to stay in the cage and I would not be refunded the price for the cage-less portion of the trip. However, by departure day, the stress had dissipated, and I felt relaxed and ready to go. Our group included two Texans, as well as divers from China, Australia, and Italy. We settled in on the boat, signed a few more releases, and listened to the briefing.
Finally, the long-awaited day had arrived. We awoke and ate breakfast, then met up for the dive briefing. It included emergency medical instructions, diving rules, and the order in which we would exit the cage for our checkout dives. In contrast to other scuba diving trips (or many other life situations) where people vie to be number one, this was the first dive that included big sharks and no cage. The first person he asked chose to be number five. Number choices continued to descend from there. I was lucky number one.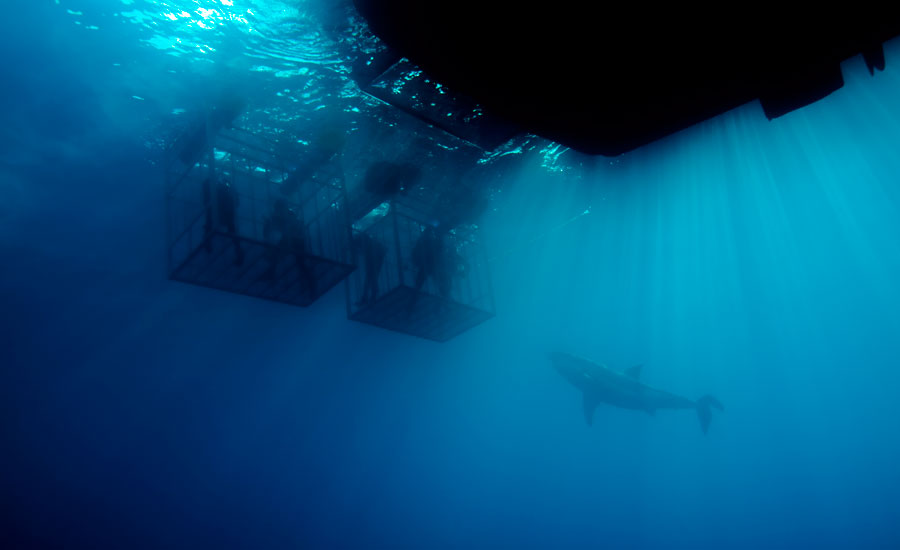 When first is last
We geared up and loaded into the cage. Once everyone was in, they lowered us down to fifty feet. The water was its usual impossible blue at that depth, suspended 200 feet above the sea floor—the clear tropical water that I grown to love.
Amos swam around the cage with Fernando. I was first up for the checkout dive/buoyancy check. This was a little different from usual. I had to be weighted to have perfect buoyancy at fifty feet. Amos allows absolutely no air in his divers' BCDs at any time during these blue water dives.
The shark Cal Ripfin showed up just as Amos asked me to come out of the cage for my buoyancy check. As I opened the cage door, the massive shark swam by, about fifteen feet away. I was very excited, but unsure if about my weighting and a little nervous. I stepped out and Amos signaled for me to take a deep breath, and then let it out. I stayed eye to eye with him. As he told me "ok," we had two more sharks show up and join Cal in circling us. He indicated that I should get back in the cage, and I did. The rest of the group finished going through their checks, and then it was time to ascend. We debriefed and divers made changes to their weighting, readied photo and video equipment, and talked about the dive.
Now the dress rehearsal was over. We had our pre-dive meeting, which included a repeat of all the previous information. Amos told us that he wanted us to dive on his left side. As we got up to gear up, Amos told us, if we wanted him to, he would place us where we could "push the envelope of diving with great whites." "You just can't burst the envelope," he added. With this, we were ready.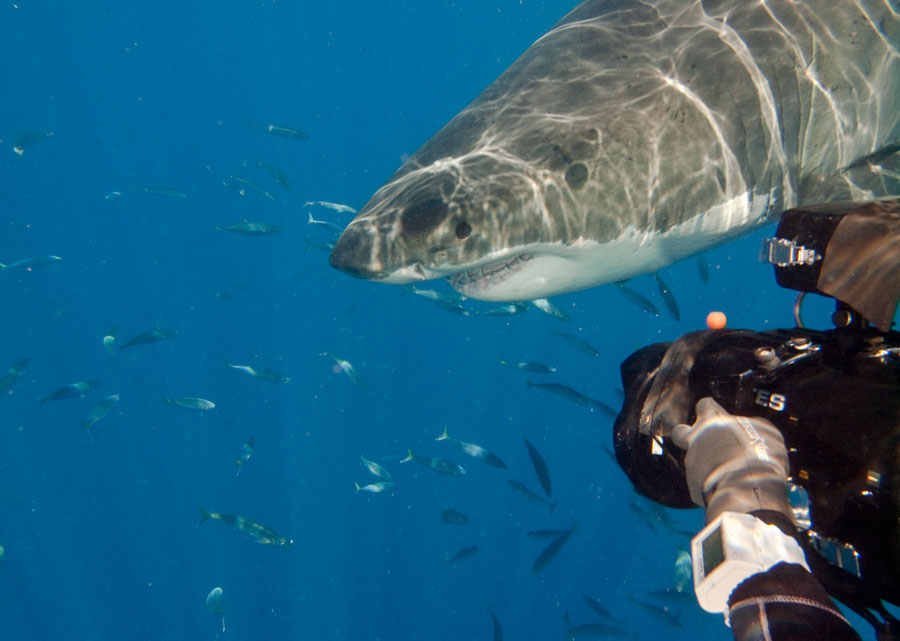 As we descended, Cal was still waiting for us at fifty feet. I was first up again, and was very excited as I swam up to Amos' left side. I followed Amos as he descended towards Cal. We sidled up near the huge shark so we could swim with him. Amos swam right up to Cal's side. The shark opened his mouth and made a slight move toward Amos' camera, letting him know who was in charge. We both stopped and let Cal continue on. This was awesome to get to be so close to such a huge, iconic shark.
On our next dive, we had some close passes by a couple of smaller unnamed females, which were coming from out in the distance toward us. They turned once they got a few feet away from us. Amos pointed down and I saw a big shark ascending slowly on its way to pass under us. I followed Amos down and recognized the shark as one of our favorites—Lucy, a female great white who is just as famous as Cal. Amos placed us perfectly above and just to the side of Lucy. He motioned for me to go if I wanted to, so I closed the distance and got to dive alongside Lucy. Lucy turned and looked at me twice.  On the second look, she seemed to arch a little bit.  Seeing this, I stopped and just let her ease away from me. WOW!
This was precisely the experience I had dreamt of when I signed up for this trip. It was nearly perfect. Amazing. Once-in-a-lifetime. The trip lasted nine days, and I was able to participate in eighteen dives outside of the cage. Getting to dive alongside these formidable creatures was a dream come true. Something that as long as I live, I will never forget.
——————————————————————————————————–
Related Stories:
The Experience of a Lifetime: Great While Sharks Feeding at Monterey (Video)
An Interview with Dirk Schmidt: "Air Jaws" Photographer
Scuba Diving with Sevengill Sharks at LaJolla Cove
——————————————————————————————————–