The UB88 is the only known German submarine from either World War I or II to be sunk off the coast of California. Laid down in February 1917 at Hamburg Germany, she was launched on December 11, 1917, and commissioned by the Imperial German Navy on January 26, 1918. The UB88 was a Type UB III submarine, able to carry 10 torpedoes, a crew of 34 and had a range of around 8,500 miles on the surface at a speed of 5 knots, and range of 55 miles and speed of 4 knots while submerged. She was approximately 180 feet long, 19 feet wide and displaced 661 tonnes when submerged.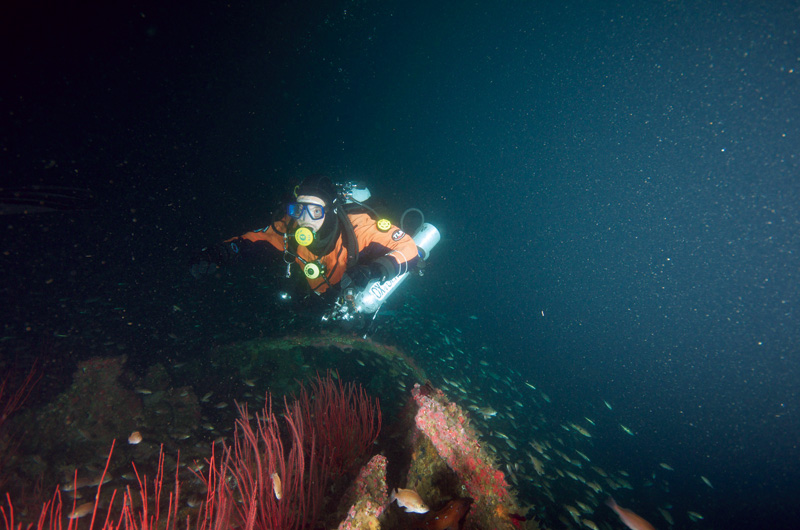 After her initial shakedown in the North and Baltic seas, The UB88 was assigned to the First Submarine Flotilla, Flanders at Zeebrugge, Belgim, where she scored an immediate victory against the Swedish steamer SS Dora, sinking her with a single torpedo. She then conducted three war cruises from Zeebrugge between June and October, operating off the coast of England, France, Scotland and Ireland. Sinking at least thirteen allied ships, she survived a number of attacks, including multiple depth charges, her main periscope was rammed, and she suffered severe electrical damage.
—————————————————-
Words & Photos By Nick Ambrose
—————————————————-
The UB88 surrendered along with the other warships of the High Seas fleet on November 26, 1918, following Armistice day (on November 11th). On March 23, 1919, U.S. Naval personnel took over control of the UB88 along with five other boats to further their "Victory" Bond drive, as well as to learn her supposed secrets. The UB88 steamed out of Harwich on April 3rd, in company with Bushnell, and three other former German U-boats (17-117, UC-97 and UB-U8), dubbed the Ex-German Submarine Expeditionary force, and arrived in New York on April 27, where they became a center stage attraction.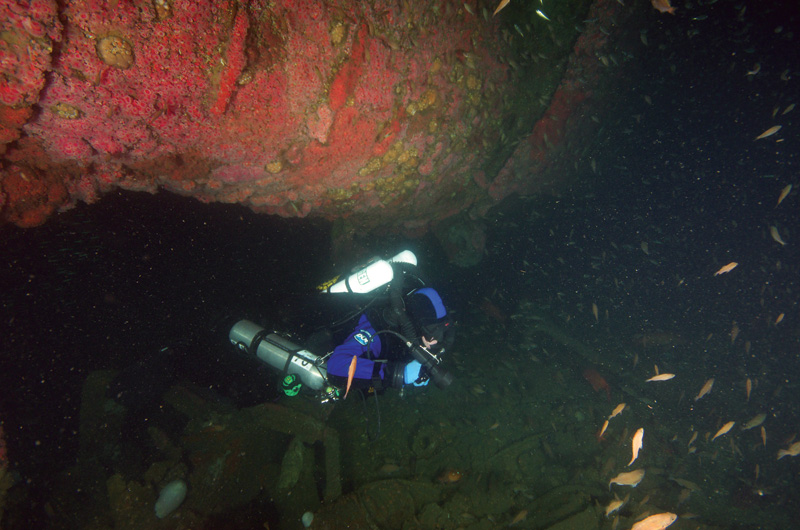 She was then paraded around the US, arriving at her final stop in San Pedro on November 7, 1919. Per the original agreement to sink all the boats acquired as part of the transfer, the dismantling process began April 1, 1920, and was completed by August 31. The UB88 was stripped clean of all valuables and artifacts, and officially placed out of commission November 1, 1970.
The final chapter in the UB88's above-water history ended on March 1, 1921 when she was towed into San Pedro harbor and sunk by the USS Wickes (DD-75). The location of UB88 has been surrounded in myth and confusion ever since, with many people claiming to know her location, having fished her, and even some claiming to have dived on her. It wasn't until August 27, 2003 that definitive evidence of the location of the UB88 was provided.
After more than a year of searching, Gary Fabian and Ray Arntz posted stills and video on their web site (http://www.ub88.org), finally confirming the existence of the UB88 off of San Pedro. The exact location of the UB88 however, was never released, and so relatively little diving was performed on her until July 2010, when Phil Garner independently located her, posting video and the details of his search. Unlike the original discoverers, Phil posted enough clues in his report to allow others to pinpoint the location, and open the UB88 to the local diving community.
I (along with Maciek Arkuszweski, Kim Cardenas and the Socal Tech divers) had the opportunity to dive the UB88 on September 12, 2010. Having reviewed dive reports and video from others that had already dived her, we had some idea what to expect.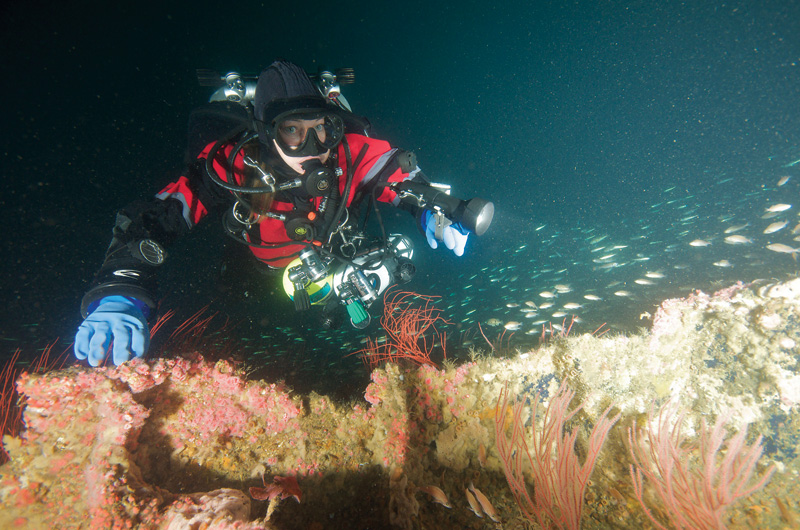 The surface conditions were excellent, and thankfully that continued underwater too. As we descended through 120 feet, the fishing nets floating off her stern started to come into view. As can be seen from the photographs, these nets have buoys embedded in them that raises them significantly shallower than the wreck itself.
We examined the stern section first, the visibility was excellent, in part due to the slight but noticeable current running from bow to stern. I noticed a Flag Rockfish, one of the few I have seen locally (and all deeper than 190 feet). It is always a nice surprise to see such a pretty fish that would seem more at home on a coral reef than in our local cold, relatively dark waters. We then made our way slowly forward, pausing to admire the huge amount of life present. Every inch of the wreck is covered with anenomes, clams and gorgonians, giving it the look of a rich red carpet. The wreck is also blanketed in a layer of fish, which are in places so thick that they almost obscure the wreck itself.
Just before the conning tower, we note the location of a rectangular hole in the wreck, which is the best (and probably only) penetration point. For this dive, we elected to remain outside, but other divers did penetrate, recording video in the process.
The conning tower of the UB88 is still intact, and stands proudly upright, covered in life. Further, toward the bow, the outer hull has broken away, allowing the inside pressure hull to be seen, and providing home for a decent-sized wolf eel. Reaching the bow, we see that a portion has broken away at some point, again covered in fish, and providing residence for a second, larger wolf eel. We drift slowly back along the submarine's length, barely kicking in the gentle current, taking in the sights. It is truly an awesome experience to visit this boat that's been submerged for so long.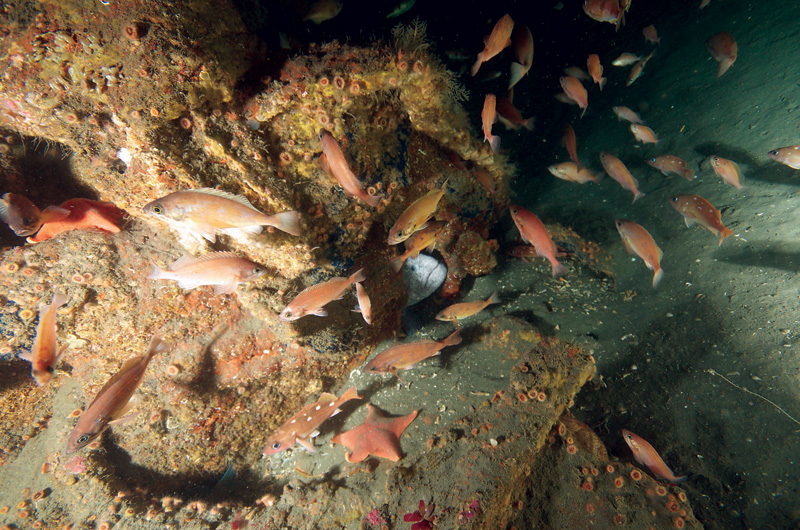 At the stern, we meet up with some of the rebreather divers, where there is quite a bit of debris. Swimming around the end of the stern, we marvel at the abandoned fishing nets stretching high above us, at once beautiful and covered in metridiums, but also a lurking death-trap for all kinds of marine life.
Finally, it's time to start our ascent. We make our way to the flashing strobe that is affixed to the end of our shot line. Making our way up the line to start our decompression, we take one last look at the wreck below us, as it slowly disappears into the darkness.
We definitely have a wonderful experience to play over in our minds during our ascent, and there is no doubt that we will be back soon to take more photos and videos, and maybe venture inside the awesome wreck of the UB88.
—————————————-
Words & Photos By Nick Ambrose
—————————————-
References:
http://www.history.navy.mil/danfs/u1/ub-88.htm
http://en.wikipedia.org/wiki/German_Type_UB_III_submarine
http://www.ub88.org
http://www.mydivinglife.com/entry.php?w=MaxBottomtime&e_id=3375
http://www.socaltechdivers.com
Originally published in California Diver Magazine November/December 2010.
.
.