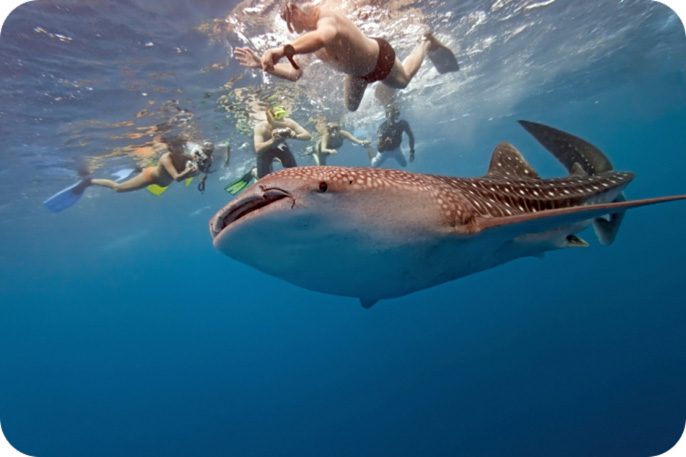 "We travel not to escape Life, but for life not to escape us"- Anonymous
The mysterious marine life which you'll encounter on the coast of Western Australia will reside in your imagination eternally. That's one reason why hundreds and thousands of scuba divers and other visitors throng towards these portions of the Earth to witness friendly dolphins, seals, turtles, sea lions, dugongs, manta rays – to have an eye to eye meeting with cute little penguins, as well as glance at the biggest whale migration on the planet.
Even swimming with the gentle whale shark – the biggest fish in the ocean – and snorkeling all over the biggest fringing reef in the world are all possible here.
This article shares the top ten Marine life destinations to be explored in Western Australia:
Ningaloo Reef:
Listed by The World Heritage, Ningaloo Reef – the biggest fringing reef in the world – offers various stunning and most accessible marine life encounters in Australia. It's even considered one of the finest places on the planet to swim along with the gentle Great whale shark – the largest fish in the world. And dive, snorkel or even conduct a glass-bottom boat tour around the Reef.
Visit Ningaloo Reef anytime between late March and mid July, as during that period, it attains a height up to 16 m of length.
Albany:
Albany is among the best portions in Australia to spot the ocean's gentle giants such as humpback whales, the rare blue whale and southern right whales.
Visit this place between July months to October; and you'll find these sea giants frolicking around King George Sound, just some hundred meters away from the old whaling station of Albany.
Also, do plan out a visit to the Farmers Markets of Albany and relish fabulous fresh locally grown flavors.
Rowley Shoals:
This unspoiled coral chain, just off the Broome coast, is considered to be a tropical sanctuary for about 690 fish species and around 230 plus coral varieties. Experience an overnight diving or trip to snorkel and discover Rowley Shoal's incredible marine life.
Most of species are being sheltered and protected here, therefore 'catch and release' programs are being strictly enforced. Do visit Rowley Shoals in between August to December to enjoy the best prevailing conditions.
Bunbury:
Bunbury is just among the few blessed places on the planet where humans can interact with the visiting Wild Dolphins. Have an eye to eye meet with these gracious creatures along the shoreline or opt for a bay tour to watch dolphins.
Here, on the Koombana Bay shores, a devoted interpretive hub as well as an interaction zone offers its visitors a lifetime chance to stumble upon around 100 plus Bottlenose Dolphins frequenting its tranquil waters. Just position yourself knee-deep and they'll to come to you or embark a tour to view or experience swimming with them.
Monkey Mia:
Since the 70s, the Monkey Mia's wild Bottlenose Dolphins offer its visitors unforgettable close encounters by appearing at the shore almost every single day. Interactions with dolphins are governed by rangers and you could be one of the few lucky guests to hand-feed the dolphins with fish. Visitors can even spot the largest dugongs population in the world at Shark Bay.
The entry to Monkey Mia Reserve is not free. And in case you opt for an overnight stay at Monkey Mia you can choose from a wide range of available accommodation facilities, options and activities.
Exmouth:
Visitors can enjoy some of the amazing sea-dwellers on dry land such as hawksbill, loggerhead and flat back turtles who swim to the shore to lay their eggs at the Jurabi Coastal Reserve, near Exmouth.
Augusta:
Beginning from May month to September, visitors can watch the Flinders Bay's waters where Humpback as well as Southern Right Whales assembles to take rest, just before migrating north straight towards the Kimberley Coast's breeding grounds.
Take a Whale watching tour and get near the tail-slapping, spy-hopping and breaching whale actions.
Rockingham:                                        
Since the 1960s, husks of wild dolphins regularly visit the coasts of Rockingham, offering all its visitors an excellent opportunity to twirl along with them. From Perth it's around a 40 plus minute drive to Rockingham as well as Mandurah if you wish to discover those magnificent dolphins.
Rottnest Island:
Considered as the top class Island reserves of Perth, Rottnest Island offers world class caves, reefs and sea grass meadows to all its visitors. It provides a perfect haven for harlequin, wrasse, fiddler sharks, fox fish, rays, migrating whales, dolphins and New Zealand fur seals.
Both sea as well as land tour offers delightful encounters, from wildlife such as seals, quokkas, whales and ospreys, to Rottnest's cultural, historical and colorful heritage.
Recherché Archipelago:
Recherché Archipelago's 105 unscathed islands, definitely feature among Australia's some of the most striking seascapes and provide a picturesque dwelling place for dolphins, sea eagles and New Zealand fur seals.
Most of the minor islands possess granite projections while one of the biggest islands called Woody Island, offers various bushwalking, camping, swimming and fishing sites.
Do embark on a trip to these exotic portions of the planet to experience one the most dazzling marine life encounters and without an in inch of a doubt – Western Australia is the place to be – in case you wish to quench Your Wild Side!
BIO – Mary Brown is born in 1986 in Sydney. She has 6+ years of experience in handling luxury resort properties. She is also an editor to many travel magazines and currently she is working with Hotel. She has been dedicated to excellence and earned a reputation among his peers as a premier trouble-shooter in the hotel industry.