One of my favorite warm-water dive destinations is Hawaii. It's an easy 5-hour flight from Los Angeles or San Francisco to any of the larger islands, flight and lodging packages are affordable, and the diving is great. Although I love cold-water diving, the 80 degree water and excellent visibility is always a welcome diversion – and leaving behind the drysuit, thermals, hood, and 30 pounds of lead is also nice for a change.
When the 4th of July weekend rolled around, I took the opportunity to jump a flight and spend 5 days on the Big Island of Hawaii for some summer diving. I had a last minute break in my schedule, and with a few clicks of the mouse, I was booked on a flight to Kona, 4 days before departing.
Kona Honu Divers is one of the Big Island's premiere dive operations, and I've visited with owner and captain Glenn Anderson at the DEMA, Long Beach, and Tacoma dive shows for years. This seemed like a perfect opportunity to check out his operation first-hand and join his crew for the world famous Manta night dive. I've seen a few mantas when diving before, but never in the numbers or sizes seen on their promotional videos or in the photos on the Kona Honu Divers website. After arriving on this island I stopped by the shop and was booked on their boat for a couple of dives; one dive would be in the evening, and another with the mantas after dark.
First, I had to pick up a few things from the dive shop and rent a tank for some shore dives over the next few days. Kona Honu Divers is a very well-equipped shop with plenty of rental gear and just about anything else you would need for a week on the island. In addition to dive charters, gear sales and rentals, they also offer dive classes (everything from Discover Scuba for non-certified divers through advanced courses), and extensive knowledge of local dive sites, which is very helpful as there are many, many great shoredives here for divers of all levels. The vibe of the shop is very friendly and welcoming, where I was referred to by name on each visit to exchange a tank or pick up a few items I needed. They're conveniently open 7 days a week, 7:30 am – 5:30 pm.
All Aboard the Honu One
The Honu One is Kona Honu Divers' custom 46-foot dive boat, perfectly appointed for easy and comfortable diving. The boat has marine heads (restrooms), fresh hot water showers, a dedicated camera table, fresh water rinse tanks, and lots of shade. The Coast-Guard inspected and certified vessel can take up to 24 divers, however a typical charter takes just 10-12 divers, so there is plenty of room to spread out. Divers onboard are welcomed (and encouraged!) to move around the boat and ride on the upper deck for a great 360 degree view, or catch fresh air on the bow while underway.
The Honu One vessel is equipped with underwater LED lights that are responsible for the Manta Rays attraction. The light attracts plankton, which in turn bring the mantas in to feed. Other features include a seated area on the stern for gearing up, a large ladder for reentering the boat, secure tank storage, camera tables, and plenty of room for keeping your dry things dry.
The Honu One is a comfortable, smooth-operating boat and visits more than 80 different dive sites on the island.
Crew
What really makes the Honu One special is not the boat alone; it's the crew who provides an exceptional experience both above and below the water. Upon first arriving at the boat, the captain and crew went out of their way to greet each of the guests, learn their names, and made everyone feel welcome and comfortable. Divers onboard included snorkelers, younger kids, and men and women of all backgrounds and experience levels – it takes an exceptional crew to accommodate such a range of divers and provide a rewarding experience to all of them, and the crew on the Honu One provided all with great service and rewarding dives.
First Dive: Garden Eel Cove
Today we left at 4pm for one dive in Garden Eel Cove to be followed after dusk with the manta ray dive, which takes place in the same location. Garden Eel Cove is about a 30 minute boat ride North of Honokohau Harbor, near the Kona airport. As we neared the dive site, we were circled by a pod of dolphins who swam around and within several feet of the boat, putting on quite a show for us.
After tying off to a buoy (to protect the environment, the Honu One hasn't dropped an anchor in over 3 years), we were given a very thorough and informative pre-dive briefing which included lots of information on the dive site and what we would see here. In most places, divers need to dive 100 feet + to find the elusive garden eels, here at Garden Eel Cove the conditions are such that they can be found at around 70-80 feet.
Protruding through the white sand like a sea of grass, the eels will quickly retract back under the sand at the slightest disruption. Our guide took us right to the garden eels, and also pointed out many other beautiful life; staghorn and finger corals, nudibranchs, and morays. Even after reaching the depths of the eels, we managed a 50 minute dive (there's actually more to see here in shallower waters).  Thanks to our guide pointing out unique features and critters, I saw much more on this dive than I would have otherwise.
After an hour or so on the surface, with sandwiches, snacks, and drinks, we prepared for the famous manta dive which takes place here as well. The sun set in a spectacular orange glow, a few other boats arrived, and crewmember Taiki Sakai gave us a thorough briefing on diving with the mantas. Some interesting facts mentioned: the oldest manta regularly seen here, "Big Bertha", is at least 70 years old, the mantas can reach 25 feet across, weigh up to 3,000 pounds, and each manta is named and can be identified by the unique markings on their underside.
The excitement grew as several other boats in the area had their divers enter the water. Taiki assured us that the mantas would stay as long as we wanted and the show would only get better as the evening progressed. We began to hear the excitement of the snorkelers already in the water as the mantas arrived for the evening and began to feed below.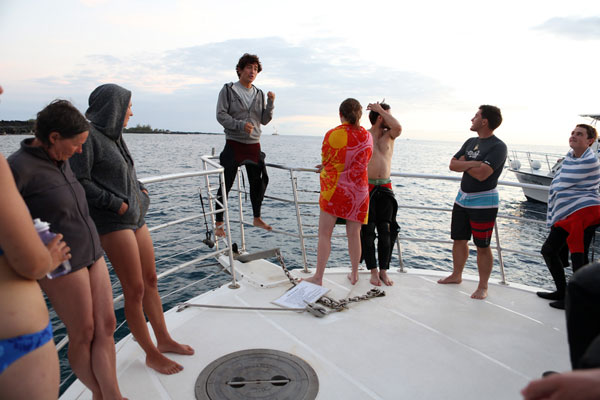 Before entering the water, each diver on our boat was tagged with a red glow stick to keep track of divers (each boat had a different color – we were red today); each diver was also given a Sola 800 dive light to attract the plankton and more easily see the mantas. After a decent to about 25 feet below the boat, we all formed a semi-circle on the bottom and the action began.
Already attracted by the lights in the water, the huge rays appeared, sweeping inches over diver's heads, doing graceful flips and turns underwater while feeding on the plankton the divers' lights had attracted. Some divers sat down, others, kneeled, all pointing their lights upwards, as instructed, to attract the plankton to the light. More than 20 mantas arrived on this evening, the largest with easily a 10 foot wingspan.
Mantas eyesight and sense of smell are superior and they can detect electromagnetic fields, a sixth sense that may help them navigate and find food. It because of this ability that they're also able to navigate within inches of a diver, often with their mouth wide open before veering away. It's quite an experience to have a 1,000+ pound ray come straight at you, mouth wide open, then change course at the last second (especially when your head and upper torso could easily fit into it's mouth)!
The graceful ballet of mantas lasts as long as divers are in the water attracting plankton with their lights. Due to air limitations and the potential for some divers to get chilled from sitting nearly motionless, our dive guide motions us back to the boat after 45 minutes.
Back on the boat, the crew of the Honu One cleaned and organized all the gear while the divers sipped on hot chocolate and snacks before the ride home. Everyone on board was ecstatic; this was no doubt the highlight of the trip to Hawaii for everyone onboard.
It should be noted that the mantas don't show up 100% of the time, but odds are they'll be there when you go – there were at least 20 who visited us on this dive. And if your night dive is anything like this one, it will be worth making a special trip to Hawaii and diving with the team at Kona Honu Divers.
---
Interesting Manta Ray Facts:
• The oldest manta to show up regularly at this dive site is "Big Bertha", known to be 70 years old.
• If you photograph a manta not yet documented, you get to name it
• They are nicknamed "Devil Rays" because it's lobes (fin things near the mouth) look like the devils horns
• They have no bones, only cartilage
• Fully grown, they can measure up to 25 feet in length and weight as much as 3,000 pounds.
• Many people assume that the Manta Ray is dangerous due to the fact that the Sting Ray is. However, they don't have a stinger at all.
Before you go:
• The "World Famous Manta Dive" is not just a marketing slogan; this dive is extremely popular and you should reserve your spot in advance. Charters often sell out during peak seasons.
• Don't forget your "C" card – you must be a certified diver to SCUBA dive with the mantas. If you're not a certified diver or prefer not to SCUBA, you can watch them on the surface while snorkeling.
• If you're prone to seasickness, be sure to take the medication that works best for you before boarding. Some medications are not suitable for use when diving; use one that is both effective and safe.
---
Visit Kona Honu Divers website here.