The National Marine Sanctuary Foundation and NOAA's Office of National Marine Sanctuaries has just released an App for the iPad and iPhone which provides maps and much more information on California's National Marine Sanctuaries and the life that lives within them. The app covers more than 8,600 square miles of federally protected ocean and coastal waters stretching from Big Sur to the Farallon Islands.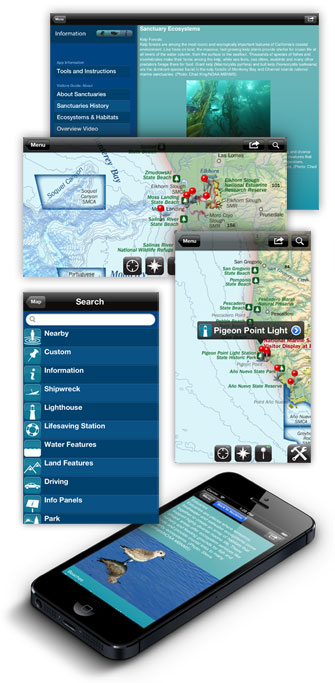 The "Experience California" app features points of interest for more than 600 locations within California's National Marine Sanctuaries across the Monterey Bay, Gulf of the Farallones, Channel Islands, and Cordell Bank. Both divers and non-divers alike will find plenty of useful and helpful information, and the app also provides additional functionality that users will find useful.
"Experience California" includes detailed map content for Channel Islands, Cordell Bank, Gulf of the Farallones, and the Monterey Bay National Marine Sanctuaries, points of interest for more than 600 locations in and around the four California sanctuaries, 300+ gallery photos, 400+ searchable encyclopedia terms, visiting tips, local area forecasts, and local action items to help support the Sanctuaries.
In addition to this helpful reference information, the app also has several unique features many will find useful, such as:
GPS Tracking of your location

even without Wi-Fi or cell reception

Map Tools including distance, area, bearing, and compass
Customized pins to record photos, comments, & locations
Share your custom pins with others who have the application
Detailed national marine sanctuary encyclopedia
Detailed search capabilities by nearby locations or by type
Identify the Latitude/Longitude or UTM Coordinate for any place on the map
All primary content will be included in the download ensuring that the App will be functional even when a Wi-Fi signal is unavailable.
The Experience California app requires an iPhone (3GS or later) or iPad with iOS 4.3 or later and is now available in the iTunes store. Click here for more information and to download the app now.
.