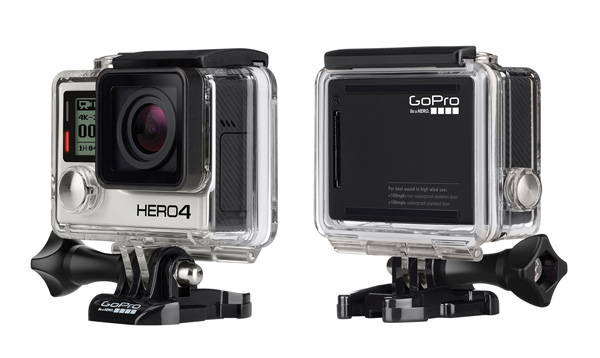 Today, GoPro unlocked a host of new features for the HERO4 Black and HERO4 Silver that will amp the performance, capabilities and convenience of the cameras even higher. By running a quick update on your HERO4 software, users are now able to enable even more dynamic content capture.
The new features include: 
HERO4 Black and HERO4 Silver Edition Cameras
Time lapse video mode  – Capture Time Lapse videos automatically-no post-production needed. Showcase a sunrise, road trip or family gathering as a short, sharable video.
30/6 burst photo – Introducing a new way to never miss a moment. Capture 30 photos in 6 seconds-perfect for longer duration fast-action activities like surfing and snowboarding.
Auto rotate – Automatically adjusts capture orientation to right-side up when the camera is mounted upside down.
Add HiLight Tags during playback – Now you can mark key moments both while recording video and playing back content on the built-in touch display to quickly find highlights for easy editing and sharing.  [HERO4 Black requires LCD Touch BacPac to utilize this feature]
HERO4 Black Edition Camera
720p240 fps video – Record ultra high frame rate video at a staggering 240 frames per second for liquid smooth slow-motion playback
2.7K60 fps video – Capture cinematic, high-resolution 2.7K footage at an impressive 60 frames per second
For more information and to download the software which will enable this additional functionality, visit GoPro's website by clicking here.