On December 25th, Darrin Spivey, 35, and his 15 year-old son, Dillon Sanchez, went cave diving in an area known as the Eagle's Nest Sink in northwestern Hernando County, Florida.  Regarded and revered as the "Grand Canyon" of the diving world, the cave system is extensive and notoriously dangerous.  Below the surface of a pond lies more than a mile of passages, one of them more than 300 feet deep. A sign near the entrance to the cave reads: "Cave diving in this area is extremely dangerous — even life threatening!! Do not dive unless you are a certified cave diver!!", underscoring both the danger involved and the need for specialized training.
Darrin was a certified scuba diver but not certified as a cave diver; Dillon had no scuba diving certifications at all, but had some experience diving with his dad at Eagle Nest. They reportedly chose to go diving to try out some new tanks Dillon had received for Christmas.
According to a police report, A hunter in the area told authorities he saw the father-son duo suited up and ready to enter the water at 11 a.m., but when he returned at 6:30 p.m., he only saw their car and no divers in sight. The divers were subsequently reported missing, a rescue operation was launched that evening, and Darrin and Dillon were later recovered at depths of 67 and 127 feet, respectively, in an large cavernous area known as The Ballroom.  Their dive computers and air gauges indicated both had descended to 233 feet deep and that they had run out of air.
This story is obviously very sad and even more tragic that it happened on Christmas day. While investigators are no doubt still reconstructing what took place, there are several elements which have repeated themselves in many dive accidents which divers of all levels can learn from. Let's take a moment to review a few critical aspects of training, certification, and experience that all divers should be aware of and how we can learn from this recent tragedy in Florida as it relates to these.
Proper training and early experiences
According to the 2010 DAN Diving Fatalities Workshop, 50% of scuba diving fatalities happened with people with less than 20 dives in the previous 12 months(1). This first statistic is extremely important; it underscores the need for both quality instruction and the importance of those first dives taken outside of training in addition to the importance of diving regularly.  With regards to training, a diver who is 1) ready and qualified to scuba dive (is fit, healthy, comfortable in the water), 2) receives proper, thorough training by an experienced professional instructor, and 3) has successful, safe dives immediately after being certified and who dives regularly is a much safer diver.
If you're an inexperienced diver, take long breaks between diving excursions, or have recently received your certification, take plenty of time to regularly review your training materials, practice any skills you're not completely comfortable with in a pool or comfortable environment and plan for some easier dives while you're getting started. Make sure you're comfortable in the conditions you're diving in (visibility, currents, and difficulty of entry/exits, to name a few), and don't be afraid to "call the dive" if you feel the conditions are beyond your experience, comfort, and ability level. Remember that you're diving because it's fun – if you're feeling stressed out, you're not going to have fun and the experience probably won't make you a better diver.
If you're an experienced scuba diver taking a newer diver out for one of their early dives, keep in mind that it's very easy to take them into situations that you're comfortable in but they're not. Most student divers will try to keep up anyway, even if it's far outside their comfort zone. It's up to you to help them become better, and safer divers!
Specialized Training
Cave diving is obviously a highly specialized area of diving; certification through the National Association for Cave Diving (NACD) is one of the most advanced certifications available today. Cave diving also requires specialized equipment and training to use it. Many of the divers who have encountered trouble while cave diving have not received proper training and certification under the supervision of an experienced professional.
---
Related Stories:
Distracted Diving: How to be a safer "focused" diver
Rebreathers Offer Great Advantages to Tech Divers
Make an attitude adjustment: Better trim equals longer bottom time
---
While cave diving is not common in California, there are other types of diving which do require higher levels of experienced and specialized training – and there are a lot of specialized dives possible in California! Divers who wish to dive beyond the recreational dive depth limits should take courses in extended range diving, decompression techniques, and technical diving; those who want to extend their bottom time using Nitrox must take a Nitrox course to learn the limits of diving with it, as exceeding these limits can be dangerous. Rebreathers are now becoming quite popular, and the different types all require specialized training. While it may be tempting to "tag along" with a friend who is more experienced and/or specialty certified, the statistics tell a different story. Proper specialty training is essential for all divers who wish to dive beyond the scope of their initial certifications.
Most dive shops offer specialty certifications based on the type of diving common in their areas. For example, up at Lake Tahoe, local dive shops offer certification in altitude diving, such as the PADI Altitude Diver Specialty course. While it might be tempting to forego the training and learn on your own or from a friend, receiving training from a qualified, certified instructor is another step to becoming a safer diver and to avoid becoming a statistic.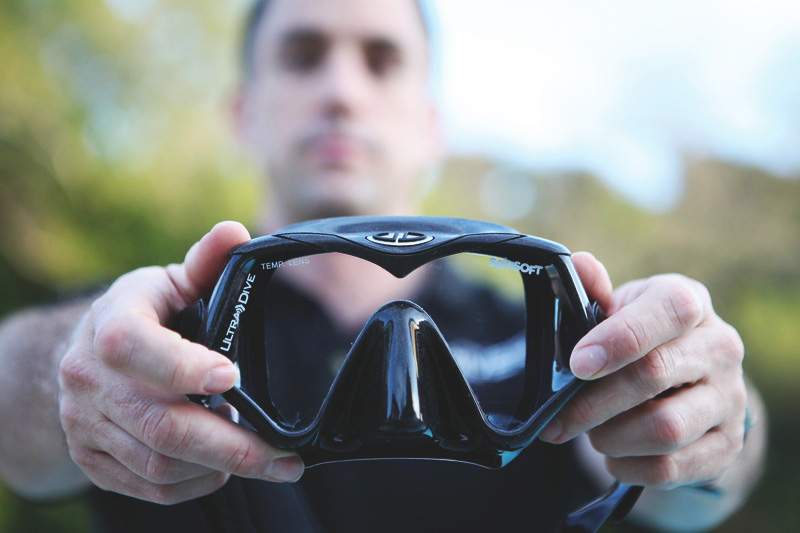 Quality Gear – and taking care of it
Equipment failure and marine life injuries are extremely rare in reported accidents. Not surprisingly, areas where divers notoriously cut corners, such as inadequate training or lax buddy practices, are far more likely to contribute to accidents.
This doesn't mean diving with older, inadequate, or heavily worn gear is acceptable – when diving underwater our equipment is literally life support and it's literally what's keeping us alive. Something as seemingly minor as breaking a fin or mask strap during a dive can, and has, set off a chain of events that lead to a dive accident. Regular servicing of your regulator is equally important.
What is sometimes overlooked are the things which are not normally used on routine dives, but might be necessary in a distress situation. If you exceed your maximum depth and your computer goes into decompression mode, do you know how to use it to get back to the surface safely? If you surface from a dive and your boat is not in sight, do you know how to summon help using your safety gear? It's worth review and practice now before the time comes when you'll need it.
Now is a great time to get all your dive gear out and inventory it to decide what you need to replace, what additional gear you might need, and equally important – what additional training you need or would like to have before the beginning of your next dive season.
Get back in the water!
As the saying goes, there's no substitute for experience, and that certainly holds true in diving. Being out of the water even a few months can make the best of us a bit rusty, and if you're a newer diver who hasn't been in the water since last summer, it's time for a refresher before you get back in the water. A simple 1-hour review in the pool with an instructor will bring back your confidence, spark your enthusiasm, and most importantly make you a safer diver for the season to come.
Unfortunately accidents do happen. We can, however, learn from others to become better divers ourselves and make the sport of scuba diving more rewarding for ourselves and safer for those who are learning to dive. Take a moment to refresh your training and check your gear before hitting the water and you'll be have another great season of diving ahead of you!
1. http://www.diversalertnetwork.org/files/Fatalities_Proceedings.pdf