In 2007, Trevor Mendelow, then a high school teacher, and some of his students formed a club at their school.  The school was Kent Denver School and the club, originally called Aqua Rangers, was Teens4Oceans.  Teens4Oceans is a non-profit youth organization that empowers the next generation to become impassioned stewards for their ocean through education, experiential learning, scientific research and innovative technologies.
---
Words and photos by Kellie Mendelow
---
This club, based in Colorado, decided to study the goliath grouper and, more than that, they decided to study this critically endangered fish by watching its daily life through a live stream from an underwater webcam.   Thus began their journey, which would later become their quest to bring underwater telepresence to the world's fingertips.
Trevor and his students began researching the equipment and technologies they would need to accomplish a project of this size.  They found a system they thought would work and started building the infrastructure and autonomous powering systems they would need to make the project happen.  Next they needed a site and someone with goliath grouper expertise.  The site:  Bahia Honda State Park.  The goliath grouper expert:  Don DeMaria.
Trevor and Teens4Oceans, working closely with Dr. Billy Causey and Dr. Dan Basta, both Directors with the National Marine Sanctuary Program, and Don DeMaria, a commercial diver and fisherman, deployed the first of many versions of an underwater, live streaming webcam at the park.  The Bahia Honda State Park site was chosen based on the natural history of the goliath grouper in this area.  Don DeMaria became involved due to of his vast knowledge of the goliath grouper, and he continues to work with Teens4Oceans and this project.  He was also instrumental in supporting the implementation of the 1990 moratorium on the harvest of the goliath grouper, which is still in effect today.  The camera system at Bahia Honda State Park is in place to this day, although with many upgrades and changes taking place over the years including the addition of Wild Goose Imaging's CleanSweep™, and most recently, the addition of a WGI science node with pH and two temperature probes provided by Ocean Classrooms, an online marine science course provider. The live stream from Bahia Honda State Park is fully powered by on-site solar and wind infrastructure.
Why the need for CleanSweep™?  One of the first, and most constant, challenges faced by the team was the issue of marine biofouling and microorganism buildup on the glass dome protecting the camera.  Marine biofouling is an obstacle facing many researchers, industries and other professionals working with equipment in the ocean.  And depending upon factors such as water temperature, depth, salinity, flow rates, levels of nutrients, and sunlight, biofouling can cause obstruction as quickly as every few minutes.  For the first model Teens4Oceans had to have a diver (usually Don DeMaria) on hand and available to clear the glass at regular and frequent intervals to maintain clear viewing.  They quickly realized this was not a viable long-term option for the work they needed to do.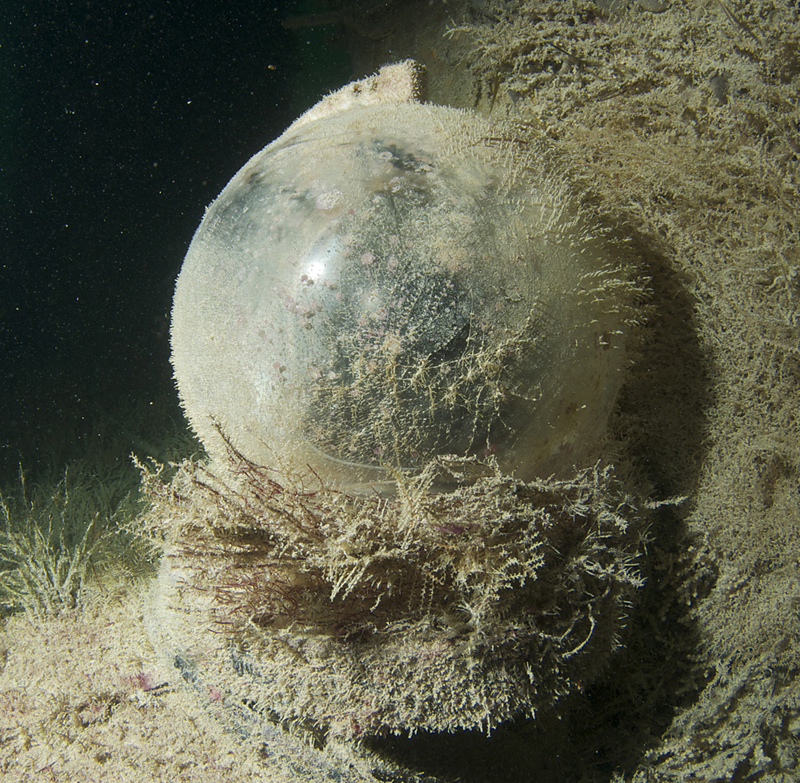 As they say, necessity is the mother of invention.  In this case it was the motivating factor for the creation of Wild Goose Imaging's CleanSweep™ technology.  Trevor Mendelow, now President and Director of Research and Innovative Technologies for Wild Goose Imaging, along with Mike Park, Director of Field Operations for Teens4Oceans, Jeff Aldred, an engineer from Wild Goose Engineering, and Nate Newman, a student at Kent, decided they could do better.  Because they had already discovered in the field the need to clean the glass very frequently, quite often many times a day, they began work on designing and building technology that would knock off any debris attaching to the glass and keep growth from occurring.  This technology would keep the glass dome free from biofouling and microorganism buildup without the need for daily manual cleaning by divers.  And the Wild Goose Imaging CleanSweep™ was born.
You can check out this live underwater video web stream at Bahia Honda camera.  Or visit Teens4Oceans, Ocean Classrooms, or Wild Goose Imaging to view some of the many other underwater live streams in place around the US and abroad.