For decades, Divers Alert Network and Rolex have collaborated to award one of the most prestigious honors in scuba diving: the DAN/Rolex Diver of the Year Award. This year, Kirk Krack, CEO and Founder of Performance Freediving International (PFI), was selected by committee as the diver who best exemplified DAN's mission to promote dive safety.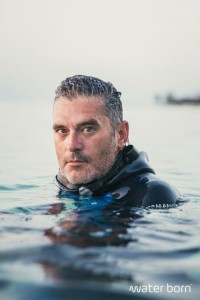 Through his work at PFI, Krack is considered one of the world's foremost authorities on freedive safety, instruction and education. Since its inception, PFI has trained more than 10,000 freedivers, in addition to providing professional programs in safety and instruction. Krack, a former multi-agency tri-mix instructor, is also the founder and president of the Canadian Association of Freediving and Apnea (CAFA) as well as a founding member of the United States Apnea Association (USAA). During his free time, Krack volunteers at Freedom at Depth Canada (FADC) to train disabled people to safely explore the underwater world.
Krack has also completed some high-profile work as principal underwater videographer and on-screen personality in the Oscar-winning documentary, The Cove, which helped to expose the slaughter of dolphins in Taiji, Japan. Adding to his film credits, he served on the production team for the documentary Racing Extinction and was contracted by Tom Cruise to teach the actor how to safely perform underwater scenes in Mission: Impossible – Rogue Nation.
"The nominee pool this year was truly outstanding," said DAN President and CEO Bill Ziefle. "Among them, Kirk's enthusiastic implementation of safety protocols and support of DAN's mission stood out as being particularly remarkable. As someone as dedicated to safety as he is to diving, Kirk is a credit to our sport. We are delighted to name him DAN/Rolex Diver of the Year."
"I'm truly honored and humbled to be recognized by DAN and the diving community at large," said Krack. "I'm also excited that DAN is recognizing the work happening within the world of freediving, and I'll accept this award on behalf of all of our PFI instructors and trainers who work so hard to improve education and safety, as well as freedivers everywhere who strive to bring awareness and safety to this amazing lifestyle."
Krack will receive his award at the 2016 Beneath the Sea Dive Show in Secaucus, New Jersey, on April 1-3, where he will be presented with an Oyster Perpetual Rolex Dive Watch and a commemorative wall plaque. In addition, Rolex will donate $10,000 to DAN to support essential safety initiatives such as medical research, safety education and first-aid training.
.