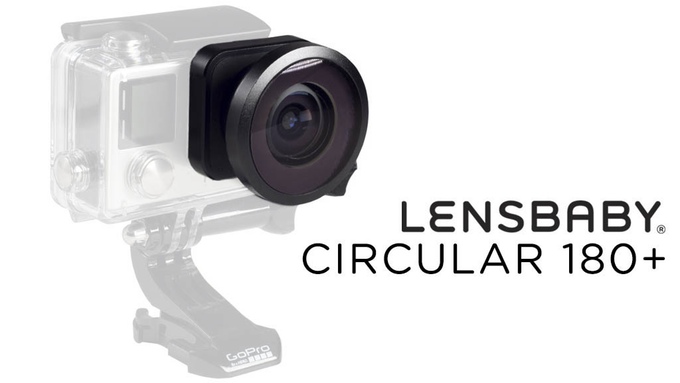 Camera accessory company Lensbaby is launching a new circular 180+ video lens accessory for the GoPro Hero4, giving GoPro users the ability to capture 185º field-of-view with a circular fisheye lens.
The Lensbaby Circular 180+ lens creates fully circle fisheye videos and images with an almost unlimited depth of field, letting you capture the soul of your adventures with a fully immersive field of view. Attaching to the current waterproof housing on GoPro® Hero cameras, the Circular 180+ captures a 185 degree window on the world, wider than the human eye can see with unprecedented depth of field – subjects nearly touching the front of the lens are sharp, along with everything else in the image.
The Lensbaby Circular 180+ fits over the current waterproof housing on GoPro's Hero® cameras. To attach it, simply unscrew the knob to loosen the mount and push the lens onto the GoPro® housing. Push firmly so it seats evenly. Screw the mount down tightly, while continuing to push firmly.
Specifications:
Fits on the current waterproof housing for GoPro® Hero cameras
185 degree field of view and a fully circular image in 16:9 wide recording mode (underwater full circular field of view: 120 degrees)  
Increases the GoPro® Hero's depth of field making nearly everything in focus
Lens housing is waterproof to withstand extended immersion up to 3 meters (IP68 standard)
Included water resistant mount is built to withstand heavy splashes of water with little or no leakage between the lens housing and the GoPro® Hero's housing**
Add-on Waterproof Mount is waterproof to withstand extended immersion up to 3 meters and replaces the glass on the front of the standard GoPro® housing (T5 torx driver included with purchase).
The manufacturing and launch is being funded with a Kickstarter campaign, which gives consumers an opportunity to pre-order the lens. The campaign went live this morning and will run until late June. For $69, donors will receive a unit as soon as they're available, saving $31 over the expected retail price.
For more information:
http://lensbaby.com
Kickstarter Campaign page