Whether you're diving daytime or nighttime, a reliable dive light is an essential piece of gear. In recent years, HID and LED lights have replaced the standard incandescent variety and provide brighter, whiter light; much longer burn times; longer bulb life; and far greater durability. The technology involved in today's dive lights is far more advanced than dive lights produced just a decade ago; they have in fact taken a huge leap forward and divers are now able to light up and see the underwater world in a way they have never been able to before.
A BRIEF HISTORY OF SEEING IN THE DARK
Incandescent bulbs have been used in dive lights since the 1960's. They create their light through brute force – running an electrical current through a burning tungsten filament enclosed in a bulb containing argon, krypton, or xenon gas. Most of the power delivered to the bulb in an incandescent light is released as heat or invisible infrared light, with the remaining energy emitted as visible light. Incandescent lights give off a yellowish colored light, use a lot of power, and don't last very long. If banged or dropped (as they frequently are before and after diving), the bulbs often fail, and burn times of just a few hours are the norm. Carrying extra bulbs and batteries is an essential part of every diver's kit, and some of these lights take 6, 8, or 12 batteries which are heavy and take up essential space.
Halogen bulbs provided a marked improvement over incandescent bulbs, and are still in use today. By adding a small amount of a halogen gas inside the bulb, a process sets up where tungsten evaporating off the filament is actually re-deposited. This allows the filament to be driven harder and achieve longer life than would be possible without the presence of the halogen. It also increases the efficiency of the bulb. Halogen bulbs are a definite improvement in dive light technology. They burn much whiter, but unfortunately still require a lot of power to burn.

TIME TO GET THE (LED) OUT
An LED is a solid-state lighting technology. Instead of emitting light from a burning filament or a gas, an LED emits light from a piece of solid matter. In the case of a traditional LED, that piece of matter is a semiconductor. LED technology has been around for several decades, but it was not until the last decade that it advanced enough to provide power and running times better than incandescent lights. Today, LED lights are brighter, last longer, and are far more durable than traditional incandescent or halogen lights. Many LEDs have a lifespan of 10,000 hours or more under normal conditions, and most offer burn times measured in hours or even days (for some smaller single LED marker lights). Since introduced, LEDs have proven to be not just an evolution in dive lights—they're a revolution.
Light output is commonly measured in "lumens." A lumen is about the equivalent of the amount of light put out by a single birthday candle if you view it from a foot away. For comparison, a miniature keychain light produces one or two lumens, a household D-cell flashlight may product 20 lumens, and a 60-watt household incandescent lamp will produce about 900 lumens. LED lights can range in output from 5 to more than 5,000 lumens, and HID flashlights can produce more than 3,000 lumens.
Divers now have a choice of a wide range of LED dive lights for use as marker lights, primary dive lights, and secondary (or backup) lights. Smaller marker lights (which can replace chemical light sticks) may use a single LED, and burn for as long as 200 hours on a single battery. On the brighter end, handheld lights, such as WiseDive's Handheld torch, now provide more than 3,000 lumens of brightness and burn for three hours at full brightness (up to 5,000 lumens with its canister light).
Light output isn't the only factor when selecting a dive light. Divers should also consider how they plan to use the light (primary or backup, daytime or nighttime, cave diving, technical diving, etc.), their preferred grip style, weight, physical size, and whether a handheld or canister light is best suited for them. Some divers prefer a wide beam, while others prefer a narrower one. Some lights have an adjustable beam. When selecting a dive light, do your research and visit your local dive store to discuss your purchase with other experienced divers.
Some modern LED dive lights are sealed and rechargeable via a cradle or adapter—reducing the cost of modern lights even more—and most will run on user-replaceable rechargeable batteries. In most cases, the LEDs are not replaceable, but with a lifetime of 10,000 hours or more, chances are you'll never need to replace one. Another benefit—LEDs are quite shock- and impact-resistant, and will not break when dropped.
We asked several manufacturers to share their lights with us and let us take them all for a dive or two. In every case, the lights proved to be extremely durable, very easy to use underwater (with thick gloves on, as we wear in California), and provided brilliant white light with different beam coverage. We narrowed them down to a few of our favorites, all of which are currently available and would be an excellent choice for any diver looking for a new light. Here's a look at a few great lights to consider: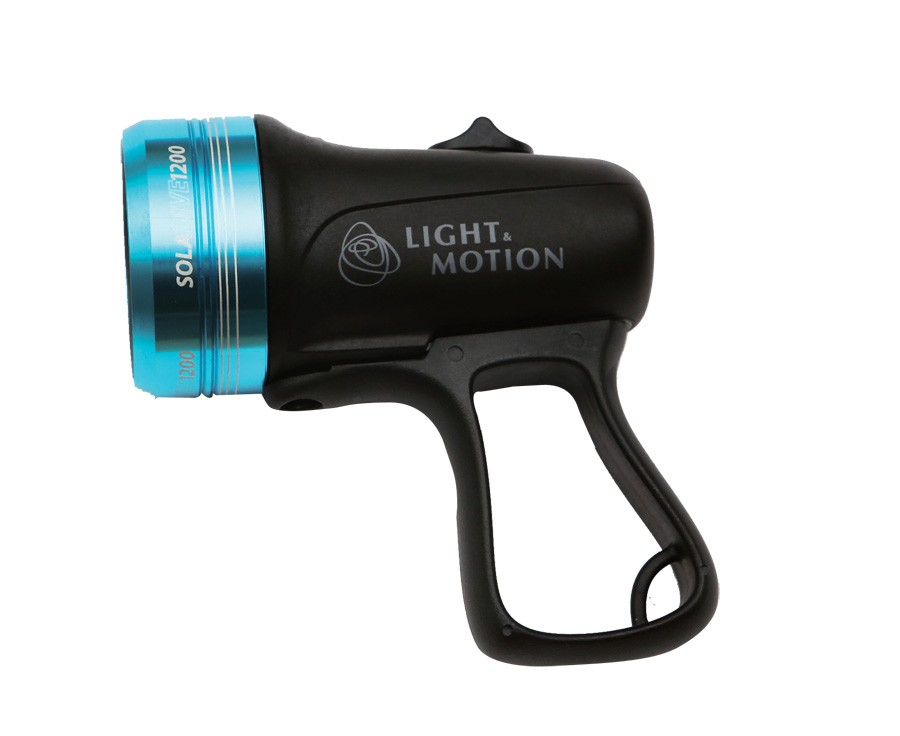 Light & Motion Sola 1200
When you first turn on the Sola 1200, you'll be amazed at how much light is coming from its compact 10 oz. package. With an output of 1,200 lumens (at least three times that of most dive lights), it can be handheld, with the included pistol grip, or securely attached to a forearm with a secure Velcro wrist mount (also included). The Sola Dive 1200 Light has a built-in lithium-ion battery and is charged through external charge ports, so there's no danger of flooding due to a misaligned or damaged O-ring. Fully charged, it will burn for over an hour at full output, or nearly three times that at low power, which still produces enough light for any night dive.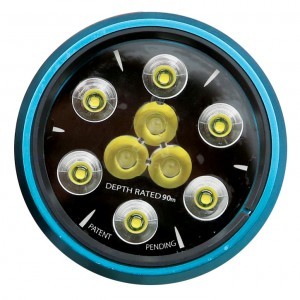 One thing we really liked about the Sola is the easily adjustable beam, which can be changed from a 60-degree flood beam to a 17-degree spot beam, simply by sliding the magnetic switch on top. There are three LED indicators (also on top) that tell you which of the three levels of brightness you're using, as well as the amount of battery charge remaining. All functions on this compact light are easy to use with wetsuit gloves on. Additionally, this light is rugged enough to withstand the abuses many dive lights take, especially during shore diving. The light has been tested to 300 feet (but not by us).
You can find out more from Light & Motion's website at lightandmotion.com. The Sola 1200 is available at retailers nationwide for $699 MSRP. Pick one up and try it—we think you'll love this light. Visit Light & Motion here.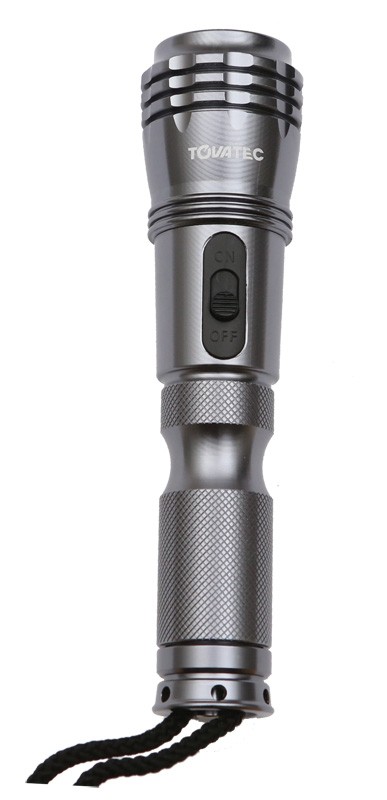 Tovatec IFL 660 Torch
Intova's Tovatec 660 Torch is a rugged, durable single LED light that is built to last. It is waterproof to 400 feet, powered by a 220-lumen CRE LED, has a 12-degree beam, and will give you eight hours of burn time with the included CR123A batteries. If you're worried about burning out the lamp, relax. It has a life span of 100,000 hours (more than eleven years of continuous use). A magnetic switch means you won't accidently open it underwater while turning it on or off.
The Tovatec 660 Torch is a compact and lightweight unit with an overall length of 6.2 inches and a width of 1.5 inches, and weighs just 7.9 oz with batteries installed. At $72.95, it's a light that will likely outlive every other you've ever owned. Visit Intova here.

WiseDive Torch
In many parts of the world, our "flashlights" are called "torches." However, Denmark's WiseDive has created a light that deserves to be called a torch everywhere in the world.
The WiseDive handheld torch is a work of precision engineering in form, and advanced technology in function. The handheld torch puts out a whopping 3,300 lumens of light, it's submersible to 500 feet, USB computer programmable, and burns for up to three hours at full output (and thirty-two hours at 20%). It comes with a rechargeable cradle, which changes color to indicate the charging level. At forty-eight ounces, it fits comfortably in your hand and weighs less than most dive lights that offer a fraction of the output. All functions are controlled with one magnetic switch, which makes it easy to control all functions with one hand.
We took this light on three night dives. At full output, it looked like we were using off-road lights underwater. By rotating the switch to the left, the light emits a 500-watt strobe, categorized as a "non-lethal weapon."
Retailing at almost $1,000, you can read more about WiseDive's handheld torch (and its new 5,000-lumen canister light) at www.wisedive.com.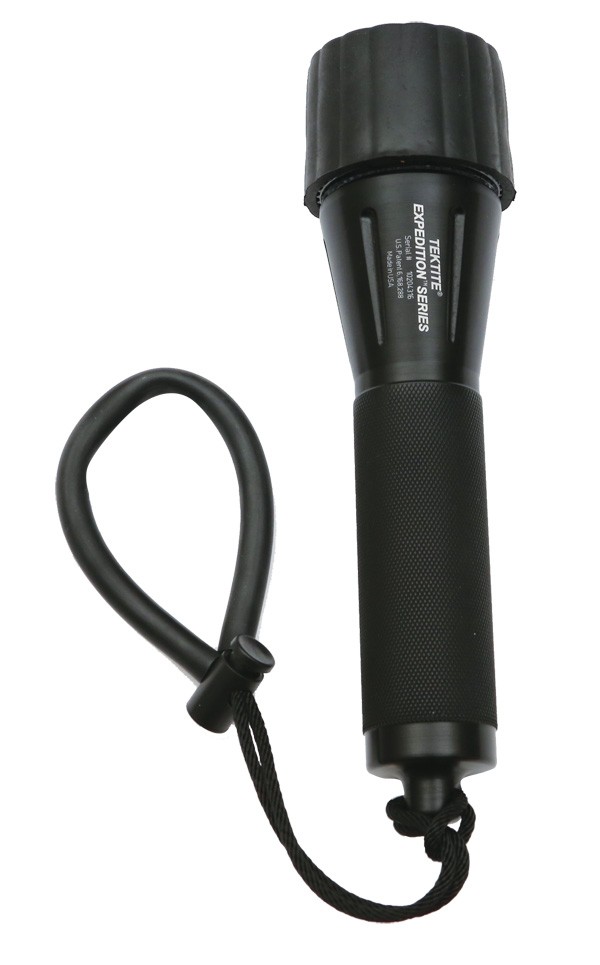 Tektite Excursion LS4 and LS5
Tektite is known for building some of the most rugged lights on the market. Tektite manufactures lights for the military and police forces worldwide (which says a lot about their durability!) and these lights meet FAA requirements for a commercial pilot's flashlight.
Built for extreme environments, their LS4 and LS5 lights are computer machined from a solid bar of aluminum. Thanks to double o-ring seals, you can take both of these lights down to 2,000 feet (don't forget the safety stop on the way up!) and they'll take any abuse you can throw at them. These are truly lights that will last a lifetime (and they're guaranteed to do so).
Tektite uses ultra-bright CREE XRE LED's, which have a lifetime of 10,000+ hours. The LS4 will burn six hours at full power (with an output of 240 lumens), and the LS5 for about 2.5 hours (at 750 lumens), with both producing usable light far beyond that time. Both produce a six-degree spot beam, and are powered by three C-cell batteries (included). Each also comes with a cushioned wrist lanyard, and are turned on and off with a twist-grip. Both the lanyard and attachment point solid and appear to be extremely durable.
The Tektite LS4 and LS5 lights are not only manufactured with extreme durability in mind, they're also an example of great craftsmanship, and each light comes with its own unique serial number. The LS5 retails for $209.95 and the LS4 for $189.95. Read more at www.tek-tite.com and look for them at your local dive shop.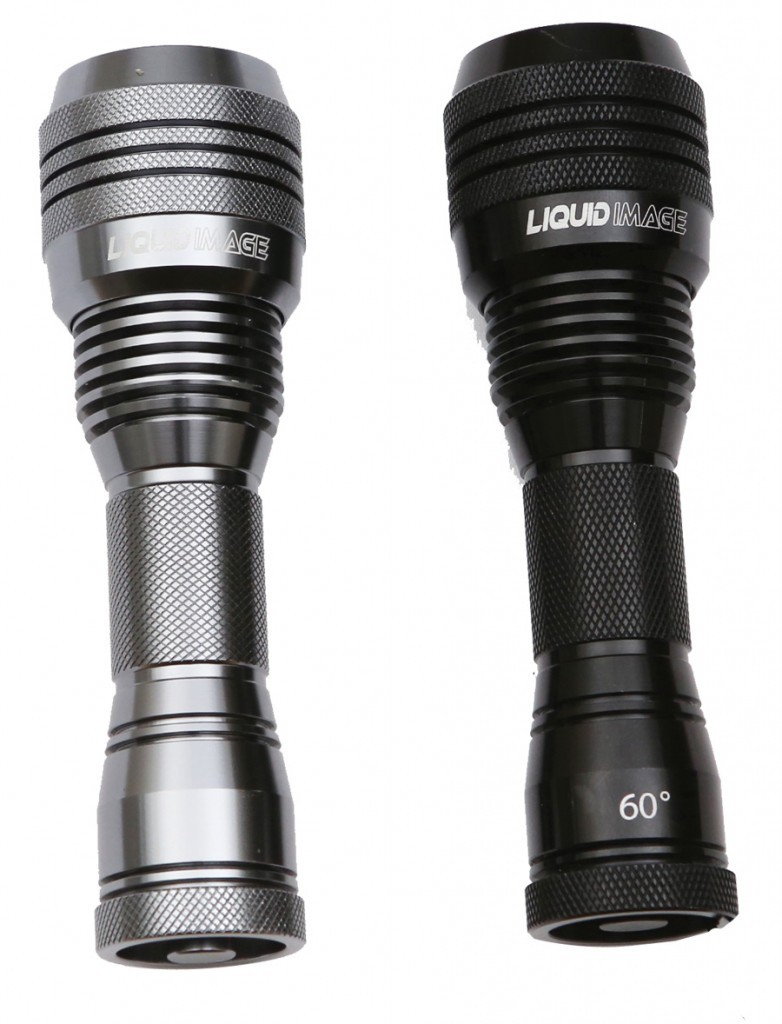 Liquid Image 4.7 W Waterproof Torch
Liquid Image has several compact LED lights available to mount on their Scuba Series video masks, and they're also good lights on their own. We took their new HD 1080p mask for a spin in our last issue (May/June 2012), and wanted to include them again in this issue because of their quality, versatility, and price. Both can be attached to their camera masks using accessory brackets, and both come with rechargeable batteries and charger.
The Liquid Image 4.7w Waterproof Torch (model 342) is certified to a depth of 400 feet (thanks to dual O-rings sealing the battery compartment), has a battery life of 600 minutes, and has an output of 130 lumens. Great for shooting video (with a color temperature of 6000-7000k), it produces a smooth, even forty-degree beam without any hotspots. Both the model 343 and 342 (below) lights are made of machined aluminum. On/off is controlled with a magnet push-button switch on the rear, and it's powered by two CR123 batteries, which are included, along with a charger. The model 342 retails for $69.00.
The 5.5w Liquid Image model 343 light has similar specifications as the 342, and produces a wider sixty-degree beam with an output of 330 lumens. It produces light at the same 6000-7000k color temperature, and retails for $89.00. Check them both out at www.liquidimageco.com.
All copy and photos ©2012 California Diver and may not be reproduced without express written permission.