We visited Marina, California-based Light & Motion at the annual DEMA show today in Orlando, and discovered that they have now expanded their line of lighting products from underwater and action sports lines to a new line of high performance cinema lights for filmmakers. It's a welcome evolution for the cutting-edge LED light maker, who already builds some of the best dive lights available.
Light & Motion's new Stella series lights are daylight-balanced lights, compact and portable, offer up to 5000 lumens of brightness, and can be used in the studio, on the road, and underwater as well. As a test of ruggedness, they've been tested to survive a 1-meter drop onto concrete, and they're waterproof to 100 meters (328 feet) for underwater use. The Stella lineup includes the Stella 1000, Stella 2000, and the Stella Pro 5000, each named after the number of lumens they produce. The lights can be mounted on universal lightstands, or directly on your camera's cold shoe mount.
The Stella 5000 is powered by a built-in battery that charges in 1.5 hours to 80% and 2 hours to full charge, which gives you a run time of 90 minutes at full power. For longer shoots, you can also run the light from a D-Tap external battery source. In the box, the Stella 5000 comes with a 50 degree Focus Optic, 4-way barndoor set, high leverage handle, C-Stand mount, and an external power supply.
The Stella 5000 has a wide 120 degree beam and that can be narrowed to 50 degrees (with the included optical attachment) or as narrow as 25 degrees with an optional optical attachment. The fan-less design is dead quiet for sound-sensitive locations and is dimmable either continuously or in steps, for maximum flexibility on the set. You can use the light directly, reflected, or bounced off an umbrella, for maximum flexibility.
Using the same body/powerpack as the Sola 8000 Pro underwater light, the Stella lights use a different lighthead that's been modified for use on land, with an expanded area of cooling fins (the regular Sola 8000 Pro depends on the water surrounding it to help keep it cool). Other than that, the operation of the light is identical to that of the Sola 8000 light, complete with LED display showing current output, remaining power, and remaining burn time.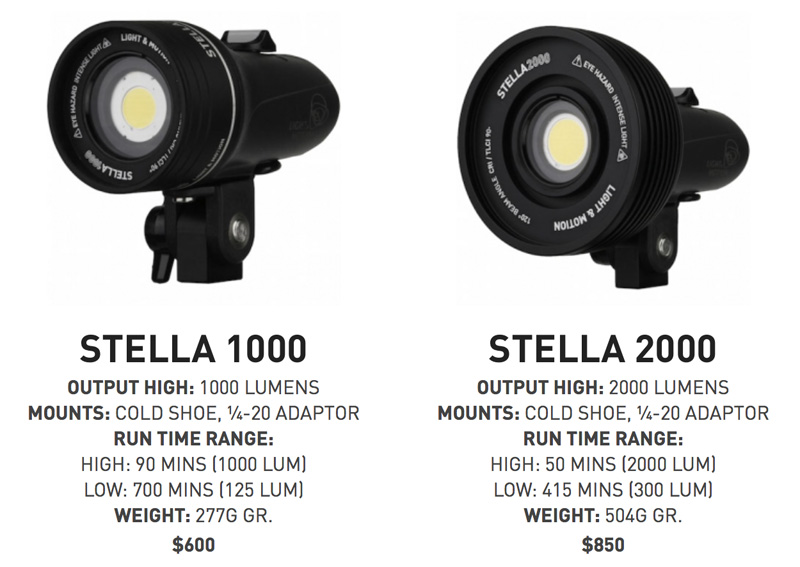 The Stella lights are lightweight, easy to pack and travel with, and should especially welcomed by run-and-gun filmmakers, who need quality lights that are easy to set up and use without compromising quality.
Ryan Young, Cinematographer for the Red Bull Media House, had this to say after using Stella Pro lights:
Here are the specs:
High Output "Chip on Board" LED
Certified TLCI 93, CRI 90, CCT 5000 Kelvin
Integrated Rechargeable Li-ion battery for 1.5-12 hours of cord-free operation
Sophisticated flicker-free firmware design
Regulated lumen output – does not fade during use
Dimming with continuous or stepped control
Fan-free thermal management for silent operation
Controlled focus from 120° down to 50° & 25°
Broad range of accessories including Profoto and Chimera adaptability*
OLED Digital Display for precise readout
Runs off wall power, DTAP, 24V
Fast Charge of 1.75 hours, 70% Charged in 1.5 hrs
Certified performance (FL-1 Standard)
What's in the box: 
Stella Pro Light
50° Focus Optic
Barn Doors
High Leverage Handle
C-Stand mount
1/4-20 Adaptor
24V Power Supply
The Stella lights are available now on B&H Photo here, and you can learn more about them on Light & Motion's website here.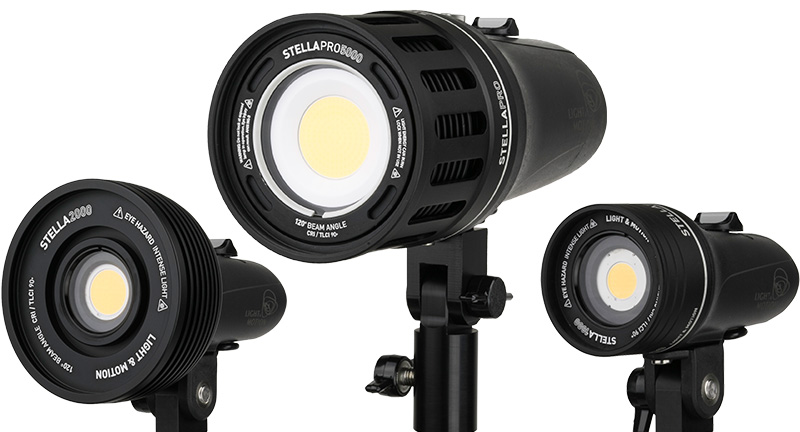 Words and photos by Chris Constantine
California Diver Magazine
_____________________________________________________________
[AMAZONPRODUCTS asin="B0163TDF9E"]
.