The Marine Mammal Center in Sausalito, along with a gathering of volunteers, guests, and beach visitors, celebrated the release of another one of their formerly sick patients today.
Tchotchke, a male sea lion, was rescued by the Center about 3 weeks ago from nearby Stinson Beach after falling seriously ill with a painful bacterial infection that affected his kidneys.
"He was suffering from leptospirosis," explained Dr. Shawn Johnson, Director of Veterinary Science with the Marine Mammal Center. "It's a bacterial disease that causes kidney failure. Our team of experts was able to treat him with antibiotics and fluids and he recovered."
Tchotchke was one of 40 California sea lions that the Center admitted this year with symptoms of leptospirosis. The bacteria spreads through contact with an animal's urine or other bodily fluids. Infected animals can experience fever, muscle pain, weakness and ultimately kidney failure. Signs of leptospirosis in sea lions include dehydration, increased drinking or urinating, vomiting, depression and a reluctance to use the hind flippers. The ailment is periodically detected in California sea lions along the California and Oregon coast. It results in increased strandings and mortalities among sea lions and can also be spread to dogs if they get near stranded or sick sea lions.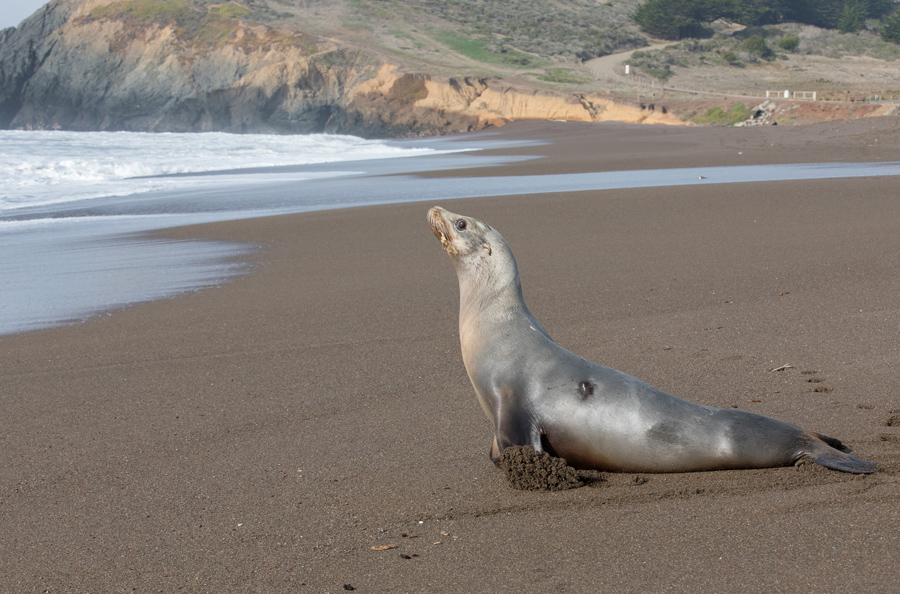 After an initial hesitation to leave his steel crate, Tchotchke bounded out and quickly scampered into the water at Rodeo Beach in Sausalito. Marine Mammal Center volunteers used wooden shields to protect him from onlookers – and protect onlookers from Tchotchke. After reaching the water, Tchotchke eagerly dove his head into the water and enjoyed the shallow waters near shore before disappearing into the frothy ocean.
Male sea lions like Tchotchke can reach up to 850 pounds and 7 feet in length, and females grow to 220 pounds and up to 6 feet long. They have an average lifespan of 20–30 years.  Sea lions also eat a lot – they are known to eat about 5–8% of their body weight (about 15–35 lbs.) in a single feeding.  Sea lions can remain underwater for an average of 8 to 20 minutes and can dive to depths between 450 and 900 feet.
The most recent  Stock Assessment Report for California sea lions estimates the total population size at ~300,000 animals, with an annual increase of 5.4%. The main US breeding rookeries are located on the Channel Islands and Califor­nia sea lion pups are born on the islands of San Miguel, San Clemente, San Nicholas and Santa Barbara.
Tchotchke's release back to the wild marks what has been another very busy year at the Marine Mammal Center. The hospital has rescued and treated more than 630 marine mammals this year, with the help of more than 1,200 volunteers who logged 135,000 hours of service.
Sea lions are now protected under the Marine Mammal Protection Act of 1972. Divers, surfers, and other coastal visitors can help in rescuing sick, injured, and stranded animals by keeping a safe distance and reporting them to the rescue team at the Marine Mammal Center. Upon receiving a report, the Center will dispatch a team to the location and evaluate the animals, then transport them to their Sausalito treatment facility if needed. Their emergency dispatch number is (415) 289-SEAL.
More information on their services, tours, and volunteer opportunities can be found on their website at http://www.marinemammalcenter.org. The Center offers regular tours of their Sausalito-based facility and invites students, scouts, seniors, and other interested community members to visit and learn more about their mission to save marine mammals along the California coastline. The Center welcomes visitors and also those interested in volunteering to help their mission.
Words & Photos: Chris Constantine, California Diver Magazine