The south shore of Maui is one of the top destinations for Hawaiian visitors. Known as Wailea, this area is home to some of the most luxurious hotels in all of Hawaii, and it's also home to some of Hawaii's most beautiful beaches. This area of shoreline stretches for 8-10 miles with 20 different named beaches – the highest concentration of any area in Maui.
At the southernmost end of this area is Makena Beach (also known as Oneloa Beach), and at the far south end of this beach is Secret Cove, a small, secluded beach area hidden behind a lava rock wall.  More weddings take place here than any other beach in the Hawaiian Islands. Beyond this area the road narrows and the shoreline turns from beautiful sandy beaches to rugged lava fields with very limited access to the water from shore.
Virtually every ocean sport you can image takes place on Maui's south beaches, including scuba diving, of course. One of the Hawaiian Islands' most unique dive sites is also located here – Maui's Bubble Cave.
The Bubble Cave is exactly what its name implies – it's a large cave with an air bubble in it (which is actually at surface level) where divers can remove their masks and regulators and talk within it. Access to this unique cave requires an underwater swim of about 50 feet through a narrow underwater lava tube – an adventure in itself!
Getting there
The Bubble Cave can be reached from a boat or shore dive. Your starting point on shore is a place called "5 Caves", or "5 Graves", named after an ancient burial site that you'll pass on the way down to the water.  (Note that others may choose to park and enter at Makena Landing Park – just up the road. It has facilities – toilets and showers – but at peak times can be difficult to park here).
Once you're on the south shore, drive to the South End of South Kihei road, then bear left up the hill. Continue to the T, turn right to Makena Alanui. After 2.2 miles, turn right onto Makena Road. In .3 miles, you'll see the entry, with a parking area just across the street.
Gear up at your car (and lock it, of course), and follow the well-marked trail past the ancient gravesides and down to the water. It's a short hike that you should be able to do fully geared up. Once at the shoreline you'll see the entry point – it's a narrow rocky beach with large rocks that you'll want to be cautious of when entering. This entry cove does offer protection from the incoming swell, but if there are whitecaps on the water or it's later in the day and the wind is kicking up, it's probably wise to pass on the dive.
Before going into the cave you first have to find it, and many divers miss it on their first attempt. The opening is a wide, low opening at a depth of about 15-20 feet right along the shoreline. To find this entrance, you'll head outward (either snorkeling or on scuba), around a large rocky finger, then west, following the shoreline profile underwater. (There are two large rocky fingers heading out to sea here, and this area is also called "Turtle Town" due to the numbers of turtles found here.)
The bubble cave isn't the only attraction here though, and you don't need to rush to it underwater. There are many other small caves, nooks, overhangs, and other hiding places where you'll find an abundance of turtles, white tip sharks, nudibranchs, triggers, wrasse, puffers, and more. The rocky fingers that extend outwards to the ocean provide great habitat for spotted moray eels, frog fish and octopus. This site is worth worth exploring with several dives. The depths here are relatively shallow – you can get a lot of dive time and see a ton of sea life in less than 40 feet of water. If it's peak season, you'll very likely encounter at least one or two dive and snorkeling boats anchored over the sandy bottom just offshore.
Entering the Bubble Cave
Those diving the Bubble Cave might make a beeline to it – others will poke along and stumble upon it, or just include it as part of their tour underwater. Either way, if you stick to closely following the rocks underwater along the shoreline, you'll likely find the entrance. If you stray away, it can be easily missed.
The entrance is a wide opening that begins at the sandy bottom at a depth of about 15 feet and narrows as you enter the ancient lava tube. The lava tube extends to about 50 feet back (you'll definitely need flashlights – including backups), then ends in the large cave itself. Here you can surface into the air pocket and enjoy the unique experience of being at the surface, inside a cave. There's room for about 5 divers inside.
Depending on ocean conditions, you're likely to have a very unique experience inside the cave, as the surge pushes water into the cave through the lava tube and back out again. The cave itself won't fill up with water, however due to the changes in air pressure, you'll notice the changes in the pressure on your ears, and the air inside the cave with alternate from foggy and misty to crystal clear.
Dive Safety
Although this is referred to as the "Bubble Cave" and is diving in an overhead environment, it's a dive not technical in nature. The lava tube is a straight line into the cave and back, and you should be able to see the outside daylight throughout your trek through it. In short, there's no way to get lost, head down the wrong passage, or make a wrong turn. it is, however, and overhead environment and you should be comfortable diving in such, and have a good dive light and backup lights. It's also very shallow – about 15 feet deep – which means you won't need to worry about decompression issues or narcosis. The 50-foot entry through the tube has been accomplished by experienced freedivers!
As a shallow dive (the entire area is fairly shallow), you'll need to pay attention to surface conditions. In the afternoon the wind can kick up here and make entries and exits difficult, and the surface will whitecap which both reduces visibility and makes surface swimming a challenge.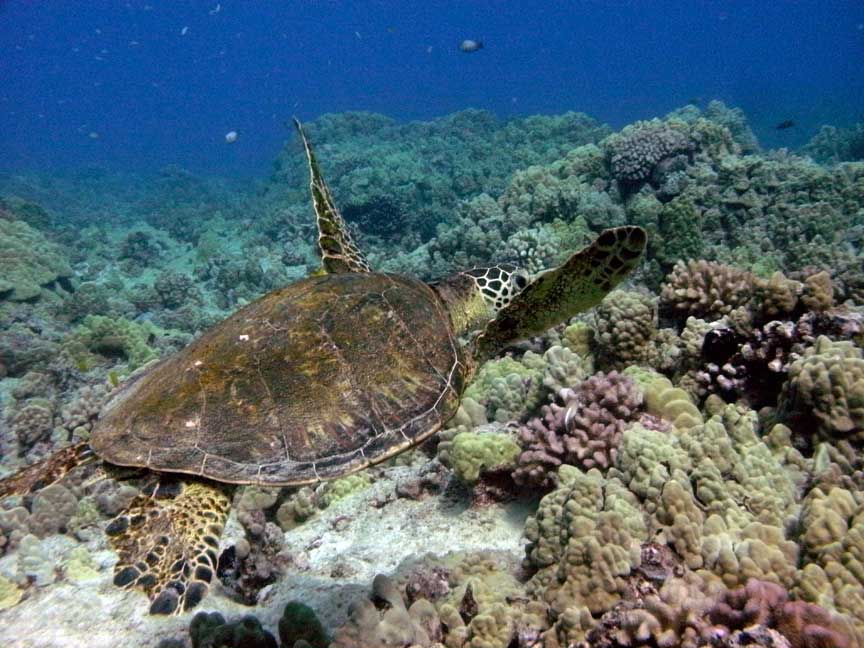 Summary
The Bubble Cave is one of the Maui great shore dives, and the area around it is definitely worth exploring. Grab your gear, hit the water early, and enjoy some of the best diving Maui has to offer!