Light & Motion, Monterey's innovative manufacturer of underwater, bike, and outdoor LED lights is sponsoring Fabien Cousteau's Mission 31.
Fabien Cousteau, the grandson of the famed undersea explorer Jacques Cousteau is conducting a 31-day mission to live and work under the sea in the Aquarius Habitat, located 63 feet below the ocean's surface in the Florida Keys National Marine Sanctuary.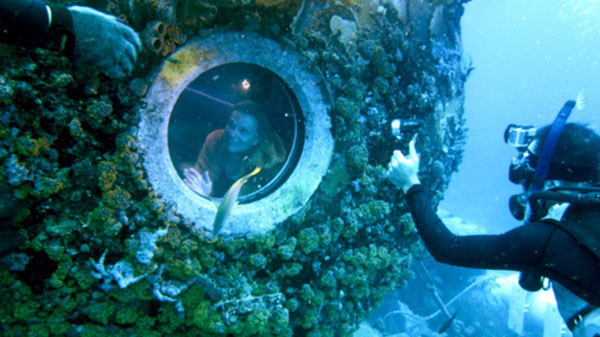 Cousteau and his team of aquanauts will study the impacts of climate change – especially ocean acidification, which is occurring as the world's oceans absorb much of the carbon dioxide released into the atmosphere by humans – as well as the impacts pollutants like plastics have on marine life, and the over-consumption of resources from the sea.
The team will be diving 6 to 9 hours a day around the Aquarius Habitat and the Light & Motion GoBe Search and Sola Dive lights will help the divers identify marine life and conduct scientific surveys. The company's high-powered Sola video lights will help the team document their discoveries. "We are excited to be able to contribute our lights for the purpose of supporting marine science and research" quoted Daniel Emerson, CEO, Light & Motion.
"With the support of Light & Motion the aquanauts can use video lights, hand held dive lights and lights to illuminate fluorescent sea creatures at night.  Our Mission 31 film production team is excited to light up Aquarius in a whole new way!" quoted Mission 31 Spokesperson Amy Summers.
Filmmaker and photographer Kip Evans will be on board Mission 31 with the Sola 4000s to document the experience. Fans can follow Mission 31 through the photographs and videos posted by Evans on the Light & Motion facebook page: https://www.facebook.com/lmdive
About Light & Motion: Light & Motion is a vertically integrated design & manufacturing company that makes personal lighting systems for individuals that value conscientious design and elegantly engineered solutions. They build their products themselves because they're passionate about providing customers with the perfect light to enhance their experience. Light & Motion has been recognized for their pioneering business practices and a smart carbon footprint through numerous environmental awards, including the 2012 "Cool California Award" for greenhouse gas reductions.
For additional information, please contact Heidi Hall at hhall@lightandmotion.com or 831.480-2125 or visit them at http://www.lightandmotion.com