NAUI, the National Association of Underwater Instructors, has launched a new website. With a new look and responsive design, the new and improved site features easier access to dive certification verification, a dive community section, advanced dive center locators, and "How to Become a Diver" access gateways.
In addition to launching the new website, NAUI has also established a new marketing, communications, outreach and operations department. This new initiative is designed to improve the reach and awareness of NAUI training and education not only among NAUI members but to the general public. Additionally, this department will have the responsibility for management of NAUI's international operations and communications.
"I promised that one of my top priorities as Executive Director would be the creation of an expert driven marketing and communications team," said Executive Director Dallas Edmiston. "I think we now have a team in place that can help the membership move NAUI to the next level in this critical area."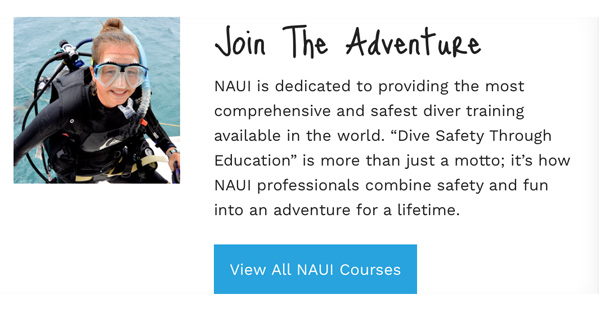 Assuming the role as Director of this department will be Derik Crofts, NAUI 10943. He will be joined by Angela (Angie) Cowan, NAUI 53628, as the Communications Coordinator, and Christy Wideman, as the Communications Associate.
Last September, NAUI launched their new "Definition of Diving" campaign. "The Definition of Diving" denotes NAUI's leadership role in all elements of recreational scuba diving training and education. "The legacy of leadership and loyalty of NAUI members forms the bedrock for its continued success," said Dallas Edmiston. "It is that entrepreneurial spirit and innovative mindset that has set NAUI leadership apart. While our past is strong, it's our future that we're committed to enhancing, and we are excited about what our leaders are doing in the industry."
NAUI is the largest non-profit dive training and certifying organization in the world, offering high-industry, recreational diver standards and education programs. NAUI Worldwide is recognized for establishing the first diver training standards in the recreational diving industry.
Take a moment to visit NAUI's new website by clicking here.
.