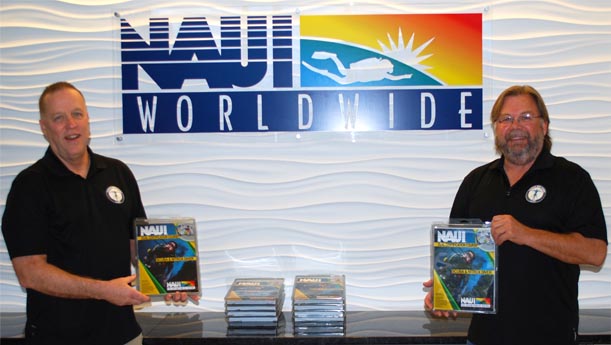 Yesterday we shared with you an event being held in La Jolla by FORCE BLUE, a new organization which will serve former combat divers and special operations veterans. PADI is generously supporting the organization, and now NAUI is as well.
The National Association of Underwater Instructors (NAUI Worldwide) has generously donated 10 Premier SCUBA and NITROX Dual Course NAUI Education Systems to FORCE BLUE to support its outreach and scuba training efforts for Special Operations Veterans and coral reef conservation.
FORCE BLUE is the only non-profit organization specifically created to aid former combat divers and Special Operations Veterans in their assimilation back to civilian life by giving them a new, positive mission to help the planet – one that teaches veterans about the marine ecosystems and the threats it faces. It also gives these warriors the tools to begin making a difference in the underwater world. FORCE BLUE recently announced its inaugural deployment of six Iraq/Afghanistan veterans to take place April 23 through May 5, 2017. The donated dual courses will be used to assist FORCE BLUE in its fundraising campaign to support professional video documentation of the inaugural FORCE BLUE dive team as they learn how to adapt their skills to repair and preserve a damaged stretch of coral reef off the coast of Grand Cayman. The estimated retail value is more than $2,000.
"We are excited to support this outstanding effort by FORCE BLUE," said NAUI Executive Director Dallas Edmiston. "Its mission directly aligns with NAUI's, which is to empower people to enjoy underwater activities as safely as possible by providing the highest quality practical education and to actively promote the preservation and protection of the world's underwater environment."
Additionally, NAUI Worldwide has coordinated with one of its Affiliates, San Diego Divers, to use one of the 10 dual courses to create a complete open water SCUBA & NITROX certification package, which includes the academic, confined dive, and open-water training necessary to secure certification.
"NAUI has a long and storied history with support and training to the Armed Forces of many nations," said Lonnie Sharp, owner of San Diego Divers and member of NAUI Board of Directors. "This is simply one small way we can show our gratitude for those who serve and support NAUI's core mission."
The complete certification package will be showcased during a silent auction as part of a FORCE BLUE fundraising event at the Ocean Institute, located at 24200 Dana Point Harbor Drive, Dana Point, California, on February 9, 2017, from 7 to 10 p.m.
The evening will feature a live performance by country music star Cliff Cody, an open bar, hors d'oeuvres, guest speakers, and an auction. Attendees will also have the exclusive opportunity to meet veteran military members of the first FORCE BLUE dive team including: U.S. Navy SEAL Lt. Geoff Reeves; U.S. Air Force Silver Star recipient, Pararescue jumper Master Sgt. Roger Sparks; and FORCE BLUE co-founder U.S. Recon Marine Master Sgt. Rudy Reyes.
"We are very excited about the generous support we have received from NAUI," said FORCE BLUE Co-Founder and Executive Director Jim Ritterhoff. "Our Special Operations and combat diver military veterans are eager to launch their new mission to help repair the coral reef's fragile ecosystem. Documenting this unprecedented event is extremely important. The funds raised will help us help Vets help the planet by allowing them to share their unique stories and experiences while engaging in a positive mission that will not only help our underwater world, but also help themselves."
The admission to FORCE BLUE's event at the Ocean Institute is free, and donations are tax deductible. Tickets can be obtained via Facebook at https://www.facebook.com/events/1371446219587051/ and via Eventbrite at https://www.eventbrite.com/e/force-blue-dana-point-tickets-31042031552?aff=es2
The nine academic NAUI Dual Certification courses will be included in future online auctions.