Navy SEALs Celebrate 50 Years
This year, Naval Special Warfare celebrates the 50th anniversary of the first two SEAL Teams.
SEALs take their name from the environments in which they are trained to operate: SEa, Air and Land. Among their other skills, they are highly trained divers who continue to take on the toughest of missions, under extreme circumstances and in the most arduous of environments. On May 2, 2011 a team of 40 CIA-led Navy SEALs successfully completed an operation to kill Osama Bin Laden in in Abbottabad, Pakistan.
SEAL training is very rigorous. The drop out rate for BUDs (Basic Underwater Demolitions) classes are sometimes over 90 percent The average Navy SEAL spends over a year in a series of formal training environments before being awarded the Special Warfare Operator Naval Rating and the Navy Enlisted Classification Combatant Swimmer (SEAL) or, in the case of commissioned naval officers, the designation Naval Special Warfare (SEAL) Officer.
The photo below, sent to us by the U.S. Navy Media Content Services, shows Navy SEALs during recent exercises in the Pacific, swimming back to a guided missile submarine. Because of the nature of their work, this photo offers a rare glimpse into the training SEALs perform in the open ocean.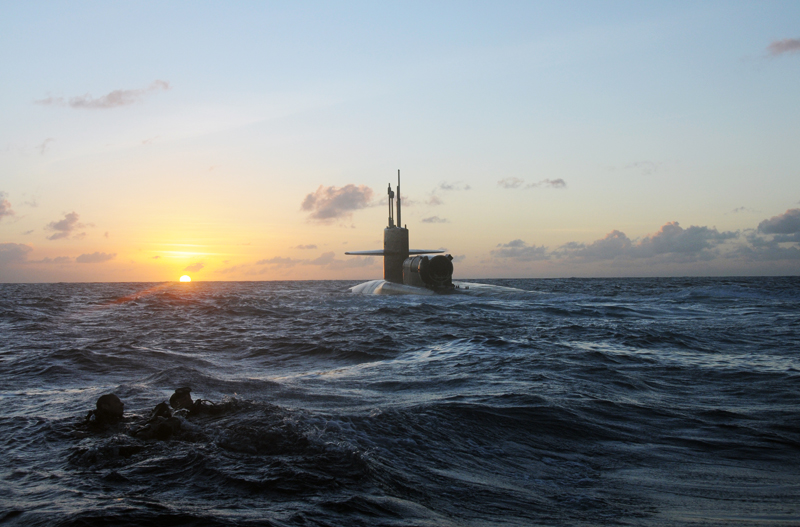 Above: 120220-N-ZK869-163 PACIFIC OCEAN (Feb. 20, 2012) SEALs and divers from SEAL Delivery Vehicle Team (SDVT) 1 swim back to the guided-missile submarine USS Michigan (SSGN 727) during an exercise for certification on SEAL delivery vehicle operations in the southern Pacific Ocean. The exercises educate operators and divers on the techniques and procedures related to the delivery vehicle and its operations. (U.S. Navy photo by Mass Communication Specialist 3rd Class Kristopher Kirsop/Released).
.
.
&nbsp
&nbsp
Related posts we think you'll like: