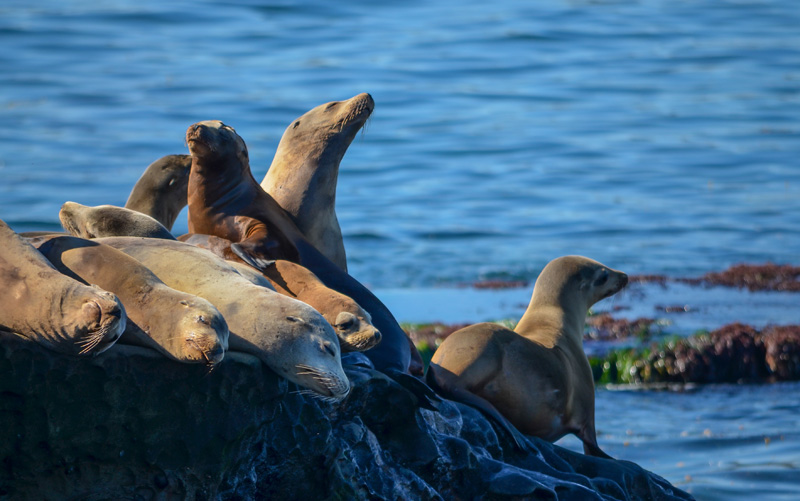 While it's been a warmer, milder winter in California this year, that hasn't made it easier on California's sea lion population. In the past two months alone, nearly 900 sick and starving young sea lions have washed up on California beaches, according to the National Oceanic and Atmospheric Administration. That compares to about 225 sea lion strandings that officials might normally see between January and April, said Justin Viezbicke, NOAA stranding coordinator for the West Coast region.
It's not rough sea conditions and cold that's causing the problem –  it's actually warmer ocean water temperatures that are at least partly to blame. Scientists say warmer coastal waters are forcing nursing mothers in the Channel Islands and Mexico to head out farther at sea to search for food, leaving behind their young for longer than the two to four days they normally would. Satellite data shows sea lion mothers are foraging in their traditional hunting grounds, but are likely spending longer periods away to get food. The pups, born last June, aren't normally completely weaned and able to fend for themselves until May, and not able to dive and catch fish to sustain themselves until then.
"These little pups, so desperate and so thin, are leaving the rookeries long before they're capable of hunting effectively," said Shawn Johnson, director of veterinary science at the Marine Mammal Center in Sausalito, which has treated 220 stranded animals. "It's alarming because we haven't seen this number of stranded pups this early in 40 years."
The same high-pressure weather system that has the state in its fourth year of drought has also raised ocean temperatures. It's thought that fish populations are being disrupted by a warmer layer of ocean water that reaches 330 feet deep along the Pacific Coast from Baja to Alaska's Aleutian Islands. Water in this layer is 2-5 degrees warmer than it normally would be.
In 2013, more than 1,500 sea lions died in California, according to NOAA figures, leading officials to declare an "unusual mortality event" for the species. Last year, 621 pups or yearlings washed ashore on beaches. In addition to monitoring the offshore water temperatures, NOAA is also studying whether the recent die-offs may be linked to changing ocean conditions or some other problem at sea. Disease is not thought to be the issue.
An estimated 300,000 sea lions live from the Mexican border to Washington state. Scientists said this year could be comparable to 2013, as more sick and emaciated young sea lions wash ashore. It's unknown how many stranded animals will die this year among the 300,000-strong sea lion population. In 2013, up to 70 percent of nursing pups perished in what NOAA declared an "unusual mortality event" linked to strandings.
The Marine Mammal Center in Sausalito is one place sick and stranded sea lions are taken for rehabilitation and eventual release. The Center's rehab facility is currently holding about 100 sea lions, many more than the dozen or so they typically have this time of year. During the first 10 days of February, they responded to 100 more California sea lions — most of them starving pups.
The sea lions there are nourished with herring, often force-fed with tubes when they can't ingest the fish on their own, and are also being treated with antibiotics. They are currently collecting donations for food and treatment for sea lion pups that have been stranded on California beaches. Donations can be made at the center's website at www.marinemammalcenter.org. The center can be reached at (415) 289-7325.
As divers spend time in the same environment as sea lions, it's possible that you may come across a sick, stranded, or injured pup. If so, the Marine Mammal Center has provided the following guidelines:
Don't Touch and do not pick up, pour water on or feed the animal!
They are wild animals and can bite. They also are easily stressed by humans.
Do not return the animal to the water
Seals and sea lions temporarily "haul-out" on land to rest. Harbor seal mothers often leave their pups ashore while they're feeding at sea. A beached whale, dolphin, or porpoise should be reported immediately.
Observe
Observe the animal from a distance of at least 50 feet. Keep people and dogs away.
Describe
Note physical characteristics such as size, presence of external earflaps, and fur color. This helps us determine the species, what rescue equipment and volunteers are needed.
Condition
Note the animal's condition. Is it weak and underweight? Are there any open wounds?
Identification
Does the animal have any obvious identification tags or markings?
Location
Determine the exact location of the animal in order to provide accurate directions. We cannot rescue an animal if we cannot find it!
Call The Marine Mammal Center with as much information as you have!  Our Response Hotlines are open 24 hours a day, seven days a week.
In Mendocino through San Mateo Counties: (415) 289-SEAL (7325)
In Monterey and Santa Cruz Counties: (831) 633-6298
In San Luis Obispo Counties: (805) 771-8300
The California sea lion is one of five species of sea lion. Its natural habitat ranges from southeast Alaska to central Mexico, including the Gulf of California. Sea lion males are larger than females, and have a thicker neck and protruding crest. They mainly haul-out on sandy or rocky beaches, but they also frequent manmade environments such as marinas and wharves. Sea lions feed on a number of species of fish and squid, and are preyed on by killer whales and white sharks. In the United States, the California sea lion is protected on the Marine Mammal Protection Act (MMPA), passed in 1972, which outlaws hunting, killing, capture, and harassment of the animal.
Additional Links/Resources:
Marine Mammal Center, Sausalito
Wikipedia: California Sea Lion