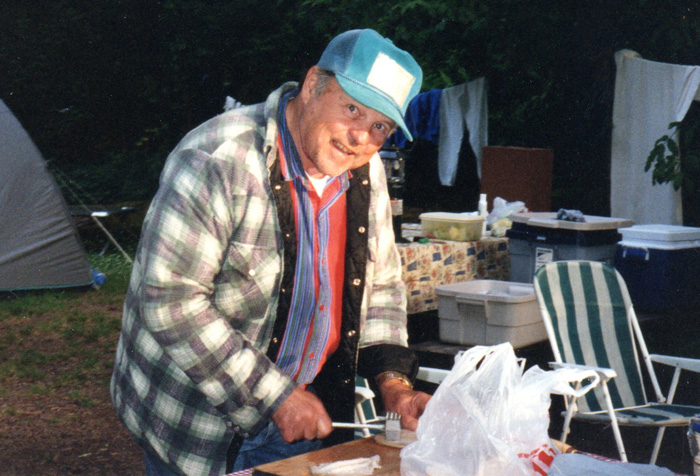 The Norcal dive community is an extended family, and one member of that family is facing a struggle with a serious form of cancer. North coast diver Matt Mattison is rallying divers from all over the state to help him through this difficult time.
From Matt:
"Recently one member of our family, Rob Winn, received some shocking news that his father, Jack Forney, was diagnosed with stage 4 colon cancer. We want to rally around Rob and his father Jack, and support them during this difficult & challenging time.
With the diagnosis of stage 4 colon cancer comes financial hardship. We all know that doctor's visits, co-pays, unpaid time off work for sick days, travel for care, medications, and a whole host of financial issues erupt in the face of health care.
The Norcal Underwater Hunters and Red Triangle Spearfishing will be hosting the The Jack Forney Kick Colon Cancer's Ass "Dive Day" Raffle and Barbecue in Caspar, California on October 24th to help raise funds for the upcoming expenses Rob's father Jack and family will be facing. We will be holding this event at Jacks favorite Beach in Caspar. The day will consist of us all gathering at Caspar that morning and all doing a fun dive, then at about 2pm we will be back to the beach for the raffle and BBQ. We will be selling raffle tickets the day of the event, and all proceeds go to the Rob's father Jack Forney. You must be present to win at raffle. The focus of this day is good time's, good vibes and to bring some cheer and support to those in need.
Along with the Fun Dive/Raffle and BBQ,we have set up a GoFundMe account. Please take a moment and donate what you can to help Jack and his family: http://www.gofundme.com/ys4mcd8g.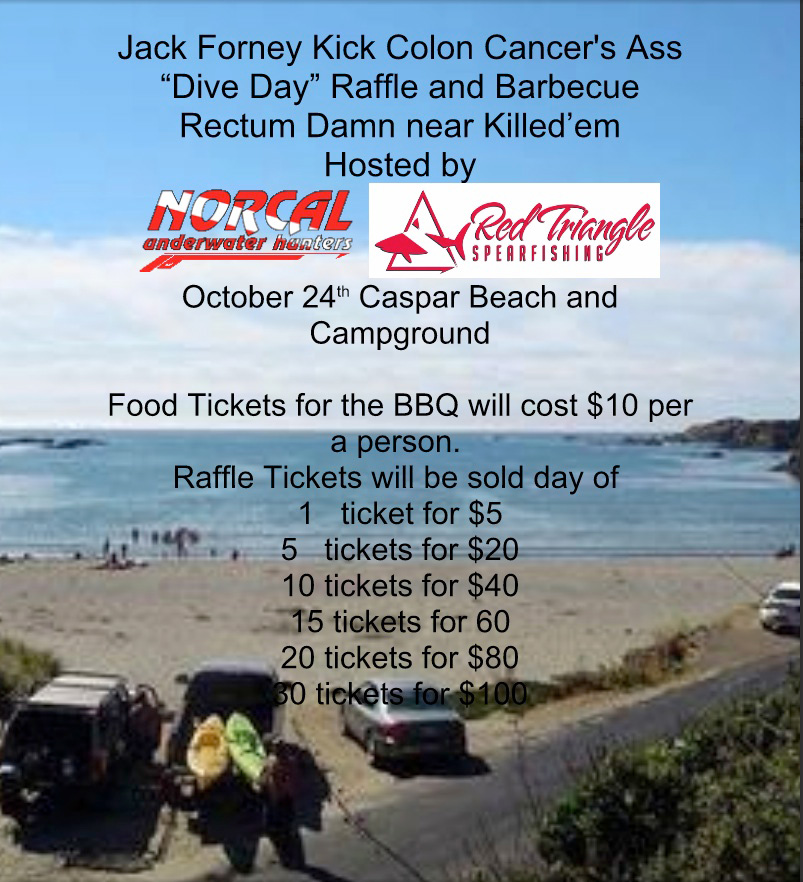 Some may not be able to help with a monetary donation, so any and all support is appreciated; prayers and good thoughts especially. Please help support Jack and his family in there journey to kick colon cancer's butt! Even the smallest donation could make the biggest difference. If you cannot donate, please send positive thoughts!
Thank you in advance!!
We are hoping you will be into helping our cause. Please feel free to contact me at mattmattison707@yahoo.com or call him at 707-478-1504.
We will be posting and promoting all donating sponsors and they will be listed and given credit via Facebook event page, web sites and dive forums as well as at the event. If you send any banners, they will be hung up at the event to show support. If shipping with FEDEX or UPS ship to 21499 Highland Terrace, Monte Rio, CA 95462, and if shipping with USPS, please ship them to P.O. Box 365, Monte Rio, CA 95462.

.