As momentum for PADI Women's Dive Day 2017 swells, stakeholders across the dive industry are invited to take part in this growing event. For the past two years, divers from every corner of the globe have come together on PADI Women's Dive Day to bond over their love of the ocean and a passion for diving. Gaining in popularity year after year, this budding tradition will continue on July 15, 2017 with aims to further strengthen and support the dive community by attracting new divers and bringing inactive divers back to the sport.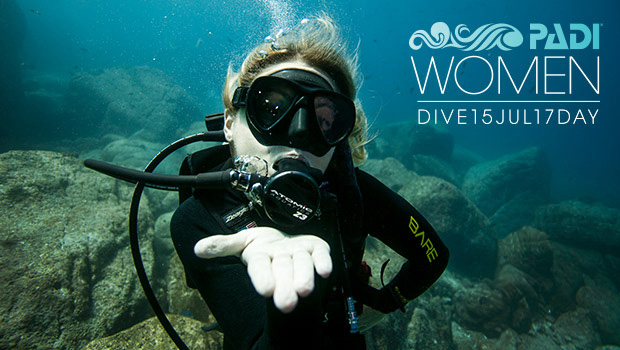 Since its launch in 2015, the PADI Women In Diving initiative has gained widespread adoption and support. By the second year, participation had doubled, growing from 335 events in 2015 to 703 events in 2016. PADI Dive Centers and Resorts hosted a range of activities across 77 countries, including everything from high tea on the high seas to shark dives and underwater cleanups.
"All our female PADI Instructors get just as excited about this event as the women divers who join us," says Hayley-Jo Carr of Stuart Cove's Dive Bahamas. "The day is about getting together to learn and share our passion for exploration, education and conservation."
Worldwide media also championed the cause, garnering nearly 400 million media impressions for PADI Women's Dive Day 2016, with inclusion in outlets such as The New York Times, Huffington Post and The Boston Globe.
"By coming together to celebrate women in diving, we're seeing a tangible increase in the number of women learning to dive and their level of engagement with the dive industry. We're attracting new customers for PADI Dive Centers and Resorts and the industry as a whole," says Kristin Valette, PADI Worldwide Chief Marketing and Business Development Officer. "As a female dive industry executive, my personal desire is to champion a female-friendly dive community that will empower and inspire women of all ages to become divers for life and lifelong advocates for the ocean."
You're encouraged to take part in PADI Women's Dive Day 2017 and there are a number of ways you can get involved:
Contact your local PADI Dive Center or Resort or visit com/women-dive to find an event near you.
Follow PADI's social channels to get inspired and share stories of women making an impact on the sport and the planet, like those of the Inspiring PADI Women Contest Winners. Use #PADIWomen and #PADIWomensDiveDay be part of the conversation and share the excitement.
Plan an event. PADI Dive Centers and Resorts can add events to the PADI Women's Dive Day 2017 event locator. If you aren't affiliated with a PADI Dive Center or Resort but would like to host an event, share your event information with your PADI Regional Headquarters (PADI Americas: womendive@padi.com; PADI Asia Pacific: marketing@padi.com.au; PADI Europe, Middle East and Africa: emea@padi.com).
For additional information about PADI Women's Dive Day 2017, visit padi.com/women-dive.