With California's lobster season opening in just a few weeks, thousands of divers are gearing up with new gear for the hunt, booking charter boat trips, and of course lining up to get their annual lobster report cards.  There are some new regulations in effect this year (including some important changes to the lobster report card system), so many divers will be taking some time to review them all, just to make sure they're on the right side of the law.
Unfortunately, some divers are also planning a different approach to filling their dinner plates – by taking lobster that are undersized, stealing them from traps, or taking more than their legal limit. In some cases, poachers take any lobster in sight, which not only drastically damages current and future populations of lobster, but can also result in future closures, tighter restrictions, and even permanent damage to the local populations. While the lobster populations are being regularly monitored to insure their populations are healthy, a few rogue poachers can drastically throw the numbers off and make management of the fishery very difficult.
One example of a recent bust involved a group of divers who decided to get a jump on the season in Redondo.  On September 29, 2011 (two nights before the season opener that year), Wardens Michele Budish and Kory Collins observed five men poaching lobsters from the King Harbor Jetty. They watched the men for approximately four hours and decided to have a chat with them at 2 a.m. as they drove away in their pickup. The five men possessed 132 lobsters, many of them shorter than legal size, and of course they were way over the legal limit. All five poachers were arrested for gross over-limit of lobster and possession of lobster for commercial sale. They were booked into Redondo Beach Police Department jail, their gear was seized as evidence, and their vehicle was towed.
After making the bust, the two wardens returned to the King Harbor jetty that same night and made four more poaching busts, adding another 13 lobster illegally taken that night alone. Fortunately, all lobster from that night's bust were photographed as evidence and successfully returned to the water.
"Lobster poaching is a huge problem up and down the coast. We're very vigilant in our efforts to stop this problem." Says Andrew Hughan, Dept. of Fish and Game spokesman. "If we catch you with an undersized lobster, you will get a ticket," he said.
Stealing lobster from private or commercial traps is also serious business. If caught, poachers can face a grand theft felony conviction. A single violation can result in a $1,000 fine and up to 6 months in jail.
Fortunately, the vast majority of divers do in fact follow the rules, carefully measuring their lobster and dutifully filling out their report cards. By "playing by the book", these divers are not only avoiding huge fines, gear confiscation and possible arrest, but they're also helping to maintain healthy fisheries of for future lobster divers.
While enforcing the laws on lobster harvesting is a high priority for the California Department of Fish and Wildlife, they can't be everywhere. In fact, with only a few hundred game wardens to patrol the state, they're spread thin and rely not only on the public to voluntarily follow the laws, but to also help catch poachers and protect the fisheries.
As a diver, simply letting people know that you're watching them is enough to deter some from breaking the law, especially if you're a part of a dive group, on a dive charter boat, or near a dive site in the daytime. Otherwise honest divers will sometimes be tempted to "fudge" the size of their lobster's size, for example, and simply asking them about it is enough to deter them and get the bug returned to the water. Hardcore, determined poachers, on the other hand, can be much more difficult to detect and catch, since they're not just opportunists; they know they're breaking the law and often take measures to evade detection and to avoid being caught.
If you witness a poaching incident or any fish and wildlife violation or have information about such a violation, you can take action by observing the poachers and reporting them to the California Department of Fish and Wildlife at 1-888 DFG-CALTIP (888 334-2258), 24 hours a day, seven days a week. Be prepared to give the fullest possible account of the incident including the name, address, age and description of the suspect, vehicle description, direction of travel, license number, type of violation and when and where it occurred – the more information, the better. When reporting a violation, you do not have to give your name.
Information from your call is relayed to the Fish and Wildlife region where the offense occurred and an investigation is undertaken locally. If the information supplied by the caller results in an arrest the caller becomes eligible for a reward. (Rewards up to $1,000 have been paid.) The case is then reviewed by a volunteer citizen's group known as the "Caltip Foundation".
By following the rules and guidelines this lobster season, you're not only staying on the right side of the law, but also preserving the fishery for generations of divers to come.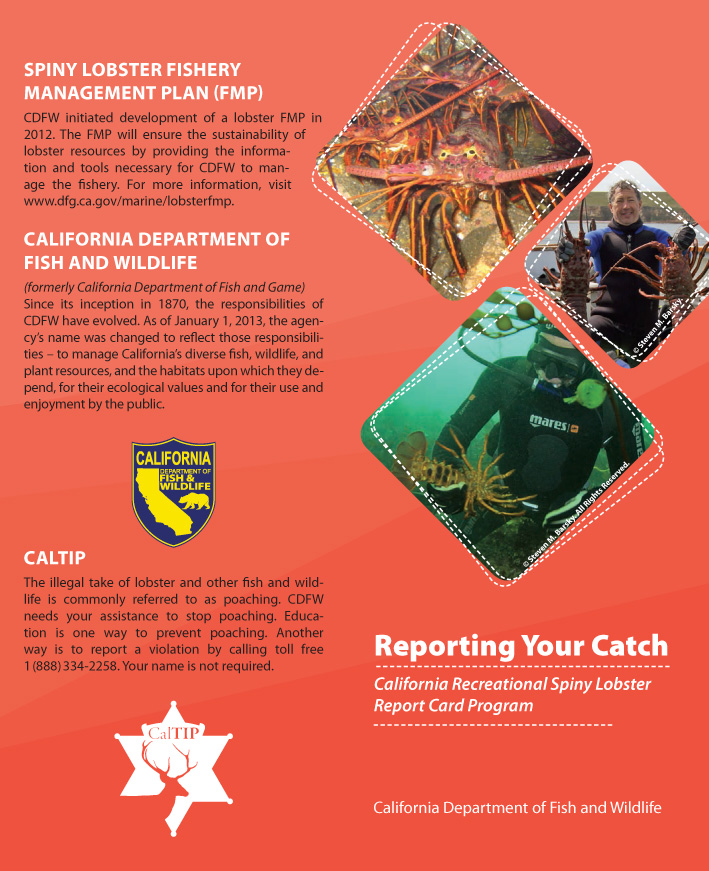 Download California Dept. of Fish & Wildlife
"Reporting Your Catch" Brochure by clicking here.