Have you often wondered how to identify all those rockfish and abalone species? Have you ever wanted to be a marine biologist? Are you interested in collecting data on our local rocky reefs and getting a little more out of your dives? If so, Reef Check California may be the perfect fit for you.
Reef Check California is offering several upcoming training sessions to scuba divers who want to learn safe diving practices, techniques of research diving, sampling design and theory, general marine ecology including species identification and interactions, and the importance of monitoring to meet marine management needs.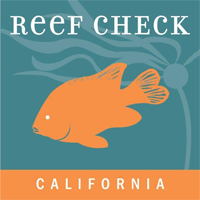 The Reef Check California Training course is designed to provide participants with the skills and experience to accurately complete the Reef Check California survey protocol. Trainings include a combination of class room and field sessions. Following completion of the training, all participants will have the skills necessary to successfully complete the training examination allowing them to contribute data to the statewide database and will be eligible to obtain a Reef Check California Specialty Certification (NAUI).
Divers who would like to participate must have:
Proof of dive certification
A minimum of 30 logged lifetime dives
A minimum of 15 logged dives in California or other temperate region with water temp below 68° F
A minimum of 6 dives within the last year
A minimum age of 16 on the first day of class
Complete a liability release
Complete reading of Reef Check California training manual
Participants must also provide all their own dive gear including weights and tanks. All training and research materials will be provided which include the Reef Check California training manual, indicator organism ID cards (flash cards and underwater ID card), dive slates, transect line and underwater data sheets. (Click here for a detailed training course outline).
The upcoming training sessions are as follows:
Santa Rosa
June 13-14 (classroom and pool)
June 27-28 (open water dives on the Silver Prince in Monterey)
San Francisco
July 18-19 (classroom and pool)
July 27-28 (open water dives on the Silver Prince in Monterey)
Orange County
June 13-14 (classroom and pool)
June 27-28 (Magician overnight boat trip out of San Pedro)
San Diego
July 11-12 (classroom and pool)
July 25-26 (open water dives aboard the Lois Ann out of Mission Bay)
For more information on Reef Check and the upcoming training sessions, please click here.