Incessant barking penetrated the water, and I don't mean a yap or two.  We are talking ridiculously incessant, bordering-on-annoying barking.  So incessant that if I closed my eyes, I could imagine that I was at the park listening to my youngest dog insist loudly on another Frisbee toss (he is incredibly persistent – he really, really loves that Frisbee).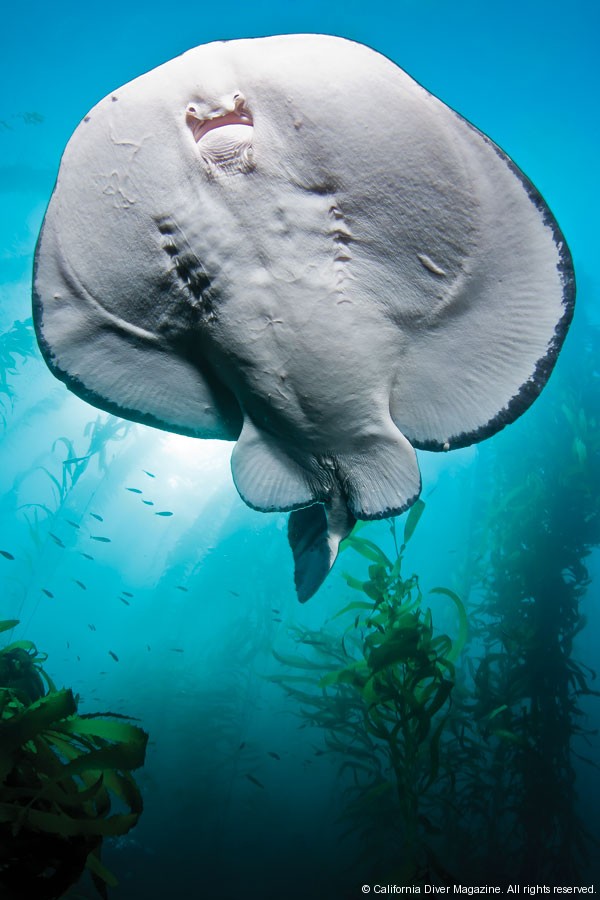 I kicked my way quickly to the bottom and eagerly looked around.  I had heard that there were huge numbers of California sea lions at Santa Barbara Island, and I was hoping to get some great shots.  Although there was a LOT of barking, I only saw one or two pups swimming around in the distance.  Hopeful, I took a minute to meter for the light and position my strobes.  I looked up, trying to figure out were the racket was coming from – those beasts were around here somewhere…
Just then, a large female sea lion barreled towards me.  In a cartoonish fashion, she extended her pectoral fins and skidded (for lack of a better descriptor) to a stop in front of my camera, narrowing her eyes as she leaned towards me.  After she inspected my camera's dome port closely, she opened her mouth wide and blew bubbles in my direction, then zipped off.  Fortunately, I had the good sense to pull the shutter release…and then I was back where I started, deafened by incessant (and apparently sourceless!) barking.
I finally found the cause of the noise about two minutes later – a sparse, shallow patch of kelp nearby was dense with sea lions.  Pups were everywhere, cavorting among the rocks, tugging divers' fins, and playing chase with strands of kelp.  This underwater comedy show could delight even the most jaded California diving veteran!
As you may have guessed, Santa Barbara Island is best known to divers for its guaranteed sea lion encounters.  However, many other types of pinnipeds are also found here.  Harbor seals are a common underwater sight, and during the winter months, northern elephant seals use this island's beaches as a breeding ground.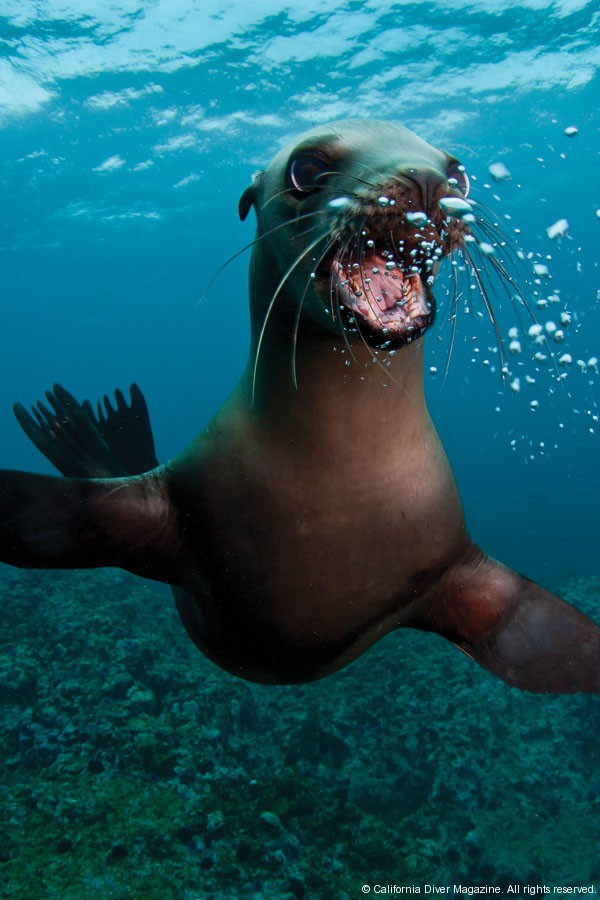 The epicenter of sea lion action is the Rookery, an otherwise unremarkable site consisting of shallow (and often surgy) rockpiles and boulders lying on a rubbly sand bottom.  You could probably achieve a depth of 60 feet here, but you'd need to put some effort into it – we never ventured below 35 feet.  Algae and abundant sea urchins don't help much to beautify this spot, but trust us when we say this will be one of the more entertaining dives you ever do in Southern California.  A word of warning: it can be difficult to take a great picture while you're laughing so hard that water is flooding your mask.
This island is home to some phenomenal reefscapes, as well.  Off the northwest point is Arch Reef, the top of which actually breaks the ocean surface at low tide.  This site consists of sloping walls and, of course, the namesake arch, which is covered with cornynactis anemones, starfish, and clusters of purple hydrocoral.  Red gorgonians and sunflower stars populate the rocks, and sheephead and garibaldi are plentiful.  Schools of mackerel and other baitfish swirl above the reef, making for mesmerizing photo opportunities.   For divers interested in smaller creatures, close inspection of the rocks and hydrocoral reveals nudibranchs and blue ring topsnails.  Amazingly, this site is quite shallow, given the presence of the hydrocoral: only about 50 feet.
Santa Barbara Island's kelp forests are also a draw for divers and underwater photographers. Shag Rock, off the northern coast of the island, is surrounded by steep rocks at depths of 30-75 feet that are loaded with marine life. The rocky reef steps down away from shore providing shelter for lingcod, rockfish, and lobsters, as well a substrate for kelp holdfasts.  Torpedo rays and leopard sharks are commonly seen swimming through the kelp here.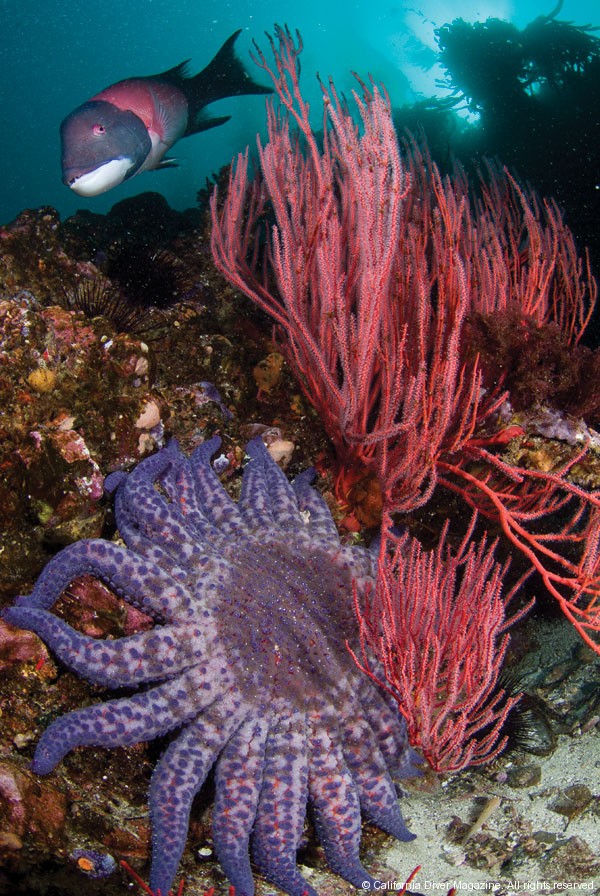 Sutil Island, a large rock located on the southwest side of its larger neighbor, has three main dive areas ranging from 40-80 feet in depth.  The kelp and walls on the southeast side of Sutil provide hiding places for octopus, lobsters, and myriad other small invertebrates.  Rockfish of all colors rest on the reef, and nudibranchs that would be considered unusual elsewhere in Southern California are commonplace here. The kelp forest on the north side of Sutil is home to friendly and playful harbor seals.  A mystery tap or tug on a fin at this site is likely a young seal, curious to investigate the strange, bubble-blowing creatures in its home. In the summer, bat rays are a familiar sight between Sutil Island and Santa Barbara, as they use the pass between the islands as a mating ground.  Large California halibut are also found here in the sand flats.
Surface intervals aren't boring, either – grey, blue and humpback whales migrate through these waters, and pods of dolphins searching for fish are abundant.  The island itself is a major seabird nesting site that provides shelter for numerous species, including the endangered brown pelican.
Due to its location offshore, almost 40 miles from the nearest point of the mainland, Santa Barbara Island is generally blessed with amazing visibility for Southern California – 50-80 feet is not uncommon.  Water temperatures range from the chilly low fifties in winter to as high as 68 degrees in the late summer and early fall.
Divers who have visited Santa Barbara Island should count themselves amongst the fortunate few.  At approximately one square mile in area and only 630 feet high, this is the smallest of California's Channel Islands; its diminutive size means that there is minimal shelter from large swell, so it is only diveable when calm seas prevail.  In other words, don't be too surprised if your charter to Santa Barbara Island winds up anchored at Catalina or San Clemente instead.  However, this place is worth taking a chance on…perseverance is key!  Santa Barbara may be the smallest of the Channel Islands, but its underwater wonders are among the finest in California.
Marine Sanctuaries, MPAs, and Santa Barbara Island
Santa Barbara Island is one of 5 islands encompassed by the Channel Islands National Park.  These islands gained protection in 1980, when the National Oceanic and Atmospheric Administration (NOAA) created the Channel Islands National Marine Sanctuary. The sanctuary boundaries extend 6 nautical miles from the shores of each island, encompassing an area of 1252 square nautical miles.  Regulations restrict activities that might threaten the unique resources here, such as construction/dredging, disturbing marine mammals or seabirds, or removal of artifacts or resources from the park.  In 2002, California's Fish and Game Commission established Marine Protected Areas (MPAs) within the boundaries of the Channel Island National Park; a total of 241 nautical square miles within the park is included.  MPA areas are most commonly "no-take" zones, though some MPAs allow limited harvest of lobster and/or fish.  Santa Barbara Island's MPA, which extends southeast from the island, is designated as a no-take zone.
Laws and regulations for these areas are confusing and constantly in flux.  Up-to-date information on MPAs and other regulations within the Channel Islands National Marine Sanctuary can be found online at:
http://www.dfg.ca.gov/mlpa/maps.asp
http://www.nps.gov/chis/parkmgmt/lawsandpolicies.htm
http://channelislands.noaa.gov/manplan/boundaries.html
---
Story and Photos by Andy Sallmon & Allison Vitsky.
Visit Andy's website at www.seait.com
All rights reserved. Photos or copy may not be reproduced without express permission of the authors. 
---