Jorge Tapia and crew design affordable custom dive trips for every skill level and interest
Like clothing, vacation destinations go in and out of style. When first developed, some instantly draw the chic elite, only to be eclipsed later by the next "in thing." Sometimes they ascend again, driven by re-development, competitive prices, or other random intangibles. Sometimes they become known for something specific (like spring break), while their true treasures remain under-publicized.
The latter is how I feel about Cancun.
Located in the state of Quintana Roo on the Yucatán Peninsula, Cancún first became a "de rigueur" destination back in 1989, according to a local tourist bureau. Although it remains a wildly popular spot, its typical demographic has changed over the years. Competition from less-developed, more exclusive spots down the Riviera Maya has coaxed prices lower, encouraging traffic from budget travelers, college kids, and families seeking affordable all-inclusive vacations.
---
Story by Brianna Politzer Stevens
---
Thanks to nearby Cozumel's Palancar Reef, as well as the famed cenotes (freshwater underground caverns) in Tulum, Cancún has escaped excessive attention as a "stand-alone" dive destination. However, as I found out last March, this iconic coastal city—famous for almost everything else but diving—hides some seriously sweet dive spots.
My host was Scorpio Divers, a boutique operation located in Cancún's Hotel Zone. Founded on a shoestring by Ben Mooney, Jorge Tapia, and Jorge's late girlfriend, Liane Acheson (the Canadian passed away just before the operation's opening in 2009), Scorpio Divers was designed from the outset to be a different kind of diving experience. Unlike the "cattle boats" typical of the area, Scorpio only brings four to six divers out at a time, visiting the destinations requested by the clientele. The operation is flexible and nimble—when high winds prevent open-water diving, Scorpio simply switches direction and takes divers out to the cenotes, which are sheltered from the winds and tides.
Feel like a diving VIP
Scorpio focuses on making each diver feel like a family friend. The operation provides transportation to and from hotels in the area, sometimes driving guests as far as Tulum (about ninety minutes) to see the ruins and dive in the cenotes. With groups containing both divers and non-divers, Scorpio will bring another staffer and split the group, taking some to snorkel or sightsee and some to dive.
I first met proprietor Jorge Tapia in a second-story restaurant in a shopping plaza in the Hotel Zone—one of the spots where he brings divers to eat. The strikingly handsome thirty-two year-old recounted his story: how his parents were divers, how he lost fifty-five pounds and became a workout guru (he plans to open a gym this fall), and how he had back surgery and ran his business from his bed for two months.
Every few moments of our conversation, we were interrupted by phone calls and text messages flooding into Tapia's phone and iPad. It became immediately obvious that this young entrepreneur never stops working. He dives with a Blackberry inside a watertight housing . . . just in case a customer needs to reach him while he's underwater.
Tapia uses the web and social media as well as any Silicon Valley businessman. He responds personally to every email and Facebook post. His perfect English makes it easy for California divers to communicate with him and make their dream dive plans.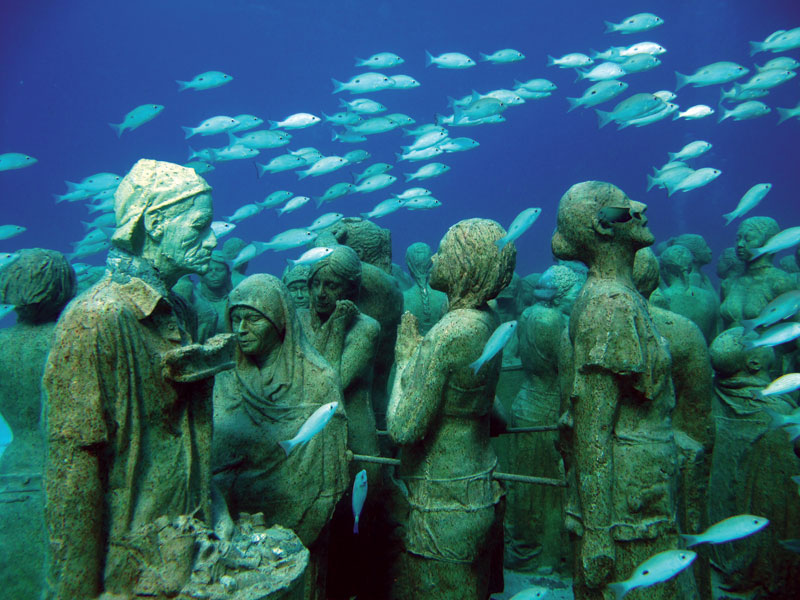 Cancún's "Creepy Cool" Underwater Art Museum
Day one with Scorpio had us braving some rough chop across the channel toward Manchones Reef, near the island of Isla Mujeres. Watching two men toss their cookies over the side of the boat made me grateful I had taken my prescription scopolamine.
The dive, a visit to MUSA (el Museo Subaquatico de Arte; see http://www.musacancun.com), was surreal. This project, which was founded by Jaime Gonzalez Cano of The National Marine Park, Roberto Diaz of The Cancun Nautical Association, and Jason de Caires Taylor, consists of over 400 permanent life-size sculptures, and is one of the largest man-made underwater attractions in the world. (Check out the video from Aquaworld/MUSA: http://www.youtube.com/watch?v=oip5M3IJ4bI&feature=player_embedded). This spot, which is less than forty feet deep, feels like a strange dream. One statue looks like a happy Buddha, its face turned peacefully toward the surface of the water. Others look almost ghostly, glowing white in the clear water with patches of algae growing on their faces and scalps. As I wandered through the armies of figures, I couldn't decide whether "creepy" or "cool" was my overwhelming emotion. In the end, I decided I'd just have to coin a new term—"creepy cool."
Spotted eagle rays over the C-58
Day two with Scorpio Divers was much calmer. Instead of a rollercoaster ride like the day before, this was a balmy morning with glassy seas—perfect for checking out the C-58 Minesweeper, sunk as an artificial reef in the 1980s. The boat, a former US Navy vessel named the USS Harlequin, sits in about eighty feet of water in the channel between Cancún and Isla Mujeres.
Thanks to its sometimes-challenging currents, the C-58 is a perfect drift dive. Split in two by Hurricane Wilma in 2005, the wreck is now completely accessible to divers. We swam slowly through the hull, wheelhouse, and deck of the minesweeper, marveling at the schools of barracuda glinting silver in the sun and some impressive spotted eagle rays "flying" above the deck.
As I drifted in my 3 mm shorty, warm and comfortable in the 78˚F Caribbean water, I thought about what makes Cancun such an excellent dive destination. Not only is it home to some special dive sites, it is also central enough to provide access to the other famous spots in the region, including Cozumel's Palancar Reef (just a ferry ride away from Playa del Carmen), and the cenotes (between forty-five and ninety minutes away in Playa del Carmen, Tankah, and Tulum). It is also one of the best spots to catch a glimpse of the earth's largest fish—the migratory whale shark—which can grow up to sixty-five feet in length and weigh up to about 75,000 pounds.
Scorpio Divers will take you to see them all. You can tell Jorge I sent you.
¡Que tengan buceos maravillosos!
The Details:
Website:

http://www.scorpiodivers.com

Contact: Jorge Tapia
Email: 

scorpiodivers@gmail.com

Physical Address: KM. 5.8 Zona Hotelera Sunset Marina Cancun Quintana Roo, Mexico
Phone: +52 55 13257471 / +52 998 8988677
Conditions: Topside temperature is variable, depending on the season, ranging from 65˚F to 95˚F. Water temperature in the winter is around 77˚F. Summer water temperatures rise to 85˚F.
Exposure protection: Most people get by with a 3mm shorty (or full suit). The cenotes are a bit cooler. Consider diving with a 5mm suit.
Expect to see: Stingrays, tortoises, trumpet fish, barracuda, grouper, the occasional bull shark, conchs, lobsters, crabs, spotted eagle rays, sailfish, and whale sharks (June-September).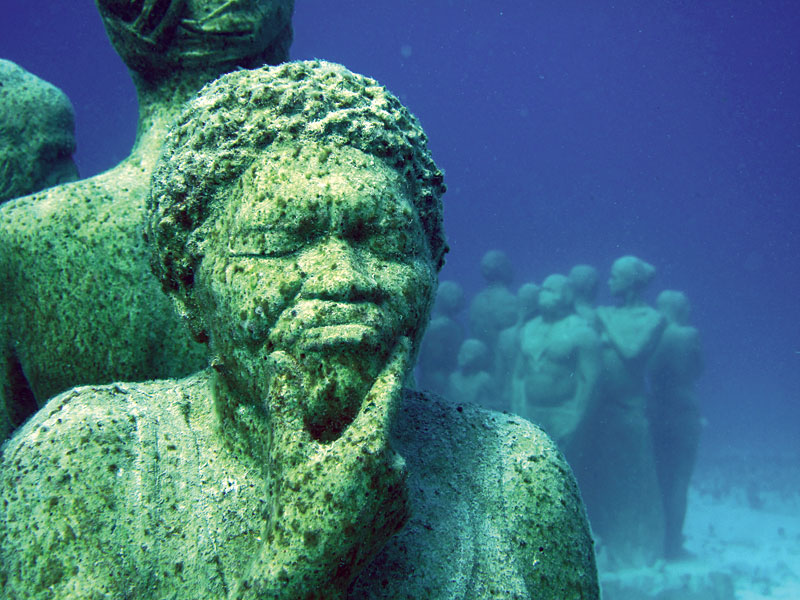 ---
Story by Brianna Politzer Stevens
None of this content may be copied or reproduced in any way without prior express written permission.
---