Combine high fashion and a practical piece of dive gear and what do you get? A Scuba Do Rag, of course!
I first met Suuz Martin at a dive show back in 2009, where she was displaying her colorful selection of "Scuba Do Rags". Her products are designed to help identify divers underwater, protect them from sunburn and the elements, and keep the diver's hair out of the way of masks and other gear. Suuz's stretch-to-fit Lycra accessories are definitely unique with their huge range of colors and patterns; they're also unique because they accessorize not only divers, but their gear as well.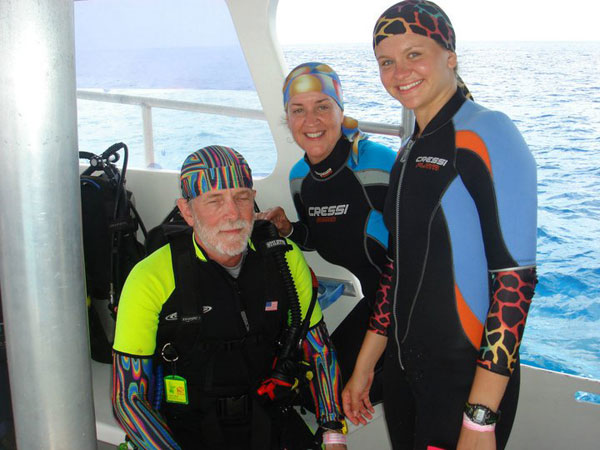 Many instructors and dive charter operations have discovered the importance of having their instructors and staff wear dive gear that can be easily identified underwater. In a world where much of the dive gear looks the same and faces are unrecognizable, the comfort level of divers is often enhanced when they can spot their dive leaders easily for assistance, guidance, and direction. This is exactly how Suuz got started – by recognizing this need when she started diving back in 2001. The result is a great blend of high fashion combined with comfort and safety, all at a very reasonable price.
In addition to designing, making, and selling "Do Rags", Suuz also carries a wide range of other items, including socks, bandanas, and even colorful BCD hose covers to help make a diver more recognizable underwater. (They'd also make a great gift for a diver for the holidays!). They're popular among non-divers as well: motorcyclists, martial artists, cyclists, chemotherapy patients, and even surgeons wear Suuz's products.
Scuba Do Rag products are proudly made in the USA (in Charlotte, North Carolina, to be exact). They can be found in select dive shops, on the Scuba Do Rag website, and at many scuba shows, of course. More information can be found on the Scuba Do Rag website at scubadorag.com.
– Chris