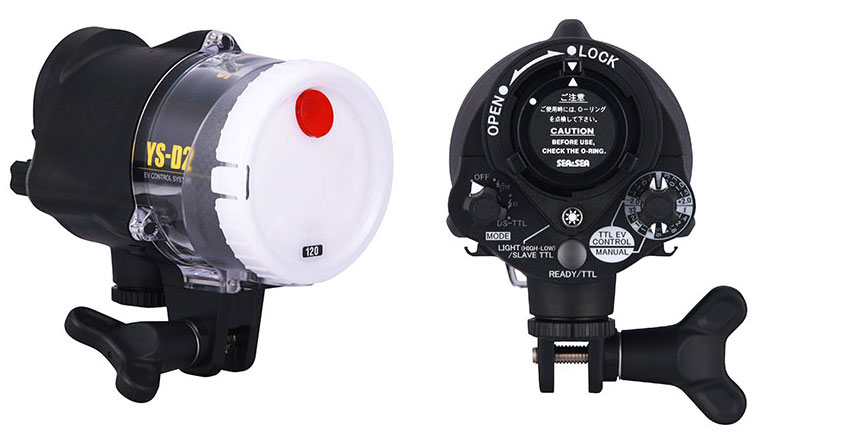 Founded in 1972, SEA&SEA has just announced the release of their latest strobe – the YS-D2.
The YS-D2 strobe offers the same performance specs as the YS-D1, but has now added audible confirmation providing TTL confirmation and ready light confirmation. The new YS-D2 also features a rear glowing panel with easy to read controls – great for night diving and other situations where available light is more limited. The YS-D2 has a maximum guide number of 32, and adding their 120-degree diffuser will reduce that guide number to 20, producing softer, more diffuse light. The rear control knobs have also been redesigned, and it also has a newly designed battery compartment.
New Features Include:
Audible confirmation
Dual powered target light with red filters
Wing nut style fixing bolt
New control knobs
Newly designed battery compartment
Lighted Rear Panels:  READY/TTL – Fully Charged
Available Accessories Include:
Diffuser-100 and 120
Diffuser strap (x2)
Ball Mount Strobe Adaptor
Newly designed fixing bolt
M4 Hexagon Wrench
Red Filter (x2)
The new Sea&Sea YS-D2 Strobe will be available on July 15th, 2015 and will retail for $719.95. SEA&SEA products are distributed within the United States by TUSA.