SEA&SEA has just announced the new MDX-D810 underwater camera housing for the Nikon D810 Digital SLR Camera. The MDX-D810 is designed to utilize all features of the Nikon D810 with accuracy and ease.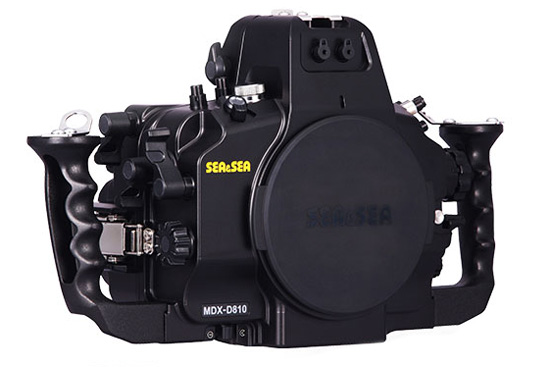 Constructed from black galvanized corrosion-resistant aluminum alloy, the MDX-810 is a sturdy and protective outer structure for the Nikon D810 Digital SLR Camera. Two sacrificial zinc diodes are attached to the front and rear of the case for added protection against electrolysis damage. The MDX-D810 showcases SEA&SEA's attention to detail, as almost all functions of the camera can be used underwater. The newly designed ergonomic controls for the MDX-D810 were improved and created for exceptional ease of use underwater.
The MDX-D810 is equipped with a movable focus/zoom gear allowing a lens with a big diameter to be mounted in the housing easily. It is compatible with SEA&SEA's Internal Optical YS-Converter making it easier to shoot underwater than ever before. SEA&SEA's leak sensor comes installed in this housing, which provides an alert upon any water entry. A depth rating of 100m/330ft provides versatility to any underwater photographer.
For more information, visit Sea&Sea.com by clicking here.