In some cases, the best dive sites can be found off the beaten path – a place that's difficult to find, harder to get to, or more challenging to dive. At one location on the island of Maui, there's an interesting and rewarding dive site that's in a very convenient location, easy to find and dive, and suitable for most levels of divers.
Uniquely, this dive site is relatively new – it's existed in it's current state for just over 20 years.
Great Idea, Bad Location
The Mala Wharf is a steel-reinforced concrete structure that was completed in 1922 and originally intended to provide a means for steamships to embark and disembark passengers and goods. Almost immediately after being completed, however, it was discovered that a combination of heavy surf and strong currents made it nearly impossible for the inter-island steamers to tie up here successfully (something that locals apparently knew all along). While it could not be used for its intended purpose, the wharf continued to be used for smaller craft and for shuttling passengers and freight ashore from large ships anchored offshore. The wharf was used in whaling activities, and during WWII, thousands of soldiers used the wharf on their way to shore leave in Lahaina.
Storm of the Century
In the Fall of 1992 in a strong El Nino season, Hurricane Iniki formed and developed into the most powerful hurricane to strike Hawaiʻi in recorded history. It reached tropical storm status on September 8 and grew rapidly, becoming reclassified as a hurricane the next day. Iniki struck the south shore of Kauaʻi on September 11 at peak intensity with winds of 145 mph. According to NOAA, 14,350 homes were damaged or destroyed on Kauai, electric power and telephone service were lost throughout the island, and only 20 percent of power had been restored four weeks later. Hurricane Iniki dissipated on September 13 about halfway between Hawaii and Alaska, leaving $1.8 billion in damage and six deaths in her wake.
On its path through the islands, Hurricane Iniki proved too strong for the Maia Wharf, and after standing for 70 years, the strong waves and high winds broke apart and her deck and outer piers and much of the Mala Wharf collapsed into the water and onto the sandy bottom below. While the wharf above the water is in ruins, it has created an ideal habitat for marine life and a beautiful and easy dive site for divers visiting Maui.
20 Years Later
The collapsed wharf today has created shelter and plenty of structure for sea life, including fish, turtles, corals, and reef sharks. It supports abundant coral growth, and the large cement slabs have created hiding places for nocturnal predators and shelter for coral mounds, especially between the leeward side of the wreckage and the ramp's breakwater. White tip reef sharks are commonly found here as well, hiding near the sandy bottom. Frog fish are also seen here but can be very hard to find.
Hazards here when scuba diving includes frequent boat traffic and the dive should not be made in rough conditions, especially given the shallow depth and the fact that you're diving under and around a structure. There was no noticeable current on my last dive here, but be sure to evaluate conditions continually, as you do during all your dives.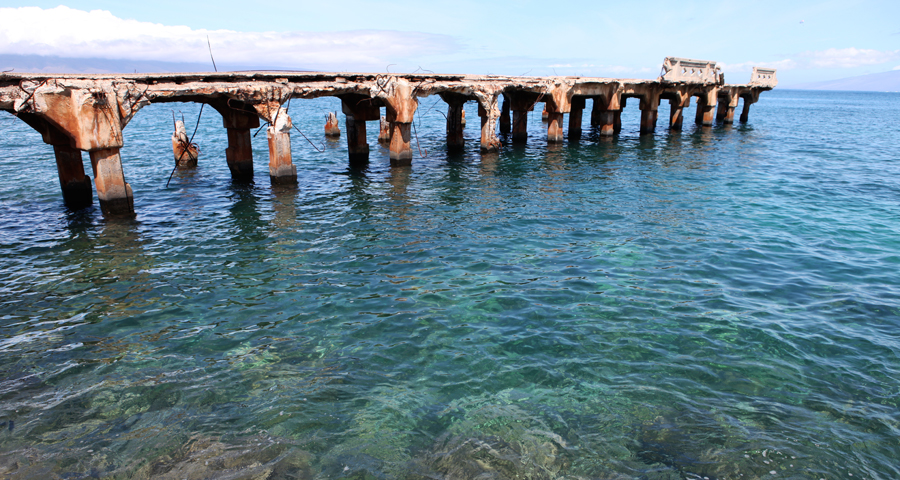 Scuba Diving Mala Wharf
The Mala Wharf is easy to find. Take highway 31 to Lahaina and turn onto Front Street. Follow Front Street to the access road for Mala wharf (you'll see the sign). If you're coming from the north, it's immediately after the Lahaina Cannery Mall.
Once there, park in the parking lot (free). Conveniently, there are restrooms and an outside fresh water shower for washing your SCUBA gear after the dive. The entry area is a short 1-minute walk across the parking lot, but you can also drive down and unload your gear near the boat ramp.
There are 2 primary ways to get out to the dive area where you'll descend down onto the wharf; you can enter at a small sandy beach area just to the right side of the boat ramp, or climb across some of the boulders that make up the breakwater to the left of the ramp and make an entrance. The right side is an easier entry, but you will have to cross the boat channel near the end of the ramp so keep an eye out for boats. A dive flag is a required piece of equipment here, and local police have cited divers for not having one. Note that the ramp can be quite active in the mornings and late afternoons, and people sometimes fish off the breakwater as well so stay clear.
Once you get beyond the boat ramp area, swim out to the pier and descend. The wreckage and good diving begins at the end of the remaining pier. Once submerged, you can follow the remains underwater to the end, where it turns into a sandy bottom. Since you're diving in shallow water and near obstructions, make sure the sea conditions are very calm.
The diving is shallow (20 to 40 feet max) which gives most divers lots of dive time. With a full tank, scuba divers can easily cover both sides of the collapsed structure, swimming over, under, and through the wreckage out to the end of the wharf and back. Be sure to bring a light as there are many nooks and crannies to explore. This site is also a great place for a night dive, although it's best if you've already familiarized yourself with it during the daytime. There are many great dive shops in the Lahaina area that can set you up with a dive flag rental, air fills, and any other gear you need.
If you're heading to Maui for some diving, be sure to check out the Mala Wharf. It's an easy scuba and skin diving site with a lot to offer for all levels of  SCUBA divers and snorkelers.