Light & Motion's GoBe LED light is a powerful, versatile light that can be used not only while scuba diving, but also for biking, camping, and for just about every outdoor activity.  It's a great addition to Light & Motion's line of lights, nicely filling in their range between their signature high-output Sola dive dive and video lights and their smaller, compact lights used in their outdoor and cycling line.
The technical details
The GoBe light weights in at 5.6 ounces, measures approx. 4.75″ in length (including the handle and light head), is submersible to a depth of 120 meters (394 feet), and tested using the ANSI FL-1 Standard for impact resistance. It's powered by a USB rechargeable lithium-ion battery which provides up to 36 hours of light, depending on output level, and up to 54 hours in SOS mode (at the brightest setting, the 700-lumen light burns 2 hours). The light has 5 power settings – high, medium, low, extended, and SOS – and it easily switches between the options with a simple quick press of the power button (holding it down for a few seconds turns the light off). Depending on which light head you're using, the GoBe outputs 500-700 lumens of light.
Light & Motion has nicely engineered the GoBe light so it cools itself in the air or underwater and it will not overheat. It's also nicely engineered to be comfortable in the hand, intuitive to use, and has a single power/mode button large enough that cold-water divers wearing thick gloves can easily use it.
Under the hood the GoBe lights are more than just a battery, power switch, and lamp – each has firmware installed to manage and optimize light output and battery usage. You'll never have to worry about the thousands of lines of code that runs each light, but it's nice to see that they've evolved far beyond "torches" into intelligent systems.
---
Related stories:
Let There Be (LED) Light: See more on your next dive with one of these great lights
---
Changing the beam
A unique feature of the GoBe light is that it uses interchangeable light heads, so the output of the light can be customized for it's intended use. Removing the light head and installing another takes less than 30 seconds, and the small foam-lined tubular case each head comes in also serves as a great storage container.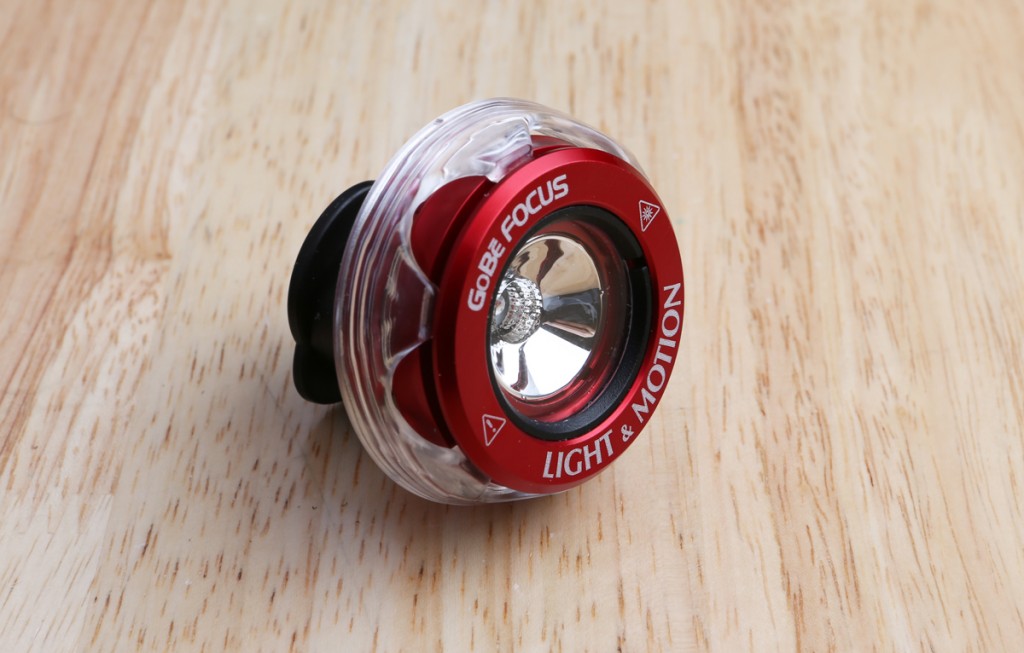 There are six different screw-on light heads available for the GoBe, including a 20-degree spot light (available in 500- and 700-lumen outputs), a 700-lumen, 60-degree wide beam good for illuminating larger areas; an 8-degree, 500-lumen spot light for a finer, long-distance beam; a 60-degree red focus light (which won't ruin your night vision), and a 20-degree "Nightsea" light head which uses a wavelength of blue light to excite fluorescence (the Nightsea model includes a phosphor flip cap for switching between white and blue light). Each light head can be purchased separately so the light can be customized for the type of diving you do. A battery life indicator lets you keep an eye on how much battery power remains.
Hold it or mount it
The GoBe light works great right out of the box as a handheld, and the GoBe also has several mounting options. Separately, you can purchase a helmet mount, YS mount, handlebar mount, or a video Locline Mount and photo mount. It's literally a light you can use anywhere – underwater or on land.
The GoBe light is a compact, powerful light that's worth considering for your dive kit, and best of all, it's versatile and flexible enough to use in your other outdoor activities (and even around the home). It's a lightweight, compact light, it's 700-lumen output is brighter and more rugged than most, and with it's long burn time you won't need to recharge it between dives.
It's worth noting that Light & Motion aren't new kids on the block – they've been building lights and underwater lighting systems since being founded in 1989, and all of their products are made here in California. In fact, their engineers, production teams, sales, accounting, shipping and receiving teams all reside in the same building (a historic warehouse) on Monterey's Cannery Row. They're also a very "green" company and have received the WRAP and Green business awards for their conservation efforts, as well as receiving the 2008 California Small Business of the Year.
Light & Motion's GoBe light was introduced at the DEMA scuba show in Orlando last November and is available now at $199 for the 500 spot version, $299 for the 700 spot, wide and NightSea versions, and $329 for the 500 search version. Additional light heads are available separately for $79-$119, depending on model. You can find the GoBe light at your favorite dive store or order it directly from Light & Motion.
You can learn more about their company, the GoBe light, and their other scuba diving and biking products at http://lightandmotion.com.