For abalone divers, dive clubs, and dive classes, Sonoma's Stillwater Cove is a favorite local dive destination. For those who don't dive the north coast regularly, it's a site that should be added to the top of their list.
Stillwater Cove is located about 17 miles north of Jenner in Sonoma County, adjacent to Stillwater Cove Regional Park. From San Francisco it's just over 2 hours driving time, much of it along the beautiful, winding, 2-lane Highway 1. The rugged coastline is a beautiful diversion on hot summer days, and offers some spectacular diving when conditions permit. It's popular among abalone divers and underwater hunters, kayakers, and also a well-known destination for students completing their training dives. Intermediate and advanced divers will also find this a great place to launch kayaks, and those willing to make a longer surface swim can find great locations just outside the cove in deeper waters.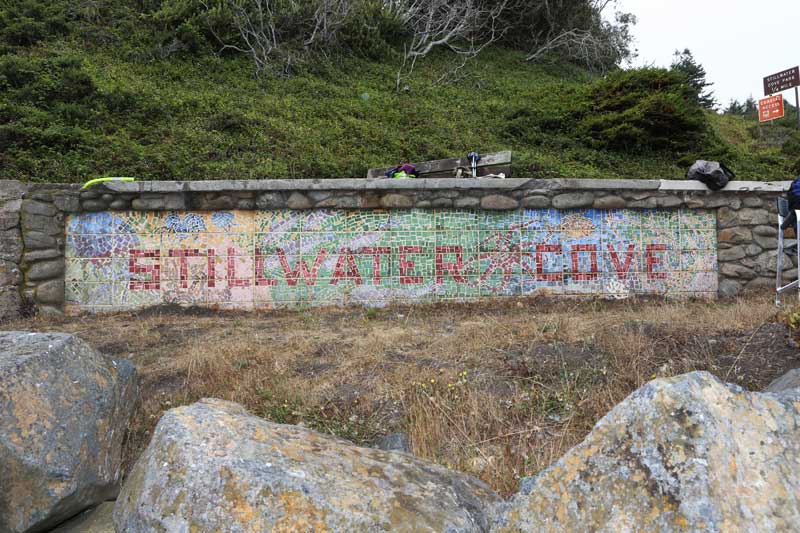 Thanks to the cove facing a southwest direction, it's somewhat protected from the dominant northwesterly swell – and it's tough to find areas on this part of the coast which offer protection from the exposed sea.
In addition to being beautiful, Stillwater Cove offers easy access for divers. There is a 2-car loading area with a direct, paved walking path to the beach and nearby parking a few hundred yards away. A short walk away is the Stillwater Cove campground, and a few small stores in the area with basic camping supplies, food and gas can be found up and down the coastline. Bodega Bay no longer has a dive shop, so you'll need to come prepared with gear, air, and backups. The coastline is regularly patrolled by state parks employees, lifeguards, and officers from the Dept. of Fish & Game as well (poachers beware!), although divers should be as self-sufficient as possible and extremely safety-conscious, given the remote location. Even with relatively calm seas, it's easy to underestimate the effort it takes to dive here.
Sunday Fun with Marin Dive Center
I joined Marin Diving Center on Sunday, August 3 for a couple fun dives – one of the many outings they offer for the dive community each summer. Owner Jon Edens and about 30-40 divers arrived this morning for a dive or two, followed by an afternoon BBQ in nearby Petaluma. MDC's fun dives are open to anyone in the community who want to join in – a list of their upcoming dives is listed on their website here. Dives like these are a great way to meet other divers, find a new buddy, and enjoy the camaraderie of other enthusiastic divers.
Diving today was almost as good as it gets on the north coast (and when it's good, it's great!). Though the skies were overcast and cool, the water was almost perfectly flat, with no waves, wind, or swell, making entries and exits easy. The beach at Stillwater Cove has a quick drop-off along the sandy beach which can create a hazard under even moderate waves. Fortunately, today the biggest entry hazard was an abundance of kelp washed ashore, with a few stranded jellyfish mixed in. Thanks to the calm conditions, all divers in the group entered and exited easily.
Exploring the cove – and beyond
After entering the water, my dive buddy and I swam towards the outside of the cove where the water was a bit deeper and visibility would be better – even on calm days, the shallow areas of the cove tend to get stirred up. We descended in about 30 feet of water and found about 15 feet of visibility – pretty good for the north coast (and though rare, on great days, visibility can exceed 40-60 feet). The bottom here consists of a mix of coarse gravel and rocks, with plenty of kelp anchored on rocks, stretching their way to the sunlight at the surface. There was little, if any current, and the water noticeably warmer than my last dive here in April.
I've dived here probably 10-15 times, heading off in different directions and exploring different areas. In general, the bottom gently slopes deeper as you dive farther from shore, and it's important to both monitor your depth as well as have good navigational skills when you dive here. While you probably won't run into problems with decompression limits, you could easily overextend your range and find yourself with a much longer surface swim back to the shoreline if you head too far out or in the wrong direction. At Stillwater Cove, like many north coast dive sites, getting back to land isn't as easy as swimming to shore – doing so could get you hammered by the waves and tossed onto rocks, as beach entry/exit areas are sparse. You'll need to plan your dive carefully, monitor your air and energy level so you can comfortably exit from where you started.
Outside the cove, beyond the depth of most recreational freedivers, abalone are plentiful. Lingcod, cabezon, and rockfish, can be found, as well as nudibranchs, and red crab. Swimming almost directly out from the cove and slightly south, you'll find a rough, rocky ridge at 45-60 feet deep. If you continue past the kelp holdfasts, there's a dropoff to about 80 feet deep, where you'll find white plume anemones. If you've made it this far from a shore dive, it's wise to stop and evaluate your air, direction, and plan before venturing further.
Boat and kayak divers will want to head out of the cove, then north or for some better off-the-path diving. The bottom in these area consists of rock and boulders and is a great place to explore. There are many overhangs, crevices, and small caves that provide shelter for a healthy assortment of rockfish and lingcod.
Getting Out
Exiting from the water here today was as easy as getting in, with the exception of a few slippery rocks just at the water's edge (a theme in much of my shore diving experiences)! A short walk with all the gear on leads back to the staging area, where picnic tables and a comfortable grassy area make packing up easy. Conveniently, there are also restrooms here, right next to the staging area.
If you're looking for a beautiful north coast dive dive site that offers great diving, easy access, and plenty to see, Stillwater Cove is one site that should be on your list. Conditions here are generally at their best from August until the first storms of November.
Pack your bags and dive safe!