February 1 – Superbowl Sunday. It's always a great time to get together with friends, eat all the things we're not supposed to, and cheer on your favorite team in the biggest game of the year.
In Monterey, it was also the perfect day to go diving.
My friend Scott and I decided to get an early start to the day with a dive in Monterey. A quick check of the conditions online and glance through recent dive reports on BA_Diving looked good, so we filled our tanks and took the 2-hour drive south for a dive or two. Conditions both topside and below were just as reported – the perfect recipe for some great shore diving in this beautiful seaside town.
Our first stop was the Breakwater (San Carlos Beach) to pick up a pair of fins from a friend from Dolphin Scuba who was teaching a class there. The Breakwater is normally packed with divers participating in checkout dives or other training, and frequently the parking lot fills up well before 9am. Today, there were three small groups of divers in the water and a group or two onshore gearing up. The sun was up, the sky clear, with just a bit of morning chill still in the air. A walk along the breakwater revealed exceptionally calm conditions and beautiful, clear water. Anyone receiving their training here today was treated to some great conditions and a great initiation to shore diving Monterey.
We chose to dive at Lover's Cove (at Ocean View Blvd. and 17th Street in Pacific Grove). This popular area also fills up with swimmers and beach-goers in the summertime, and during peak season divers are only allowed to dive here before 11:30am on weekdays. Inside the cove it's relatively shallow and protected and a great spot for novice divers who want an easy dive away from the crowds at the Breakwater. That said, it can also be a beautiful dive. The sandy bottom near the shore soon breaks up with lots of rocks, small pinnacles, walls, crevices, and other structure that makes for an interesting dive for divers of any level. Here you'll find plenty of sea life, including rockfish and flatfish, nudibranchs, crabs, kelp, rays, and sometimes seals. On the surface you'll find plenty of seagulls and a few Seahawks, who didn't fare as well today but plan to win the prize again next year.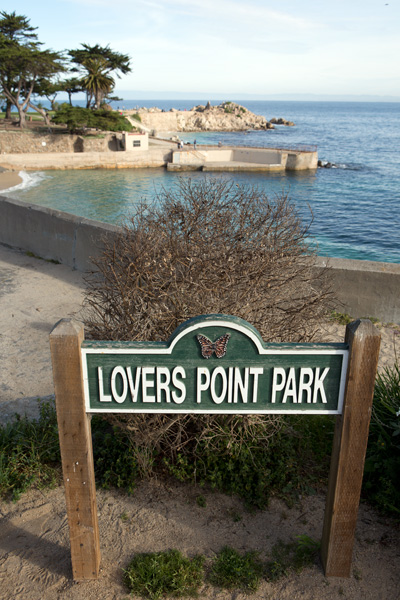 Although we've both done plenty of diving, this is where Scott took his first certification dive a few decades ago and today was his first day back here since then. He was also diving a rebreather and testing out some other gear, so the depth was perfect for that purpose. I was along for the ride and always up for a dive, and just climbing around the interesting terrain and enjoying all the life and beautiful conditions this weekend had to offer. We hit a max depth of about 45 feet, the water was 51-56 degrees, and I logged 1:08 bottom time (Scott a bit longer – and without bubbles). Visibility was in the 35-40 foot range, with a bit of turbidity close to shore.
Regardless of where you are, shore diving or on a charter boat, crowds are often much smaller and the diving as good or even better than summer in many locations this time of year. If you're a summer-only diver, take advantage of these opportunities to keep your skills fresh and enjoy some of the best diving California has to offer.
Wintertime diving in California can be just awesome – get out there and enjoy it while it's here!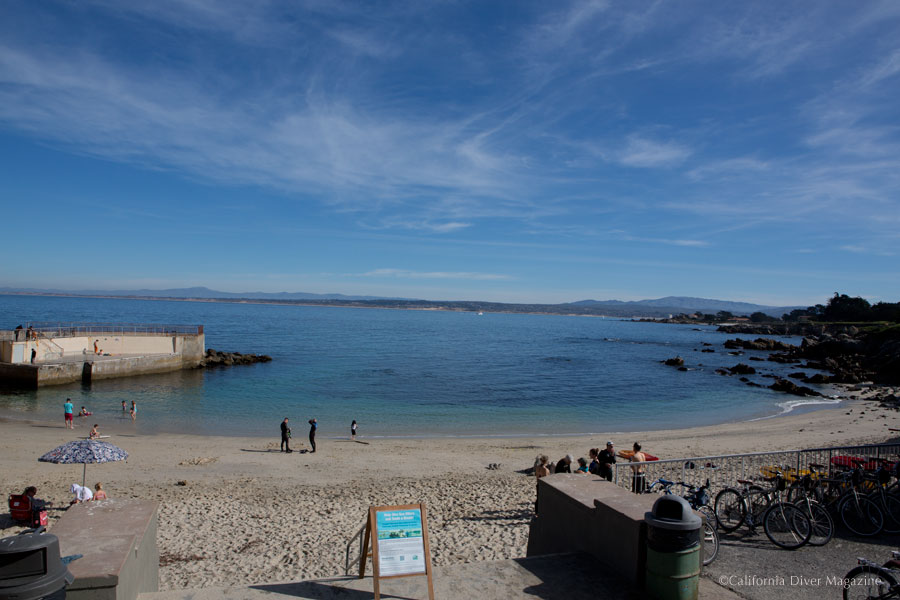 Words & Photos by Chris Constantine, California Diver Magazine