Many SCUBA divers carry a dive slate underwater for communicating with a buddy or referencing important information. The AquaSketch Minno is a modern version of this essential communication device that allows a diver to carry much more information with them in a very compact and lightweight package. Simply put, it's like taking an 8 foot long dive slate with you on every dive.
The Minno uses replaceable scrolls of synthetic vellum which scrolls back and forth within its housing with two large knobs. They're easily turnable with one hand, even with thick gloves on underwater. The AquaSketch Minnow is currently being used by the US Navy Seals, NASA, Police Departments and Search and rescue organizations. It can also be used on land, and kayakers, backpackers, and others in need of a very light weight reference tool will find it useful.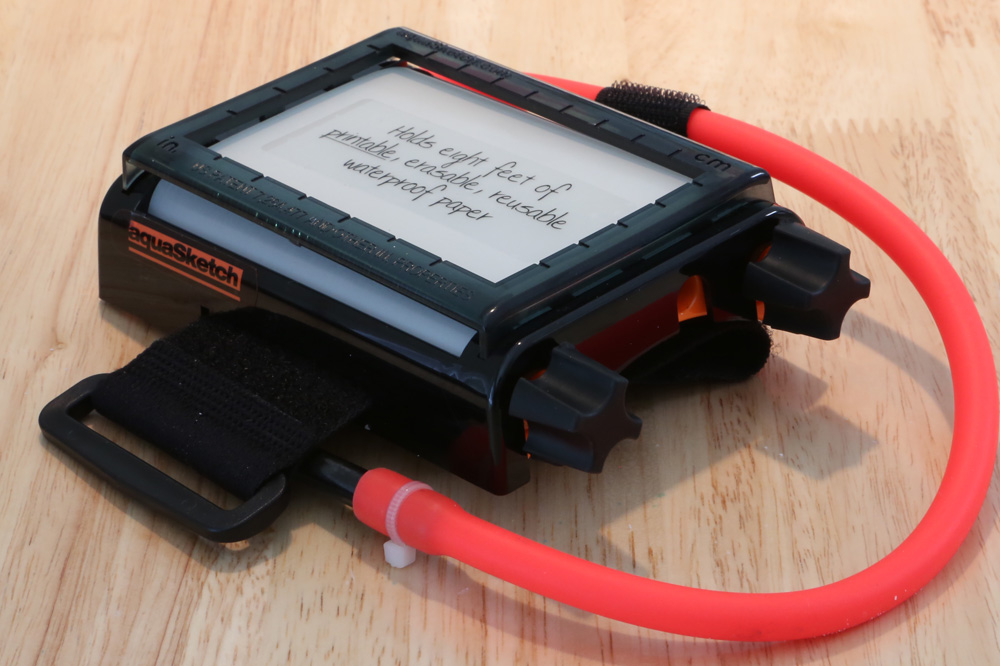 The AquaSketch can either be worn on the wrist for one-handed use, or attached to the SCUBA diver or gear with an optional retractable lanyard or Velcro. It's weighs in at just 5.4 ounces and has minimal drag underwater. The scrolls (called "apps" by AquaSketch) can be easily replaced. There are more than a dozen pre-designed apps available for purchase at $9.95, or you can design your own using a reusable blank scroll. Predesiged apps include Fish ID charts, photo logs, instructor tools, dive site maps, and more. The patented Minnow comes with a dive safety checklist, a 5 foot blank roll, cleaning pad, and a coupon for 50% off your next order of supplies. (The red surgical tube shown above attaches a graphite pencil to the device for writing.)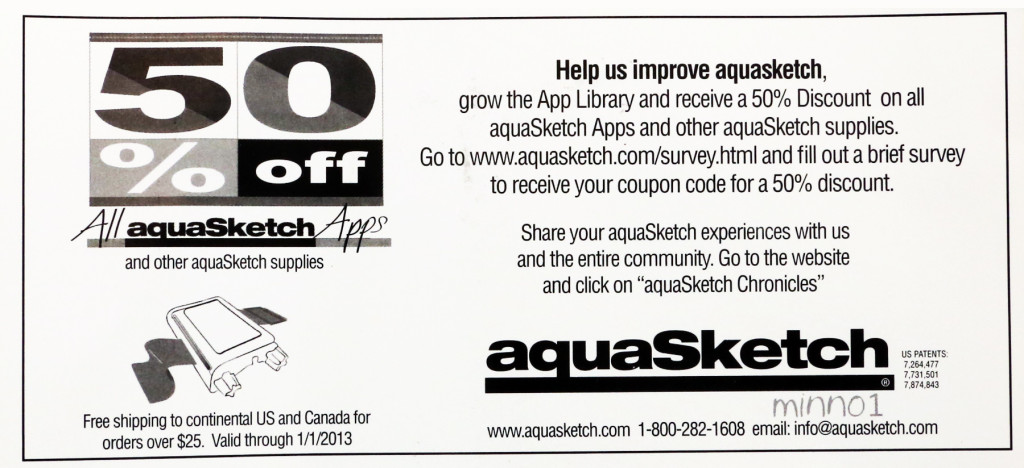 We first met the AquaSketch team at the 2012 San Jose Dive Expo and you'll see them at many major dive shows across the U.S. Just look for the booth with a big crowd around it – the AquaSketch has proven to be a hot item.
The AquaSketch Minnow retails for $49.95 and is available at your favorite local dive store. For more information, check it out at AquaSketch.com.